Mac and cheese is one of my favorite indulgences.  I have tried many recipes, and most of them result in a finished product not worthy of the time spent on preparation.  The opposite is true of Jenny from Picky Palate's "5 Minute Homemade Mac and Cheese."  This mac and cheese tastes like you spent at least ten minutes on it!  (I kid, I kid.  Way better than even ten minutes.).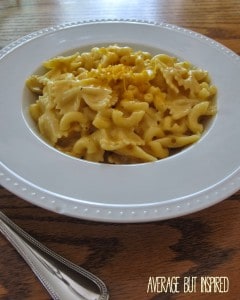 The original recipe is linked above, but I've also posted it here for your convenience. I suggest adding 1/4 teaspoon of ground mustard for a little extra "zing." Even if you don't add ground mustard, the mac and cheese is creamy, flavorful and easy.
Ingredients:
1/2 pound cooked pasta
2 cups shredded cheddar cheese
1 cup whole milk
3/4 teaspoon salt
1/2 teaspoon freshly ground black pepper
1/4 teaspoon ground mustard
Directions:
Cook your pasta.
Place cooked pasta, cheese, milk, salt, pepper and mustard in microwave-safe bowl.  Stir.
Cover with Saran Wrap and microwave for 3 minutes.
Uncover and stir.
Re-cover and microwave for 2 more minutes.
Stir and serve.
ENJOY!