For the past several weeks, my daughter has been obsessed with capes – both superhero capes and the fancy schmancy capes worn by queens – so much so that she's been having me safety-pin an old green blanket around her neck.  This makeshift cape is neither attractive nor safe.
So, having recently learned how to sew, I figured I could make her something better than a ratty blanket.  Sure enough, I found the wonderful Reversible Cape Tutorial on the adorable crafting blog Hideous! Dreadful! Stinky!  Marigold from Hideous! Dreadful! Stinky! provides thorough and easy-to-follow instructions, and the project is quick and simple – even for the newest seamstress.
I made my daughter's a superhero cape on one side (flying heart power!) and a queen's royal robe on the other.  The best part was embellishing the reversible child's cape – rainbow ric rac, ruffled grosgrain ribbon and crown-shaped rhinestone accents made the project.  She is thrilled and I'm glad she now looks the part when saving the world and/or ordering her minion, er, I mean little brother, around.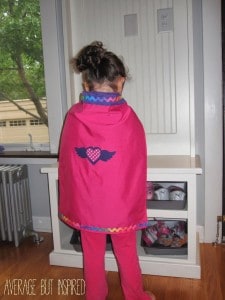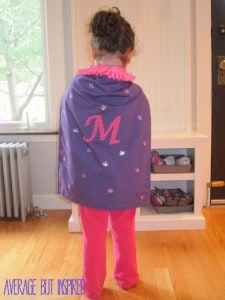 If you try this project, learn from two mistakes I made:  (1) apply any fabric glue that you use to affix accents sparingly.  I went very thick and the glue showed through on the other side of the cape in certain spots; and (2) if you want to add an initial (or any image that has a "right way and a wrong way") onto the cape using fusible web, make sure you trace your letter (or image) backwards.  Otherwise, when you go to affix your letter or image to the cape, it will be facing the wrong way.