My three-year old has been attending a summer camp for the last few months.  This means that for three hours a week, I experience the joy of having only one child to cart to Costco or to have around to "help" me with the cleaning or laundry.  On especially good days, it gives me the ability to spend some quality time alone with the little one.  Sadly, camp ends this week.
While camp has afforded me some peace and quiet, the opposite is true for the saintly young women who have been "counseling" a rather large group of two and three-year olds.  If I were in their shoes, I don't think I would have lasted beyond the first session.  So, I thought it was important to acknowledge their hard work and my appreciation for what they do.  I came up with this: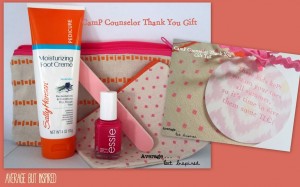 The launching point for this gift was the adorable pink and orange pouch set that I found in the Target Dollar Spot. Two cute pouches for $3 – I couldn't resist!  Then, continuing the pink and orange theme, I found Essie polish in "Watermelon," Sally Hansen foot lotion with orange accents on the bottle, and orange nail files.  To tie it all together, I created a gift tag that reads "These kids kept you on your toes all summer, so it's time to give them some TLC!"  A little cheesy, but oh well.
I hope the ladies like their gifts!