Recently gifted with a half peck** of South Carolina peaches, I knew there was no way my family would eat them all before they went bad.  Had we been given a half peck of cupcakes, it would have been a different story, but healthy food – no.  So anyway, I decided to use several of these delicious peaches to make a cobbler with a recipe I found on Allrecipes.com.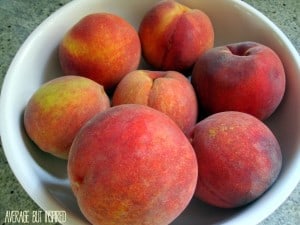 All afternoon I kept telling my children that we were going to have a very special dessert if they ate their dinner.  Like all good children who understand the value of a food-based bribe, they ate their dinner.  And then I was proud to present them with my delicious, homemade peach cobbler.
They screamed.  They cried.  My three-year old even shouted that "fruit is not a dessert!"  The one-year old spit out his cobbler in disgust.
Total brats.  The cobbler was amazing.  Really and truly fantastic.  So, if you, unlike my children, believe that fruit is capable of serving as a dessert, then you should make this cobbler.  I recommend serving it warm with vanilla ice cream.  Here's how you do it:
Ingredients:
Cobbler Mixture
8 fresh peaches (pitted, peeled, and cut into thin wedges)
1/4 cup white sugar
1/4 cup brown sugar
1/4 tsp ground cinnamon
1/8 tsp ground nutmeg
1 tsp lemon juice
2 tsp cornstarch
Cobbler Topping
1 cup flour
1/4 cup white sugar
1/4 cup brown sugar
1 tsp baking powder
1/2 tsp salt
6 tbsp unsalted butter (cut into little chunks)
1/4 cup boiling water
Cinnamon Sugar Garnish
3 tbsp white sugar
1 tsp ground cinnamon
Instructions:
Preheat oven to 425 degrees.
In a large bowl, combine peaches, 1/4 cup white sugar, 1/4 cup brown sugar, 1/4 teaspoon cinnamon, nutmeg, lemon juice, and cornstarch.  Toss to coat evenly, and pour into a 2 quart baking dish.  Bake in preheated oven for 10 minutes.
Meanwhile, in a large bowl, combine flour, 1/4 cup white sugar, 1/4 cup brown sugar, baking powder, and salt.  Blend in butter until mixture resembles coarse meal.  Stir in water until just combined.
Remove peaches from oven, and drop spoonfuls of topping over them.  Sprinkle entire cobbler with the sugar and cinnamon mixture.  Bake until topping is golden, about 30 minutes.
Enjoy!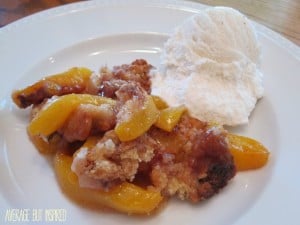 Looks good, don't you think?
**OK, Dictionary.com defines peck as "a dry measure of 8 quarts; the fourth part of a bushel, equal to 537.6 cubic inches (8.81 liters)."  I have no idea what this means, but apparently a half peck is one half of all this jargon I just threw at you.  I'm guessing we got about 12 peaches in our half peck.  Why couldn't the package just be labeled "approximately 12 peaches?"  This farmer/mathematician lingo is hurting my head.  But I digress.
I Bet You'll Like These Posts, Too!