While hunting for some earrings in my jewelry box the other day, I realized that I have been hanging on to a lot of earring widows (you know, those earrings whose mates are missing).  I was about to toss them when I decided that I have been keeping them because I like them, and that I should try to use them for something else instead.  They were spared from the trash bag.
Later that day, inspiration struck when I found an ugly bangle bracelet in the Old Navy clearance section.  I thought I could re-fashion that bangle into a "blingier" bracelet with my earring widows and a vintage pin my mother-in-law gave me.  And at $1.99, the Old Navy bangle was cheaper than a plain bracelet form at Michaels.
As soon as I got home, I gathered my supplies that I planned to use on this bracelet re-do: (1) leftover fabric; (2) earring widows; (3) vintage pin; (4) bangle bracelet; (5) scissors; and (6) glue gun.
Then I cut a strip of fabric about half an inch wide, put some hot glue on the inside of the fabric, and affixed that part of the fabric to the inside of the bangle.  I then wrapped the fabric around the bangle until I'd completed the circle.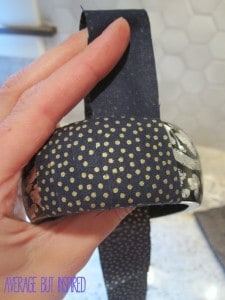 Next, I bent the earring posts so that they would lie parallel with the earring fronts.  I then stuck the posts through the end of the fabric strip (before the end of the fabric strip was glued down).  This allowed me to play around with the placement of the earrings and vintage pin.  At this point I realized the vintage pin was too big for this bangle.  It had to go.  As a result, I subbed in some other earring widow pieces, which I think worked much better.
Once I had my placement correct, I glued down the fabric on the inside of the bangle, and I gave the earring fronts some hot glue to ensure that they would stay put.
Drumroll please . . .
I LOVE my new bracelet!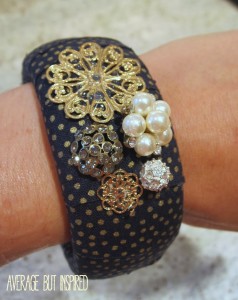 I'd love to know what you think of my trash to treasure creation.  Would you wear it?