Yum.
Really.  YUM.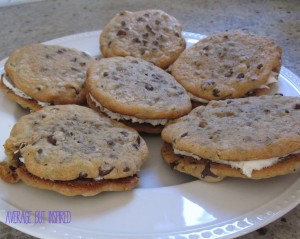 These chocolate chip cookies are fantastic.  Easy to make and so so so so good.  If you make them and share with others, the recipients will think you have much more talent as a baker than you really do.
To make 3-4 dozen of these life-altering chocolate chip cookies, you'll need the following ingredients:
1 cup of butter
1/2 cup of white sugar
1 cup of packed brown sugar
1 teaspoon of vanilla extract
2 eggs
2.5 cups of flour
1 teaspoon of baking soda
1 teaspoon of salt
2 cups of semisweet chocolate chips
Prepackaged Vanilla Frosting (OPTIONAL – this is for if you make cookie sandwiches)
Now do the following:
1.  Preheat your oven to 375 degrees.
2.  Using your mixer, cream together the butter (softened), white sugar and brown sugar.
3.  Add your vanilla.
4.  Beat in your eggs, one at a time.
5.  In a separate bowl, combine your flour, baking soda and salt.  Slowly stir that combo into your butter/sugar mixture.
6.  Stir in your chocolate chips.
7.  Drop tablespoonfuls of the dough onto ungreased cookie sheets.
8.  Bake for 8-10 minutes, or until edges are golden brown.
OK, so these cookies truly are amazing on their own.  But if you want to become a cookie god or goddess, what you need to do after they've cooled completely is turn them into cookie sandwiches by putting a bit of vanilla frosting in between two of them.  They are heavenly.
Are you hungry yet?