While wedding gift shopping recently, I spied some adorable Kate Spade confetti dishes. So fun and whimsical, I decided to make my own confetti-inspired decorative plates for much less.
For this project I purchased some plain dishes from a random dollar store, and some DecoArt Glass Paint Markers from Michaels.
To mimic the look of confetti, I literally drew a bunch of dots all over the plates – differing the pattern on each of them. To give (or try to give) the plates a more high-end look, I then outlined each of them with the gold marker. The markers were easy to use and wiped off cleanly where I made mistakes.
Following the directions on the marker packaging, I let the plates dry overnight. Then I baked them at 375 degrees for 40 minutes. Once they were ready to go, I hung up my plate hangers while listening to a repeated warning of "Mommy, don't fall into the sink!"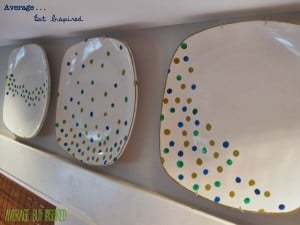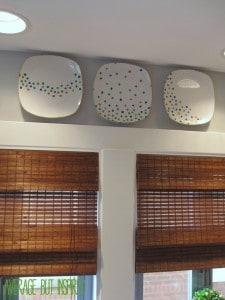 Sometimes I think these plates look cute on my wall, and other times I think they look lame. I really cannot make up my mind.  What do you think?