After several days last week with temps in the 90's, Chicago's weather has begun to turn and it's feeling like fall around here.  Thank goodness because I'm so tired of sweating.  Anyway, in order to give proper respect to my favorite season, I made a batch of semi-homemade spice cake cookies over the weekend.  This recipe is very easy and results in chewy, flavorful cookies that will make you happy autumn is here again.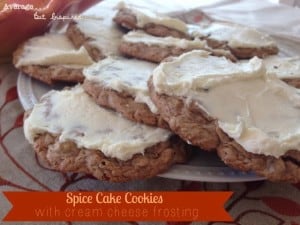 If you want to give them a try, here are the ingredients you'll need (handy list below for those of you who can read):
1 box of spice cake mix
2 cups of oatmeal
2 eggs
3/4 cup of oil
1/2 cup of milk
1/4 cup of brown sugar
[optional = 1 cup nuts and/or raisins]
Cream cheese frosting
Now, here's what you do:
Preheat oven to 350 degrees.
Put all of your ingredients (except the cream cheese frosting) into a large bowl and mix well.
Place tablespoon-size drops of dough on ungreased cookie sheet.
Bake for approximately 12 minutes, or until edges are golden brown.
Stare at your cookies as they cool on a rack, and drool.  Cool on a rack and then frost with your cream cheese frosting.
Mmmmm, I need to wrap this post up so I can go enjoy another one of these cookies.  I hope your evening is as tasty as mine!
I Bet You'll Like These Posts, Too!