My brother and his girlfriend (whom I adore, by the way), just moved to a new state where they have no family (and I'm guessing no friends) whatsoever.  New apartment, new city, new life.
I tried hard to think of a gift to welcome them to their new home that would be practical but sentimental at the same time, and the lyrics to the Edward Sharpe and The Magnetic Zeros' song, Home, kept coming to mind.  Such a great song. . .
I first thought about framing the lyrics, but then I wasn't sure if they could hang things on the walls, what their color scheme was like, etc.  So instead, I decided to sew up a simple envelope back pillowcase in a linen blend fabric, and put some of the lyrics right on the pillowcase with a Sharpie and some stencils!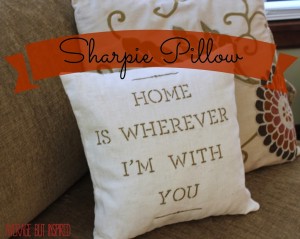 Although I'm not totally in love with the letter stencils I used here, I think the idea is a good one and I will probably try this again with different stencils.
If you want to make a similar pillow, get a pillowcase, Sharpie, tape, stencils and a ruler/level.
Then, tape out where you want your text to be.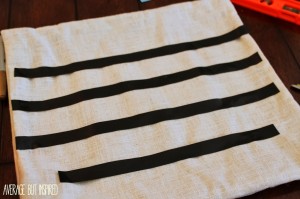 And get to work stenciling!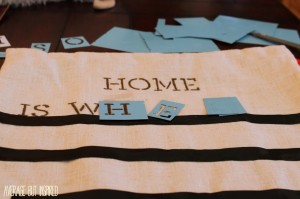 It doesn't get much simpler than that, does it?
What do you think of my Sharpie pillow?  I love hearing from you, so let me know!