Yesterday was a windy and dreary one here in Chicago.  My house was cold and gray, and I was feeling the same way.  I went to light a candle to warm things up, but found that I only had a summertime fragrance – not what I was looking for.
Then I remembered that my mom used to heat cinnamon and water on the stove when she needed a quick refresh. Problem solved!
I took her tried and true scent and added just a little bit to it – some nutmeg and a cut orange.  I brought the mix to a boil, took the heat down and then let it simmer.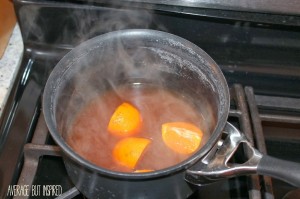 Honestly, it was amazing.  My whole house smelled fantastic.  Suddenly it felt nice to be indoors.
I am now mildly obsessed with this and am going to put another pot on the stove this afternoon.  You should give it a try!
I Bet You'll Like These Posts, Too!