This post contains affiliate links, which are denoted with an asterisk.  That means I receive a small commission if you purchase from these links.  To read my full disclosure policy, please click here.
In my quest to become organized, I decided that my house needed a "command station" of sorts – a place where all of the important papers and notes would be in my line of sight (so I won't lose track of them), and somewhat contained so as to avoid clutter on my countertops.
I found a great fabric-covered cork board at HomeGoods for a nice price (less than it would have cost me to DIY one), and I put an Avery Peel and Stick Dry Erase Sheet* over the glass on an old picture frame to create a dry erase board.  The only other thing I wanted to add was a wall hanging organizer, which would accommodate bulkier papers and items that couldn't be placed on the cork board.  I had a mesh one similar to this* in mind, but I really didn't want to spend any more money on this project.
Inspiration hit as I was hauling yet another empty jumbo pack of diapers to the recycling bin – use a diaper box to DIY a fabric wall organizer!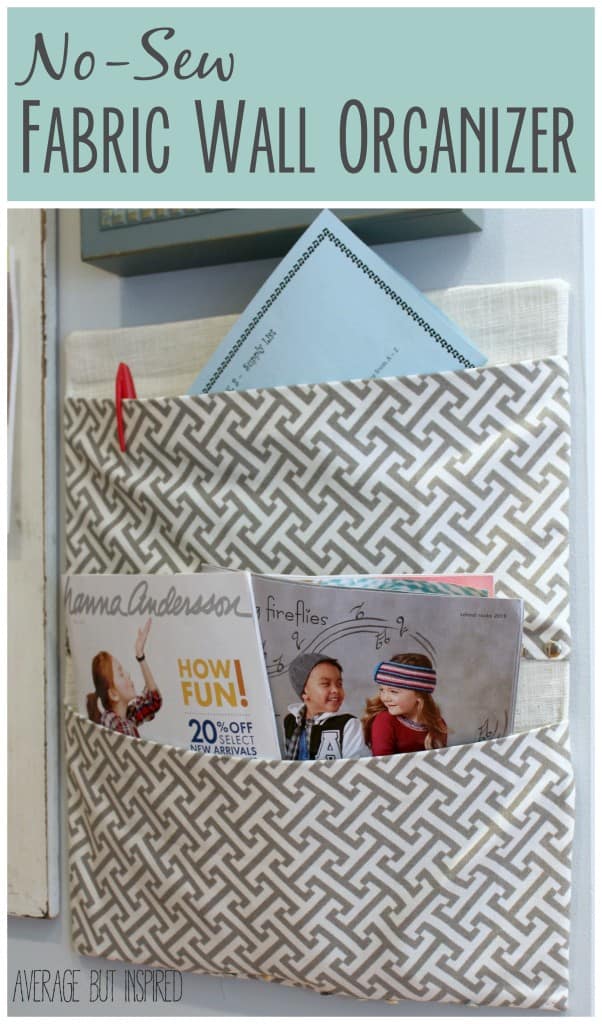 Crazy, right?
I can't emphasize how easy this project was.  Really.  This blog post took longer to write than it took me to make this thing.  Here are the supplies I used:
Empty cardboard box
Scissors
Spray Adhesive
Hot glue and hot glue gun
Fabric Glue
Fabric (you need enough base fabric to cover one side of your base cardboard, plus 2″ all around; my pocket fabric was 9.5″ tall and width was 2″ extra on each side)
Iron
Thumbtacks (optional)
Think you want to give it a try?  Here are my instructions for creating your own no sew fabric wall organizer . . .  (And P.S. – I apologize for the grainy photos in this post.  This was one of my FIRST blog posts when I was using a very awful camera and I no idea what I was doing.)
1.  Cut a base piece from your cardboard to your desired size.
2.  Cut the fabric that will cover your base piece by laying that fabric on top of the cardboard and cutting so that approximately 2″ of fabric hangs over each side.
3.  Using your spray adhesive, spray the plain brown side of your cardboard with the adhesive and smooth the fabric over it.  I recommend doing this outside.  The excess fabric will be hanging over each side, with no adhesive on it.
4.  Cut a diagonal slit in each corner of the excess fabric.  This will allow you to fold the fabric in for gluing much more easily.
5.  Use your hot glue gun to adhere the excess fabric of your base piece to the back of the base cardboard.
6.  Next, determine how large you want your fabric pockets to be.  Mine are approximately 8″ tall, so I cut my fabric 9.25″ tall by the width of my box plus 2″.
7.  What I did next is fold the bottom of both pieces of fabric in approximately .5″ and iron it for a sharp seam.
8.  Then on just one of the pieces, I repeated this process at the top of the fabric as well.
9.  Next, I glued these ironed seams down with my fabric glue.
10.  Then, I hot glued my bottom pocket to my base board.  I took the un-ironed side and hot glued it around the base of my cardboard.
11.  Next, I wrapped the sides around and hot glued them down as well.  I pulled the fabric tight at the base and left a little more of a gap at the top in order to make the pocket a bit roomier.  You can see the gap in the photo below.
12.  Next, take your fabric piece that has both the top and bottom seam glued down.  Hot glue one of the finished seams to the front of your base board, and then repeat the process of wrapping the fabric around the sides of the cardboard and hot gluing.  The back of your board will now look like this:
13.  Next, I chose to press in metal thumbtacks around the base for a little added decoration.
I hung this directly on my wall with 3M Command Strips.  I seriously love those things.
One thing to note – my patterned fabric was thicker and heavier than regular cotton quilting fabric.  If you're using a lighter weight fabric for your pouches, I would recommend using a fabric stabilizer with the fabric, or affixing that fabric to extra cardboard to strengthen it.
I hope you like my organizer!  I really like how it looks and I love how it's helping my counter to stay clutter free!