Over the weekend I took my kids apple picking with my mom. It was an awesome day. Fresh air, sunshine, right-off-the-tree apples, goat slobber from the petting zoo . . . the list goes on and on.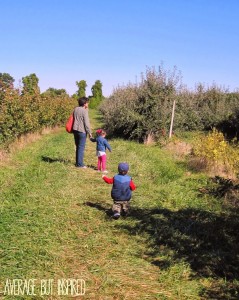 We picked so many apples ("honey crispies" as my daughter calls them), that I had to do something with them other than eat them plain. Of course I made something unhealthy (apple praline bread – amazing, and possibly the subject of a future blog post), but I also felt good using them in one of our dinners this week.
Indeed, thanks to Real Simple I made a delicious dish of apple & walnut ravioli.
You should really try this. It is such a simple recipe, yet the flavor is fantastic. Sweet, salty and nutty all at the same time . . . it was a great change from the "normal" ravioli I serve with pasta sauce.
Here are the ingredients you'll need for this dish:
1 lb. cheese ravioli (fresh or frozen)
2 tbs. olive oil
1/2 cup chopped walnuts
1 crisp apple, cut into matchsticks
1/2 cup chopped parsley
salt (to taste)
black pepper (to taste)
1/4 cup parmesan cheese
Not too bad, hey?
Next, here's how you put it all together:
Cook your ravioli according to the directions on the package.
Heat your olive oil in a skillet over medium heat. Add your chopped walnuts and cook them for 4-5 minutes, stirring periodically.
Add your apple, parsley, salt and pepper, and stir.
Put this mix over your ravioli, and top with parmesan cheese.
Enjoy!
I can't wait to make this again. I'm pretty sure it will find its way into my "old standbys" recipe book.
What other unusual ways do you serve ravioli?
I Bet You'll Like These Posts, Too!