A couple of years ago I made a batch of southwest chicken chili while my in-laws were visiting, completely forgetting that my mother-in-law has the spice tolerance of a newborn baby.  The poor woman literally has a hard time eating ketchup.  Well anyway, she choked down some of the chili and looked like she was mid-heart attack all the while.  I felt so bad because it was really spicy.  She was being a good sport as usual, but I'm sure she was sick for days after that.  I still feel awful for almost killing her that evening.
Since that time, I've played around with my recipe and gotten it to a point where it packs a little punch, but is tolerable for those who don't love heat as much as I do (take, for example, my husband, who is a total wuss.  (sidenote: let's see if he actually reads this blog.)).  So, if you're looking for an easy alternative to your regular chili recipe, you might want to give this one a try.  It's great to throw in the slow cooker in the morning and look forward to all day.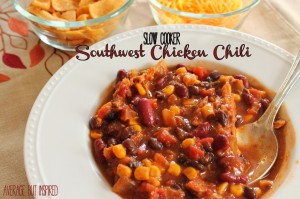 The ingredients are as follows:
16 oz. can of black beans
16 oz. can of kidney beans
16 oz. can of tomato sauce
10 oz. can of corn
28 oz. can of diced tomatoes with chilies (I used a mild variety – you could choose a spicier version if you like)
1/2 medium yellow onion, chopped
1 package of taco seasoning
1/4 tablespoon of cumin
1/2 tablespoon of chili powder
3 boneless, skinless chicken breasts
GARNISHES:  sour cream, tortilla chips, cheese, etc.
All you have to do to put this together is as follows:
Put your beans, tomato sauce, corn, tomatoes, onion, taco seasoning, cumin and chili powder into the slow cooker.  Stir.
Place your chicken breasts on top of this mixture.
Cover and cook on low for 10 hours or on high for 6 hours.
Shred your chicken 45 minutes prior to serving.  Mix the shredded chicken in with the rest of the ingredients and cook for the remainder of time.
Enjoy!
Do you have a favorite chili recipe?  I'm looking for a great traditional recipe, and if you wouldn't mind sharing, I would appreciate it!