Over two months ago, I blogged about the excitement I was feeling because my basement renovation project was starting.  At that time, I posted photos of my basement and talked about how disgusting it was.  I also referred to my laundry room area as a "dungeon."
So naive.
What I wouldn't do for that "dungeon" of a laundry room now.  These days I'm doing my laundry in an uneven gravel pit.  The washing machine is propped on top of some plywood, which is resting on pipes that are sticking out of the ground.  The dryer opens directly into a pile of concrete rubble, which makes loading and unloading quite treacherous.  I'm certain numerous socks are buried in that rubble somewhere.
Does it sound like I'm complaining?  OK good, because I am.
We've been at this for over two months now, and the framing isn't even complete!  Granted, we had a lot of "behind the scenes" mechanicals to take care of at the outset (i.e. installing an interior drain tile system, vapor wall barrier and sump pump for water issues, upgrading the sewer line to the street for the bathroom we're adding, and moving pipes for our boiler to eliminate bulkheads in certain areas of the basement), but COME ON!  Can't a girl get a little drywall around here?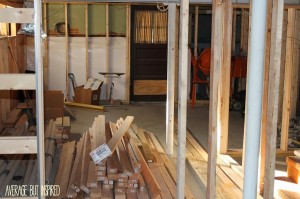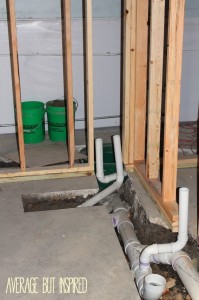 On December 23, my in-laws arrive for a week of Christmas togetherness, and I really do not want to be footing the bill for a hotel room for them if this basement renovation is not complete.  It's November 3, and with the progress we've seen so far, I am counting on a miracle at this point.  (Yes, Springsteen's song has been stuck in my head the entire time I've been writing this post.).
Do you believe in construction miracles?