I am obsessed.
Obsessed with those little cylindrical bits of golden potato goodness known as tater tots.
These days I find myself planning meals around things that pair well with tater tots.  And then I pretend like I'm making them as a "special treat" for my children, despite the fact that I eat almost all of them myself.  It's a problem.
In fact, it's such a problem that it led me on a quest to find some delicious recipes incorporating tater tots, so that I may broaden my tater tot horizons, so to speak.  I scoured the Internet far and wide, and am now proud to present to you, in no particular order, what I deem to be the Top Ten Tater Tot Recipes of All Time.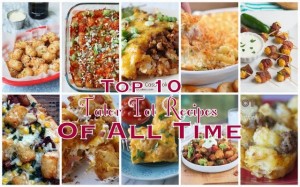 Clockwise from the top, here we go:
Parmesan Truffle Tater Tots from Spoonful of Flour
Buffalo Chicken Tater Tot Casserole from She Knows
Chili Cheese Tater Tot Casserole from Love Bakes Good Cakes
Cheesy Jalapeno Tater Tot Dip from Foodista
Bacon Wrapped Tater Tots from Appetizer Recipe Ideas
Tater Tot Pizza from Iron Stef
Cheesy Ranch Tater Tots from Just a Pinch
Southwest Egg and Tater Tot Casserole from What 2 Cook
Tater Tot Nachos Supreme from Girl Cooks World
Tater Tot Muffins from Once a Month Meals
Are you having a heart attack yet?  (If not, you will once you eat all of these tasty treats.)
How do you like them tots?
I Bet You'll Like These Posts, Too!