Are you attending 4,782 cookie exchanges this year like I am?
If not, consider yourself lucky.
But, if you are and find yourself in need of a crowd-pleasing cookie to share, may I suggest these chocolate Andes Mints cookies?  They are a perfect blend of chocolate decadence and creamy mint refreshment.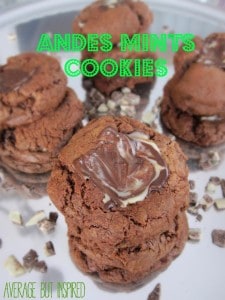 I stumbled upon this recipe on Allrecipes.com several years ago and have thanked the Lord above ever since.  (Okay – not really.  But you get my point.)
So, stop reading and start baking.
One word of caution . . . you need to let your dough chill in the refrigerator for about an hour before baking, so don't wait until the last minute to make these cookies.
Ingredients for 18 Cookies
3/4 cup of butter
1.5 cups of packed brown sugar
2 tablespoons of water
2 cups of semisweet chocolate chips
2 eggs
2.5 cups of all-purpose flour
1.25 teaspoons of baking soda
1/2 teaspoon of salt
36 Andes Mints or a bag of Andes Mint Baking Pieces
Cook butter, sugar and water in a large pan over low heat, until butter is melted.
Add chocolate chips and stir until partially melted.

Remove from heat and continue stirring, until chocolate is fully melted.  Pour mixture into a large bowl and let stand 10 minutes.
Once slightly cooled, beat in your eggs on high speed.
Reduce mixer speed to low and add in your dry ingredients.

Place dough in refrigerator for approximately 1 hour.
Preheat oven to 350 degrees.
Place dough in balls about 2 inches apart onto ungreased cookie sheet.  Bake for 10 minutes.
Remove cookies from oven and place on cooling racks.  While cooling, place half of an Andes Mint (or several Andes Mint baking pieces) on top of each cookie.

Allow each Andes Mint to melt, and spread with a knife to form a chocolate mint frosting on each cookie.
Don't these make your mouth water?