Have you spent any time on Pinterest this holiday season?  Looked through any home and garden magazines?  Turned on HGTV at all?
If so, you've seen countless images of what a "perfect" Christmas looks like.  (I've got plenty of those images pinned
here
.)
The photos of my holiday season thus far don't really look like that.
Exhibit A.  Here's my son stuck in the Christmas tree.  Look at his "Oh crap . . . you caught me" face.  Or maybe that's a "Why are you taking my picture instead of unraveling me from these lights?" face.  One or the other.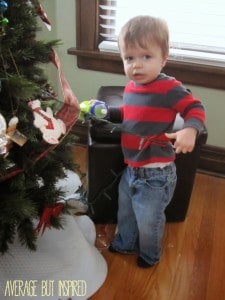 Exhibit B.  Here's one of the six ornaments that have shattered so far.  We're starting to see bald spots in the tree and straight through to the metal pole that holds the artificial thing together.  Not very Pinterest-like.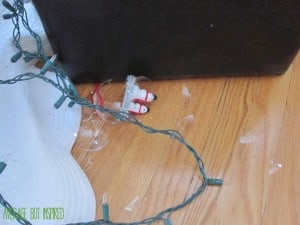 Exhibit C.  Here's my son freaking out on Santa's lap.  Because really, why would I get smiling, happy children when I'm paying $27 for a photo op with the man from the North Pole?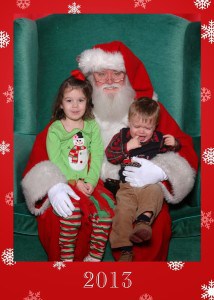 Exhibit D.  Here's the cute-in-theory "Cookies for Santa" tray that we made together.  It features my kids' handprints fashioned into Santa faces, and their thumbprints as Christmas lights.  But oh yeah, I used the flimsiest paper ever, which translated into a wrinkly mess upon Mod Podging to the tray.  Craft fail.  I sure hope Santa doesn't mind.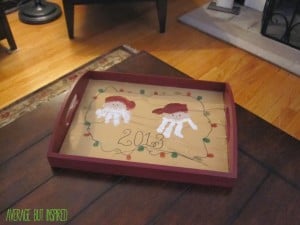 Exhibit E.  Here are just some of the boxes that have taken over my dining room.  With the basement still under construction, I have nowhere to store them but right out in the open.  Where are the pretty wrapping papers and ribbons adorning the tops of each gift?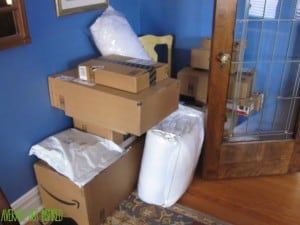 Exhibit F.  Here is my daughter performing quality control on the dough for our Andes Mints Chocolate Cookies.  Such a lady.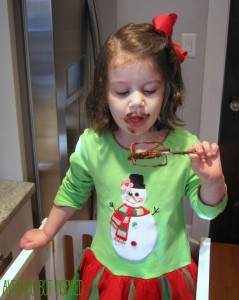 I can't help but feel happy when I look at these pictures.  They show my genuine, crazy, messy, less-than-perfect Christmas.  And for me, that's perfect.
What does your perfect Christmas look like?