In anticipation of our holiday house guests' impending arrival, I was cleaning and moving furniture around all day yesterday.  My hands are shriveled, my nails are ruined and I am sporting a lemon-scented Pledge perfume.  Although I won't look good for Christmas, at least my home will.
As part of my frenzied preparation, I checked out the new Home Decor Resource Guide from One Kings Lane.  A representative from One Kings Lane recently contacted me and asked me to take a look, and I'm so glad she did because it's pretty fantastic.  In a nutshell, it provides home decor enthusiasts with information on furniture styles throughout the ages, furniture placement, tips on selecting and purchasing the right pieces for your space, and helpful resources on DIY projects (such as pros and cons of reupholstering and stain-proofing).  As if we needed another reason to love One Kings Lane, right?
So how did the Home Decor Resource Guide figure into my holiday preparations, you ask?  Well, take a look at this statement chair from my living room.  Before consulting the Guide, I had moved it to another part of the room because I thought it would be more convenient for television viewing with the family.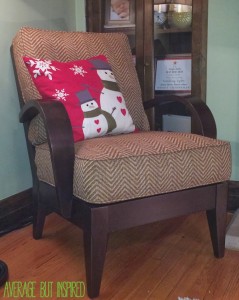 But after reading several articles I found in the Guide, I promptly moved it back.  While my chair obviously serves a functional purpose of providing comfortable seating, it needed to go back where it was so that it could define that nook and accentuate the lovely, original built-in bookcase and flanking fireplace.
The Guide also gave me some new found design information about my statement chair.  You see, I have determined that this lovely chair – with its wooden frame, rounded, exposed arms, subtle pattern and texture – takes its look from the English Arts and Crafts Movement (1840's-1880's), as well as the Art Deco Movement (1920's).  This is perfect because my home was built in the early 1920's, and my town is famous for arts and crafts-style architecture (as well as Frank Lloyd Wright, whose former residence is located here as well).
Impressed?  I sound like I know what I'm talking about, don't I?
Well, you can, too, because consulting the Home Decor Resource Guide could help you make educated, purposeful design choices as well.
Not only am I excited to have this resource to consult for design and placement decisions in my own home, but it is going to be amazing for my furniture rehabbing projects (like this and this).
Go check it out.  Seriously.  And then tell the nice people at One Kings Lane that I sent you.  (Okay, wait, don't do that.  They won't know what you're talking about.)
How will you use the Home Decor Resource Guide?  Let me know as I love to hear from you!