School is closed again today.
This is the third day this month that temperatures in the -30 degree range (with windchill), have prevented my preschooler from getting out of my hair her education.  With temps this cold, we can't even leave the house and we are getting stir crazy.  Extremely stir crazy.
I'm running out of things to organize, and I've been feeling a little guilty about how much television my kids have been watching.  So, over the weekend I made a conscious effort to come up with some fun activities that we can do indoors while this winter rages on.
And now I present to you my list of Thirty Indoor Activities for Little Kids.  I hope this helps at least a few of you save your sanity today (and tomorrow, and the next day, and the next day).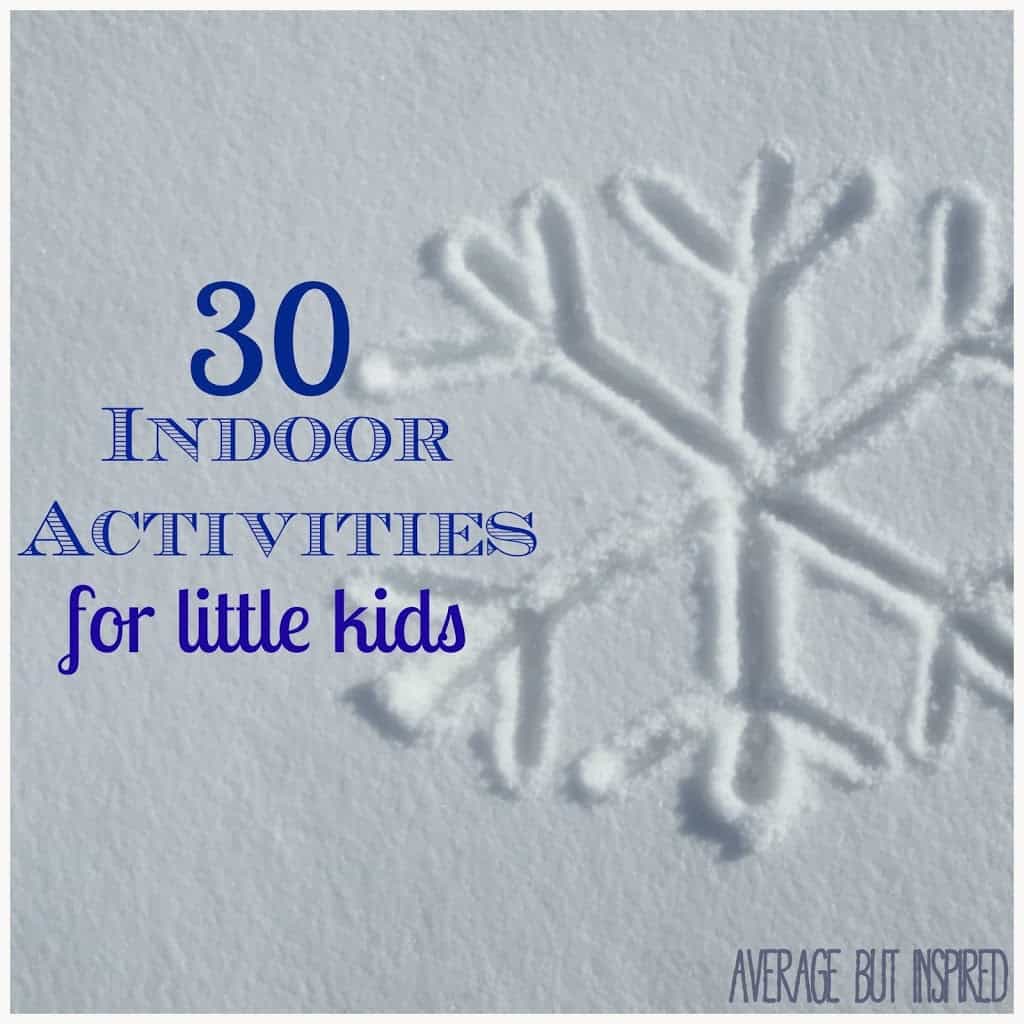 Make homemade playdough.  Play doh is always fun for kids, but making your own kills even more time and lets them feel like they're cooking, too.  Here's an easy recipe from The Imagination Tree.
Use masking tape to create a hopscotch grid on your floor.  Then have fun hopping away!
Make negative space snowflakes (or any other shape).  We did this last year and my daughter had a blast.  Have fun making any shape you like with your tape – don't limit yourself to snowflakes!
Grab a bunch of your kids' stuffed animals and set up a safari in your house.  Have fun traveling around your home checking out all the wildlife and keeping track of what you saw.
Make salt dough shapes and turn them into ornaments, jewelry, play food, etc.  Here's a great salt dough recipe from Busy Bee Kids Crafts.
Set up some plastic cups in a non-fragile area and let your kids have fun with indoor bowling.  This is always a hit at my house!
Have a fun sensory experience with homemade moon sand!  Here's a recipe from Play Based Learning.
Write thank you notes to our servicemen and servicewomen, or local civil servants.
Make paper airplanes and see whose flies the farthest.
Create your own slime and have fun playing with it.  Check out this recipe from Science Bob.
Teach your kids about their ancestry by making a family tree.
Have a pool party in the bathtub.
Wow your kids with invisible ink paintings!  Write a message or draw a picture on white paper with white crayon and let them paint over it.  Let them watch in amazement as the hidden message appears.
Write letters and draw pictures for the grandparents.
Snuggle up and read some books.
Freeze water mixed with food coloring in ice cube trays.  Once frozen, let your kids melt the colored ice cubes on paper and create beautiful ice cube paintings.
Have an indoor picnic.  Spread out the blanket, eat your lunch on it, and pretend it's a lovely day outside.
Make a homemade bird feeder for our feathered friends.  Look at the directions for this cute one from Coffee Cups and Crayons.
Make your own Matchbox car race track with a flattened cardboard box, construction paper and glue.
Bake cookies.  Have fun making them and eating them.  This recipe makes some great chocolate chip cookies!
Make finger puppets and put on a show!  Look at these adorable free farm animal puppet printables from Lia Griffith that you can print right at home.
Do some puzzles, or even make your own!  Print a family picture on cardstock and cut it up into several pieces.  Let your kids put it back together.
Make a blanket fort.  Maybe you could even catch an nap in there.
Create a scavenger hunt.  Here are directions for an easy color scavenger hunt from Kids Activities Blog, but you can get as creative as you want!
Go camping in your living room.  Spread out a sleeping bag, roast marshmallows in the microwave, and tell ghost stories.
Grab a flashlight, close the shades and practice making shadow figures on the wall.
Squirt several colors of tempera paint into Ziploc bags and seal shut.  Tape the bags to the table and let your kids fingerpaint without the mess.
Play a memory game.  Here's a cute Jake and the Neverland Pirates free printable from Spoonful.
Make your own puffy paint and be amazed when it puffs and hardens in the microwave.  This is a great recipe from Happy Hooligans.  My kids LOVED this.  We didn't have self-rising flour, so we used an easy substitution.
Create an obstacle course with pillows, jump ropes, hoola hoops or anything you have on hand.
What activities would you add to this list? 

(I'd add drinking wine, but that's more of an after-hours activity now, isn't it?)
– Bre
Let's Be Social!  Facebook // Pinterest // Twitter // Bloglovin'
I Bet You'll Like These Posts, Too!