My kids are mass producing artwork at school. They love to see it on display, but I don't want it covering my fridge. So, I came up with this easy DIY Kids Art Display, which is the perfect way to hang my children's artwork!
(UPDATE 2021: Please pardon the blurry photos. I took these pictures when I first started blogging and had no idea what I was doing! The project is still a good one, so that's why I kept it on here!)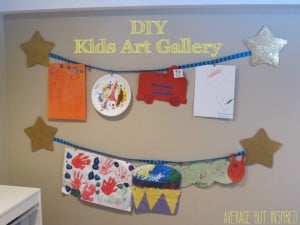 This kids art display project was super simple and inexpensive, and I love how my kids' art is prominently featured in their playroom. I also like that their projects added an instantaneous jolt of color to the room.
Supplies Used to Make a DIY Kids Art Display
This post contains affiliate links. To read my full disclosure policy, please click here.
How to Make a DIY Kids Art Display
Here's how I made this art gallery for my children's masterpieces . . . .
DIY Art Display Step One: Paint the End Pieces
First, I painted four wooden stars with gold acrylic craft paint.
Once that dried, I applied a topcoat of gold glitter paint to make the wood pieces really pop.
If stars aren't your jam, you could choose any unfinished wood shape you like! I've seen hearts, circles, squares, and more at the craft store.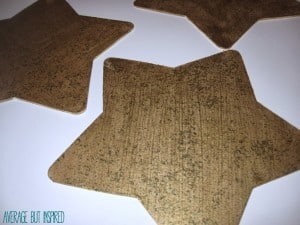 Step Two: Cut Ribbon to Size
Next, I measured and cut some ribbon to the correct length for my wall.
Make sure to get a quality ribbon, like grosgrain. The ribbon needs to have a bit of heft to it to support the weight of the art and curtain clips.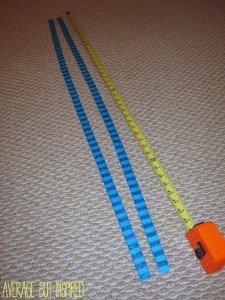 DIY Art Gallery Step Three: Attach the Ribbon to the Wood Shapes
Once the ribbon is the correct length, hot glue it to the back of the wooden shapes.
Here you can see that I glued the ribbon to the unfinished side of the stars.

Step Four: Attach the Art Display to the Wall
I hung the DIY art display 3M Command Strips.
The strips held up this display for six years, and only came down because we moved! So, don't be concerned that Command Strips can't get the job done.
If you're worried, however, you could attach sawtooth picture hangers to the backs of the wood shapes and attach the DIY Art Display to the wall that way.
Step Five: Attach Curtain Clips and Display That Art!
Finally, add the curtain clips to the ribbon, and the art hanger is ready to be decked out with all of your kids' creations!


Curtain clips are easy to open, so I can add and remove art as new projects find their way into the backpack and/or are created at the kitchen table.
My kids love seeing their work displayed, and I love that there's some color on that blank wall. My husband loves that the entire thing cost less than $12 to make.
How do you display your kids' art in your home?
– Bre