Hello, friends!
Are you sick of Valentine's Day-related posts from me?
I hope not!  But if you are, I'm really sorry.  I just can't get enough of this holiday . . . and I have about five million Valentine's Day projects up my sleeve.  So much to do, so little time!
Today I am excited to show you one of those projects – a super easy "XOXO" banner that I put together in about 25 minutes.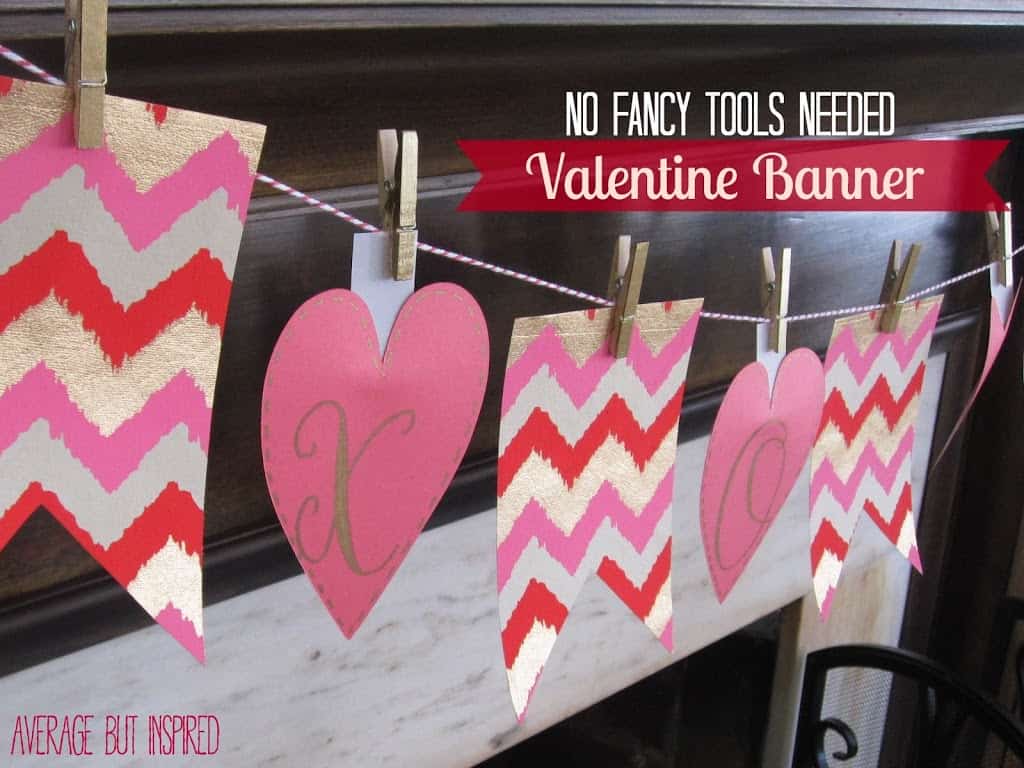 It is a fun addition to my Valentine's Day mantel, and it didn't take any fancy electronic paper cutting machines* to make.  (*Attention dear husband: if you are reading this, I would love love love one of those fancy electronic paper cutting machines for my birthday!  Wink wink!)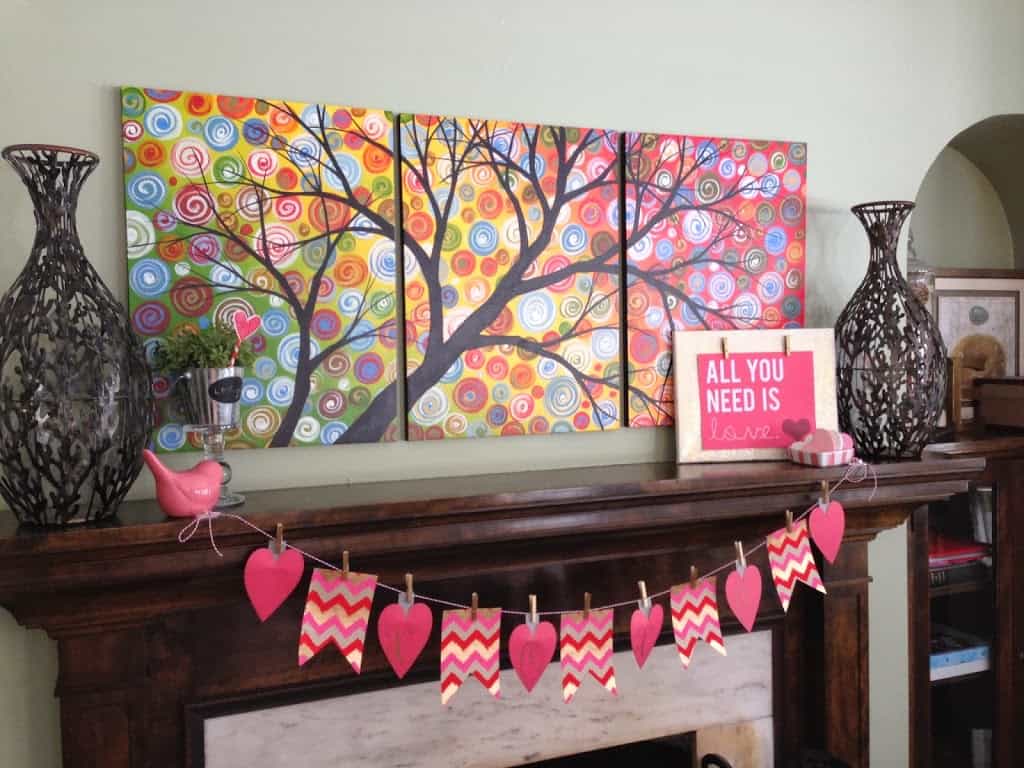 I just adore the multi-color metallic chevron wrapping paper that was used for the pennant portion of the banner.  I found that when I wandered into Paper Source after an unfortunate trip to the repair shop next door to have my smashed iPhone fixed.  The paper is extremely thick and beautiful – not at all like regular wrapping paper.  I'm trying to find other uses for it in my home because I love it that much.
Anyway, I'm not lying when I say it is really easy to make a banner just like this.  If you want one, here's what you'll need:
The pennant and heart shape template (you can download it here – you're welcome!)
Bakers twine or ribbon in the desired length
Mini clothespins (I got mine at Dollar Tree)
Cardstock and/or wrapping paper in the patterns and/or colors of your choice
Sharpie (I used gold metallic)
Scotch Tape
Acrylic Paint (to paint your clothespins)
Optional: vellum (I used tiny strips of vellum at the tops of my heart cut-outs so the clothespins wouldn't obscure the tops of the hearts)
Now, put your banner together!
Print the pennant and heart shape template.  It will be easier to use if it's printed on cardstock, but regular copy paper will work, too.  Cut out those pieces.
Trace the shapes onto the back of the paper you're going to use for each piece.  I used six hearts and five pennants.
On your heart pieces, write the letters of your desired message with your Sharpie.  I wrote on four of them – "X," "O," "X," and "O."  I then outlined each of the hearts, including those without letters, with dashed lines.
If you choose to do so, attach small strips of paper with tape to the back of your heart shapes.  This will give the clothespins something to attach to that won't obscure the shape of your hearts.  This is where I used vellum.  (Note: if you use vellum, do not glue it to the back of your hearts.  The vellum will curl and distort the shape of your hearts.)
Paint the faces of your clothespins your desired color.
Cut your bakers twine or ribbon to the desired length.  Hang in desired location and affix your heart and pennant shapes.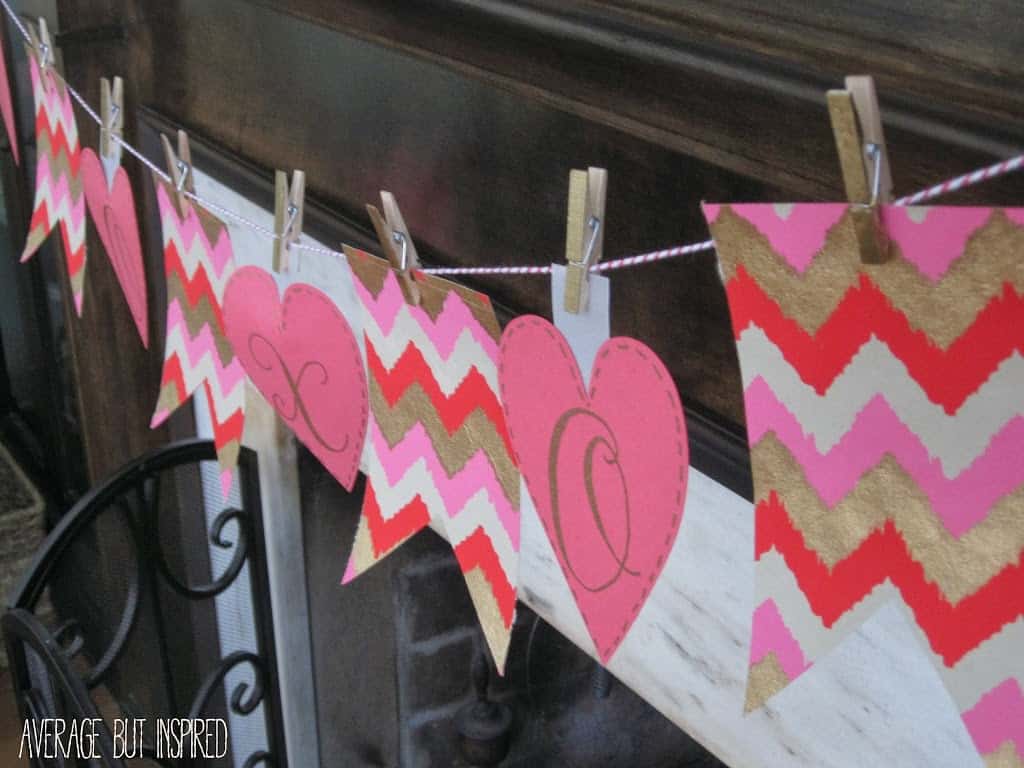 See?  SO EASY!
Since the shapes are so easily removed, you could switch out the hearts for something else at a later date, re-use the bakers twine or ribbon, etc.  Love it!
Do you decorate for Valentine's Day?  If so, what's your favorite Valentine's Day decoration?
– Bre
Let's Be Social!  Facebook // Pinterest // Twitter // Bloglovin'