Yesterday was extra special because an old friend of mine came for a visit – all the way from Iowa. I was so excited to see her! To pass the time until she arrived, however, the kids and I had a little coloring and crafting time at the kitchen table.
Since Valentine's Day is less than a month away (and since my daughter talks about it incessantly), we decided to make our first V-Day project of the season – LOVE photo and popsicle stick art!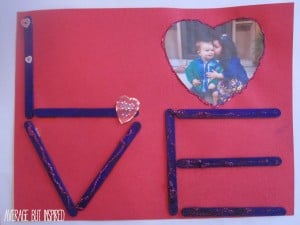 This was the perfect project for my preschooler because it involved letters (which we're working on a lot these days), fine motor skills (gluing in a straight line and affixing popsicle sticks in the correct places), and creativity (which is always important). It also didn't involve a lot of mess and it kept her attention.
To make this project, we gathered supplies that we had on hand, including:
construction paper
popsicle sticks (you can get packages of 100 colored popsicle sticks for $1 at Dollar Tree!)
Elmer's Glue
a photo (I printed mine on regular copy paper, but you could obviously use a professionally printed photo)
embellishments of your choice (we used glitter glue and heart stickers – also purchased at Dollar Tree)
In the spot where the "O" should have been, we glued our heart-shaped photo.
Next, my daughter put glue over the L, V and E letters. She concentrated very hard to get her lines straight! Check out that look of determination!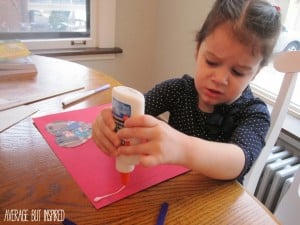 Finally, she decorated with stickers and glitter glue. I helped outline the photo heart with glitter glue.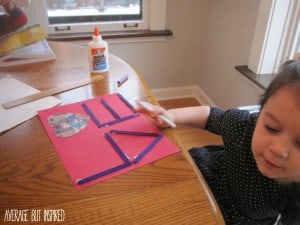 Easy! Fun! Inexpensive! All attributes of a great kids craft.
– Bre