When I think about favorite childhood memories, some of my fondest are those that involved cooking or baking with my father.  We never made anything elaborate, but that wasn't the point.  The time we spent pouring, sifting, mixing, stirring, rolling, taste-testing and devouring was precious, and it is time that I will always treasure.
One of my dad's favorite things to make with my siblings and me were soft pretzels.  He would make gigantic, twisty concoctions that I remember being bigger than my head.  They were amazing.
With these memories in mind, I decided to carry on the tradition with my children (albeit in a slightly smaller (and sweeter) scale).  So on yet another frigid day here in Chicago, we made up a batch of soft pretzel bites and enjoyed them with a side of Nutella dipping sauce.  (We need the extra fat and calories the Nutella provides because we're hibernating.)
I'm not going to lie – these were not the quickest or easiest things to make.  They were a good activity for my kids, however, and they tasted delicious right out of the oven, so that made up for it.
If you have a couple of hours to kill one day, give these a try.  You'll need these ingredients for the pretzels:
2.5 cups of flour
2 teaspoons of active yeast (this is approximately 1 of those little yeast packets)
1/4 cup and 1/2 teaspoon of sugar
3/4 teaspoon of salt
3/4 cup of warm water
1/2 tablespoon of vegetable oil
1/4 cup of baking soda
1 cup of hot water
spreadable butter or margarine
Kosher salt
Now, to make your pretzels, do the following:
Dissolve your yeast and 1/2 teaspoon of sugar in 3/4 cup of warm water.  Let this mixture stand for about ten minutes.

In a separate, large bowl, mix together your flour, 1/4 cup of sugar and salt.

Add in your oil and the yeast/sugar mixture from the other bowl.  Mix this together to form your dough.  (Add a little extra water if you think it's too dry.)

Knead the dough to work out the lumps and to make it smooth.  This takes about 5 to 10 minutes.  My hands were tired after 5 minutes so I gave up, but things turned out fine.

Put your dough into a large bowl and cover with plastic wrap.  Prepare to be amazed as it doubles in size over the course of an hour!  (Make sure to keep checking every four seconds, just like my kids did.  Also, aren't my Valentine's Day flowers just gorgeous?!?  I'm a lucky girl!)

Once the dough has been sitting for about an hour, preheat your oven to 450 degrees and grease your baking sheet.

Then, take your dough and break off chunks.  Roll each piece into a rope and then knot each rope.  (Note:  we also made some letter pretzels, which made my preschooler extra happy.)

Bake the pretzels for 8-10 minutes, until lightly browned.

Remove the pretzels from the oven and spread the butter or margarine on them.

Sprinkle the pretzels with Kosher salt.

Enjoy!
If you want to serve your pretzel bites with Nutella dipping sauce, mix 1/4 cup of Nutella with approximately 3 tablespoons of milk.  (You can add more milk if you desire a thinner consistency.)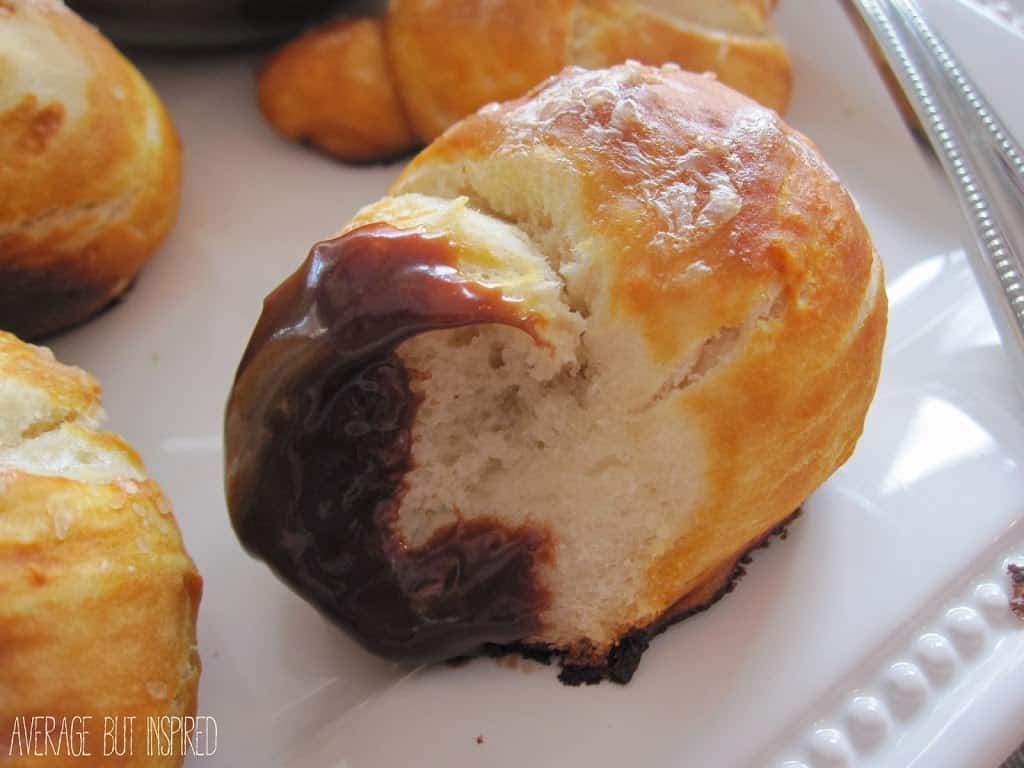 Oooooh sweet and salty – just too good!
Do you have any special baking or cooking memories with your parents? 
– Bre