I am a total lover of pretty paper goods.  One of my favorite things to do is stroll around cute paper shops and admire all of the adorable card, stationery, notepad and calendar designs.  Luckily I have a Paper Source nearby, so I can stop in for a dose of happy whenever I feel the need.
On a recent trip, I spotted their updated custom stationery line.  After I "oohed" and "aaahed" for a bit and conducted an internal debate on whether to order some of my own (all the while bribing my two year old with M&M's to stay near me, stay quiet and stop touching everything in sight), I decided to try a DIY version first (primarily because I'd run out of M&M's and the you-know-what was hitting the fan.).  So, I bought a set of plain notecards and envelopes and off I went.
I guess I'm actually glad my son is insane so I couldn't order anything.  My stationery turned out pretty well and I saved myself about $17 for a set of 20 cards and envelopes.  (Manicure money.  Holla!)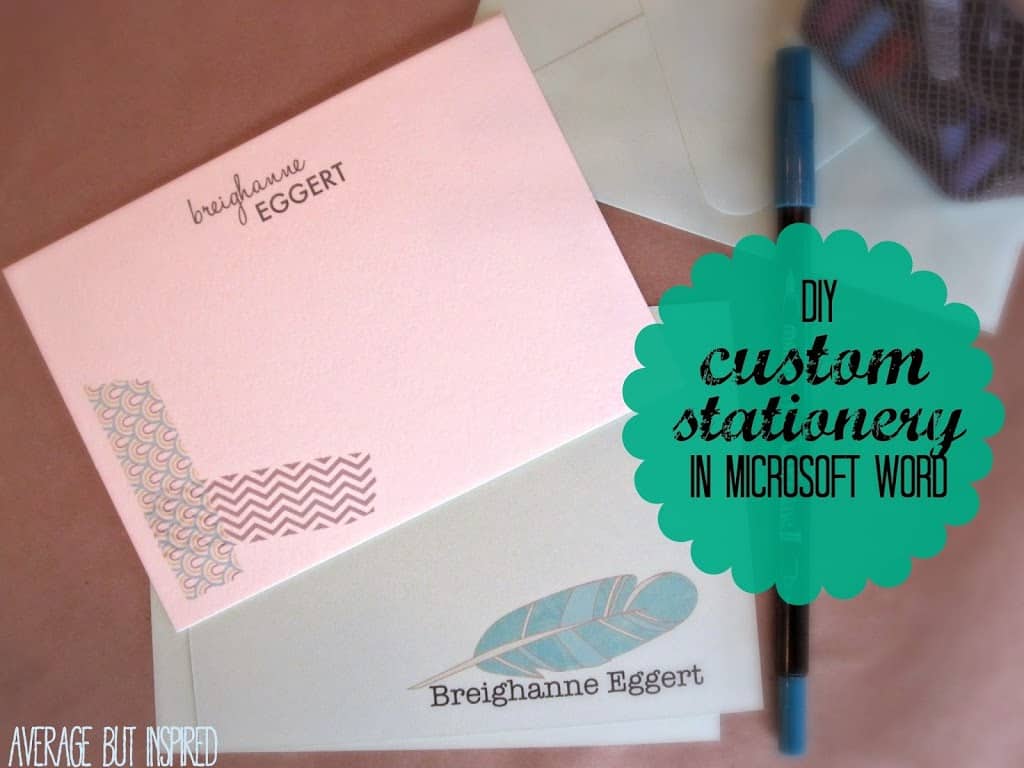 If you want to try making your own custom stationery, I'm happy to share my tips with you today.  If you have a basic understanding of Microsoft Word, you should be able to do this with great success!

Tip 1 – Download Pretty Fonts
The first thing you need to do is find yourself some pretty fonts.  Search Pinterest for some good fonts and font combinations, and then download them (or similar ones), from dafont.com for free.  If you've never downloaded fonts before, make sure to install them once downloaded.  After you've installed them, you may need to reboot your computer for them to show up in Word.
Tip 2 – Search Pinterest for Free Graphics Downloads
Pinterest is full of links to great clip art and images that you can use for your stationery!  I found my washi tape clip art and my feather clip art right there.  If washi tape and feathers aren't your thing, look for something else!  Just make sure that any image you use is not copyrighted and/or that the creator has given express permission for personal use of the image.  Nobody wants to receive a cease and desist over a notecard gone wrong.
Tip 3 – Format Your Page
Once you have your fonts and your graphics, you'll need to format your page in Microsoft Word so that it corresponds with the size of the notecards you've purchased.  In my version of Word (2008 for Mac), you do this by going to File > Page Setup > Paper Size > Manage Custom Sizes.  Then you enter the width and the height of your notecard in the appropriate boxes.  At this time you can also change the size of your margins (the non-printable area), by entering those numbers in the Top, Right, Bottom and Left boxes.  The smallest margins my computer or printer would allow are .25″.
Tip 4 – Use Text Boxes
When you're ready to enter your name on your stationery, don't simply type it like you would in a regular document.  Instead, use text boxes to get the placement exactly where you want it and how you want it.  This is how I was able to achieve the stacked and staggered text in this piece of stationery.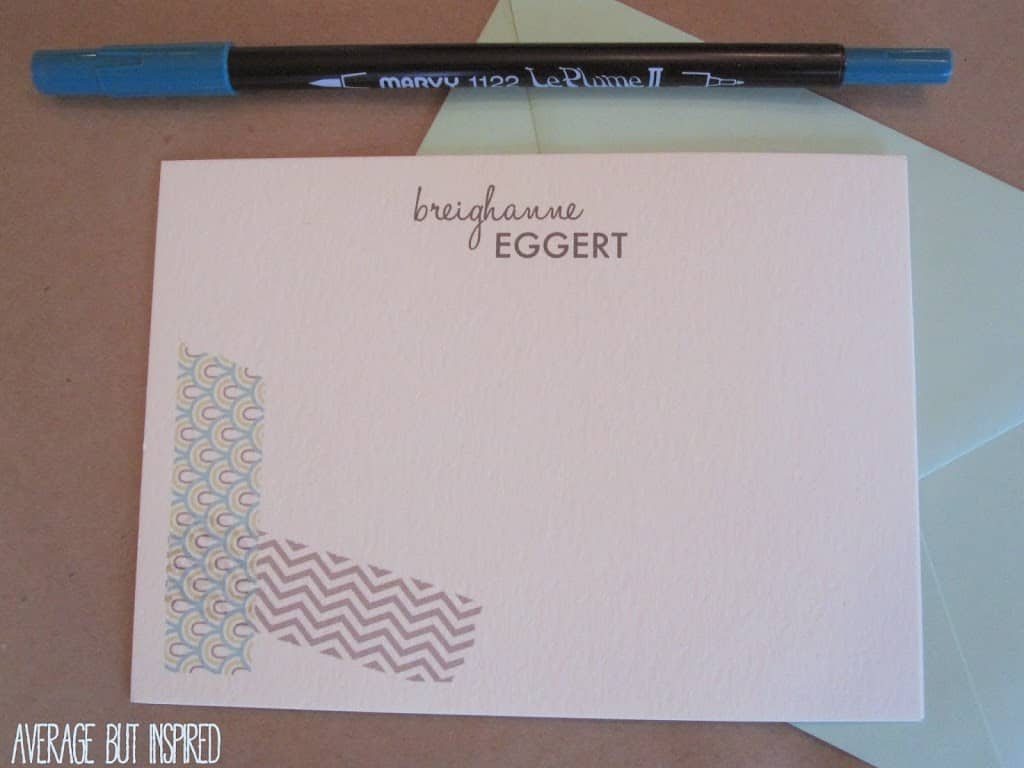 In order to create a text box, all you have to do is go to Insert > Text Box.  Then use your cursor to create a text box in your document.  Once you see the rectangle appear on your page, you can start typing your desired text.  You can enlarge the text box by pulling the box with your cursor at the outside edges, and if you want to delete the text box entirely, just hover your mouse over the box and press delete.  You can also move the text box to a different part of your document by dragging it wherever you like.
Tip 5 – Insert and Format Your Image
To add a graphic to your stationery, simply go to Insert > Picture > From File, and then choose the appropriate file from the drop down menu.
When your image appears in your document, click on it so that it becomes active on the page.  Then click Format > Picture.  A box will appear that lets you manipulate the orientation, transparency, color, size, position, etc. of the picture.  I always click Layout > Behind Text.  This allows me to layer text and images, similar to my feather stationery.  (The tip of the feather image is actually layered underneath the text.)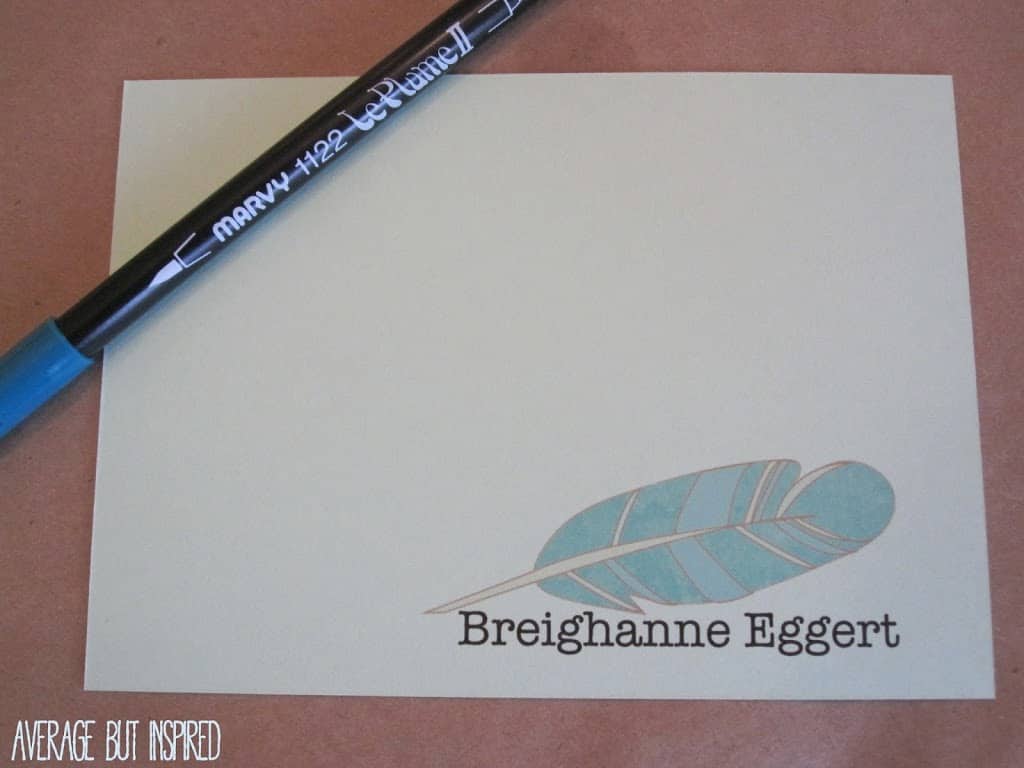 It can also be helpful to make the image a bit more transparent if you're layering text and images.  Basically, play around with formatting your image until it comes out just how you like it.
Tip 6 – Test Print
Finally, make sure to run some test prints before you print your actual stationery.  Although your notecards may look perfect on screen, the margins can require a little tweaking, the colors can be off, and text can run off the page unexpectedly.  If you do some test prints in fast draft mode on your printer, you'll save ink and frustration.  Be prepared that your stationery probably will not print perfectly the first or second time.  But once you get it, you'll be all set.
I hope these tips have you well on your way to making your own beautiful correspondence cards.  You can definitely mail me a thank you note later.  🙂
– Bre