Friends.
How many times have you flipped through Real Simple, Better Homes and Gardens or any other magazine that induces feelings of domestic inadequacy, and seen mouthwatering recipes claiming to take only fifteen minutes to prepare?  You look at the stylish photos of the food that was allegedly made faster than a normal person takes to shower, and you think to yourself, "Okay, well, this is in a magazine.  And they can't lie in a magazine, right?  So I'm sure that I, too, can make this amazing Baked Alaska in just fifteen minutes."
And then you try it.
And immediately you're livid because you realize that you've been duped.  Fifteen minutes really means forty-five minutes (if you're lucky).
But adding insult to injury is the fact that, more often than not, that forty-five minute, fifteen minute dish tastes, well, bad.
I seriously hate that.
That's why I'm giving you a delicious and legitimately 15 MINUTE recipe today, folks.  This southwest chicken salad is super fast to prepare and it's totally yummy.  Pinkie swear.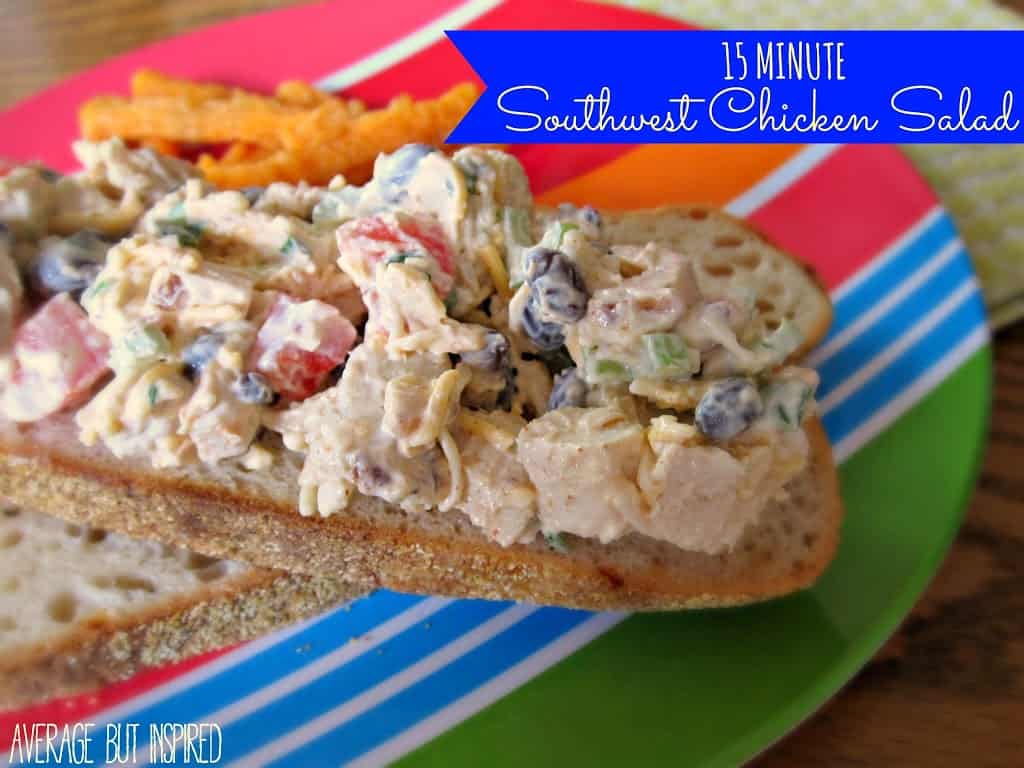 I modified this recipe from one I found in Midwest Living (I randomly started receiving this magazine for no apparent reason), and I promise that it's deee-lish.
Ingredients (makes 4 servings)
– 2 cups of chopped, cooked chicken (I used Trader Joe's Just Chicken, which is my favorite pre-cooked chicken.  It is all-white meat, not slimy, and very tasty)
– 1/2 cup finely chopped celery
– 1/2 cup mayonnaise
– 1/4 cup sliced green onions
-1/2 cup shredded Mexican cheese blend
– 1/2 cup chopped tomato
-1/2 cup canned black beans (drained and rinsed)
-1/4 cup chopped, fresh cilantro
-1/2 teaspoon taco seasoning mix
Directions
Put everything into a bowl and mix it all up.
See?  This is definitely doable in fifteen minutes, right?
Now, make this for dinner this week, and use the time you saved to write me a nice comment in the box below.  😉
– Bre