Hi, friends.
What's up?  Did you have a good Memorial Day weekend?  Hopefully you had good weather and were able to do some cooking out!  More on my long weekend later . . .
For now, it's time for May's Inspired Items.  HOLLA!  Best time of the month, right?
Apparently I wanted nothing to do with fashion or style this month.  No clothing or personal accessories made the cut.  This is crazy to me.  I guess I've only had home and garden on the brain in May.
See?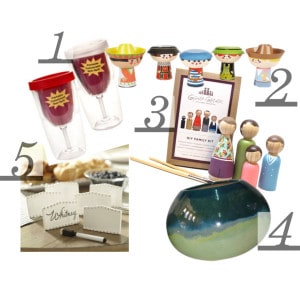 1.  Clear Plastic Wine Glasses with Lids – Dollar Tree – $1
Love love love these!!!  How amazing for a lovely picnic in the park, concert under the stars or afternoon playdate with your girlfriends?  Plastic ensures your glass won't break and the top ensures your vino won't spill.  Totally classy (ha!) and fantastic.  Stocking up on these (and yes, they're BPA free – my sister checked).
2.  It's A Small World Meal Sets – Amara – $39
OMG could these be any cuter?  These little guys are a cup, bowl and plate that form a cute little person inspired by Disney's It's A Small World ride!  I feel like they could get any kid excited about eating dinner.  Such a cute gift, too!
3.  DIY Wooden Peg Family Craft Kit – Goose Grease – $28
You guys, I cannot even begin to explain how much I love these little peg people.  Goose Grease sells these amazing customized families that come delivered in shadow boxes (like this), but they're pretty pricey.  For those on a budget like myself, this DIY kit is fantastic.  Sure your DIY peg family probably won't look as cute as the one in the photo, but how fun that you made it yourself!  Perfect addition to any gallery wall or bookshelf!
4.  Ceramic Planter – Lowes – $34.98
I saw this planter in the store and it took every fiber of my being to not buy it.  The picture doesn't fully show the gorgeous greens and blues.  It really looks like a piece of art.  So much nicer than my plain terra cotta pots.  Sigh.
5.  Milford 7-piece Place Card Set – Birch Lane – $28
So I got this new catalog in the mail from a place called Birch Lane.  Everything about it looks like Pottery Barn, from the products to the typeface used in the catalog.  The prices seem a bit lower, however, and they did have some things I hadn't seen in Pottery Barn. Take, for example, these cool reusable place cards!  I love this idea!  They come with a wipe off pen, too.  Awesome!
What caught your eye this month?
– Bre
I Bet You'll Like These Posts, Too!