Hi, friends-
I really
hate
the color of my dining room.  A lot.  It is
so so so
blue.  I wish I could blame somebody else for this unfortunate color choice, but alas, this is all my fault.
You see, when we bought our home, the dining room was quite heinous.  It had yellow ceilings and moulding, along with blood red walls covered with faux finish paint techniques and dragonfly fabric, to boot.  Here's a photo with the seller's furnishings.
I wanted the dragonflies and ketchup and mustard color scheme to go away ASAP, so I picked a color without testing it out and without thinking about how it would actually look in this room.
Decorating F-A-I-L.
You see, our dining room gets very little light.  It also has a lot of dark wood moulding and trim, which is original to the house and not going to be painted over.  We also have dark furniture, which is quite large and imposing.
All of these elements, plus the dark blue paint, make my dining room feel closed in and dreary – not at all what I wanted for a place that is supposed to host happy gatherings of family and friends!
So now I'm determined to repaint this room by the end of summer . . . the only problem is that I can't pick a paint color!  I'm too scared to make another mistake.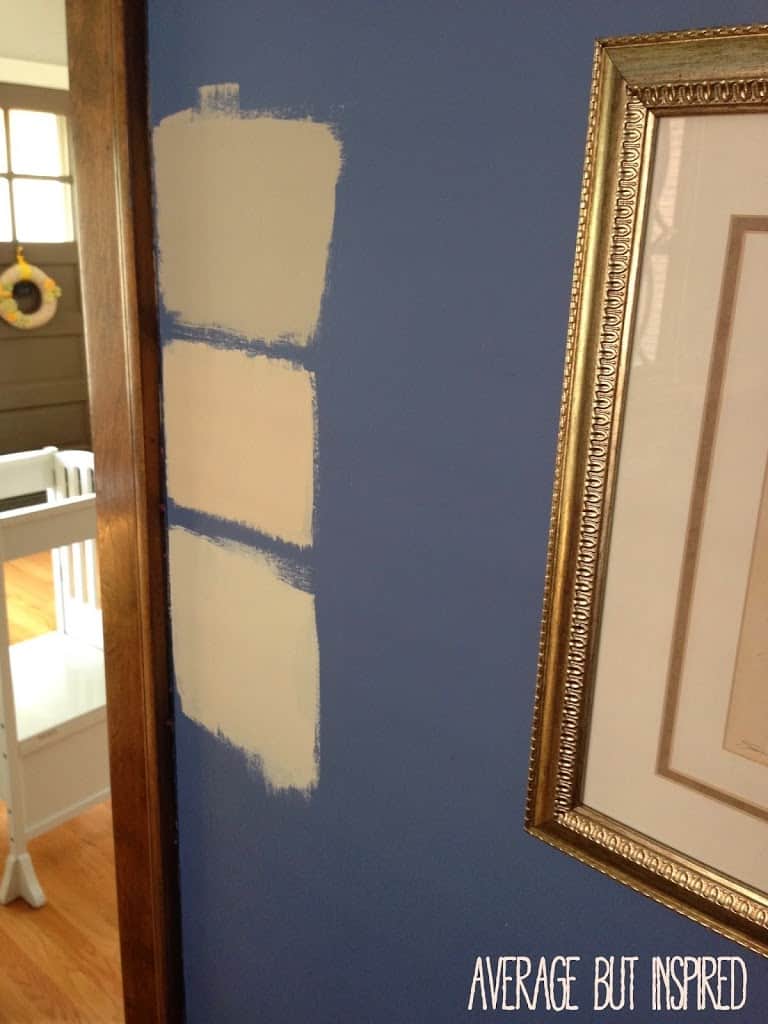 My favorite of these is Hazy Skies, but I'm worried it might be too dark once it's all over and surrounded by my dark trim and furniture.  So now I'm thinking maybe I should go a shade or two lighter on the color card . . . down to 
Ashwood
or
Halo
.  But then I worry that it will be "too boring."
Where is my happy medium!?!  
I guess for now I will continue to stare at my walls with looks of disgust and confusion, and stuff my face with leftover Easter candy.  (I find that emotional eating helps with almost any dilemma I am facing.)
Hopefully you'll see a post from me sometime soon with my newly-painted, stunning dining room!  In the meantime, feel free to let me know if you like any of these colors and/or if you have any other color suggestions!
– Bre