**Thank you to Viva Vantage and Walmart for sponsoring today's post and helping me make my stainless steel sparkle and shine!**

Hello, friends!
When we remodeled our kitchen three years ago, I was excited to step into the "new millennium" and get stainless steel appliances.  But my love affair lasted about four days and promptly ended once I realized how kid unfriendly they are.  They show every.single.handprint and constantly look streaky and grimy, even after I clean them.  Gross.
I'm not a total clean freak, so I usually just go about my day, ignoring the streaks and spots.  But upcoming visits from friends and relatives prompted a closer cleaning of my home, including my appliances.  And I'm happy to report that, in the process, I found the solution to the stainless steel disgustingness problem!!!!  Best part?  It's an easy and inexpensive solution.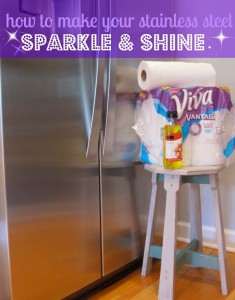 First off, you need some olive oil.  Yep, plain old olive oil.
Next, you need some super high-quality paper towels like
Viva Vantage paper towels
, which are available at Walmart.  I used to be a generic, store brand paper towel girl myself, but no more.  These towels were amazing for all of my cleaning needs (and I have
a lot
with kids ages 4 and 2),  and especially for making my stainless steel shine.

their thickness and sponge-like absorbency is essential for containing the olive oil.  Trust me, you don't want that all over your hands while you're trying to clean;
Viva Vantage paper towels also have a special V-Flex Weave, which gives them superior stretch and scrubbing power – perfect for removing stuck-on messes; and
they have perforations, which allow you to select the perfect size towel for your task, big or small.
So, pour a generous amount of olive oil on your paper towel and get to work!


Don't believe me that this will make a WORLD OF DIFFERENCE on your appliances?  
Here's an "in progress" comparison for you!

The one small section of 
Viva Vantage towels
 I used held up through several applications of olive oil and repeated scrubbing of a strange peanut butter-like substance on my refrigerator's handles.  I even used the same piece to shine my dishwasher and oven!
My old paper towels would have shredded apart after even a minute of scrubbing, and my refrigerator would look NOTHING like it does now!

Moral of the story:  don't let handprints and unidentified substances mar the beauty of your appliances; pick up some olive oil and Viva Vantage paper towels next time you're at Walmart or Walmart.com and make your stainless sparkle and shine!
– Bre