Friends! What can I say other than I have had a CRAZY past couple of weeks. Like, legitimately Britney Spears circa 2007 cray-cray.
Not only was I on antibiotics sick (it happens like once every two years), but I was also deep into preparing for a huge, annual membership event with a local charitable organization, and then my dad got seriously ill and was hospitalized for a week. I won't go into details about his medical situation because it's private to him, but I will say that I was terrified we were going to lose him. Needless to say, I traveled to and from Wisconsin a lot last week to see him, and was physically and emotionally exhausted as a result. But, I'm happy to say that while things still aren't great with my dad's medical situation, he's getting wonderful care and I am grateful for that!
Needless to say, many of my blog projects and plans got pushed to the side, so I'm a little behind on sharing everything I've got up my sleeve! However, I did finish this insanely easy and inexpensive DIY Halloween Banner that I made with coasters, paper napkins, and muffin tin liners, of all things!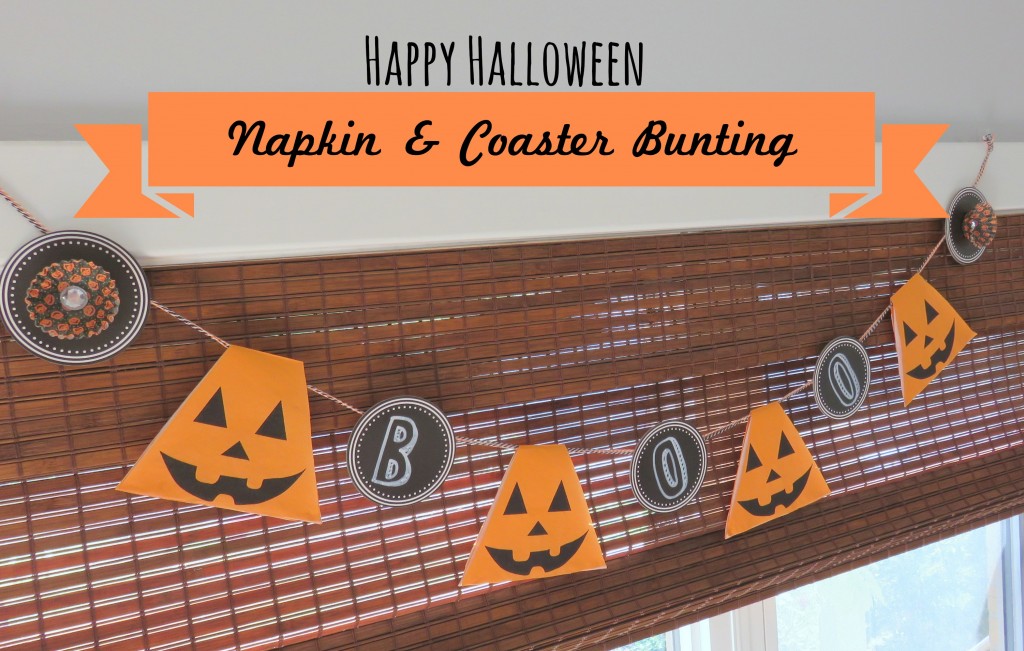 Yeah, seriously – I found these coasters, paper napkins and bakers twine in the Target Dollar Spot, and the cute mini baking cups at Dollar Tree. On their own they're cute, but together, they're fabulous!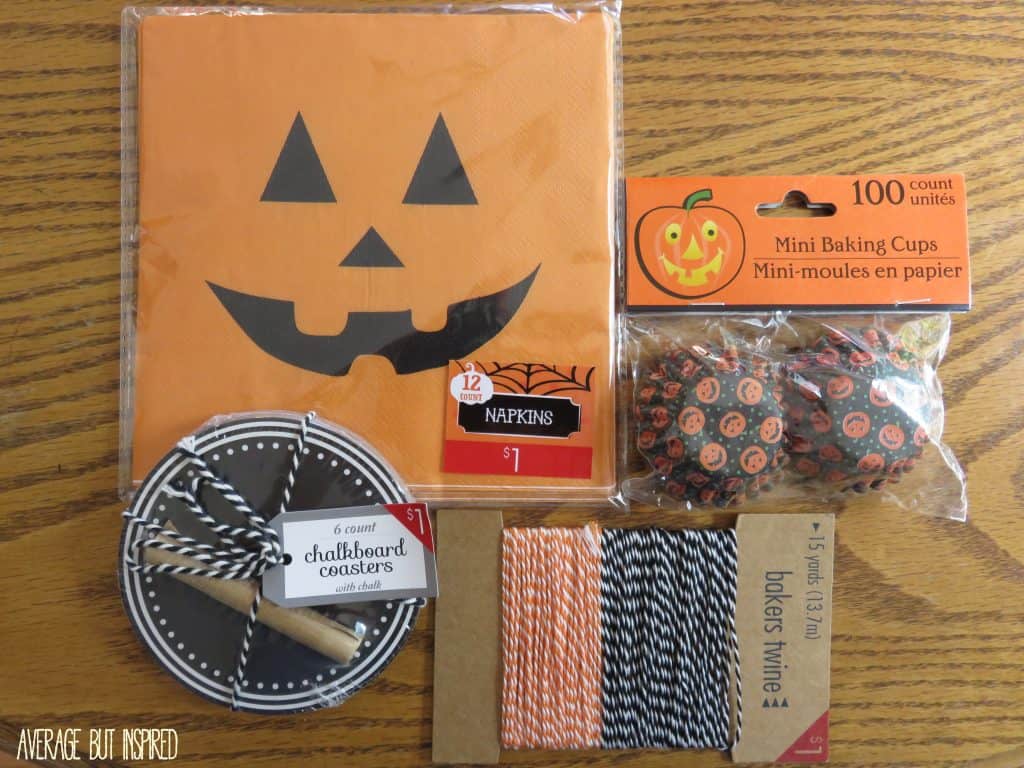 To make my bunting, I gathered these supplies:
Bakers Twine
Chalkboard Coasters
Halloween Paper Napkins
Halloween Mini Muffin Liners
Paint Pen or Sharpie
Large Rhinestones
Glue
Sturdy Tape
First, I cut my paper napkins into triangles, leaving the crease at the top in order to run the bakers twine through it.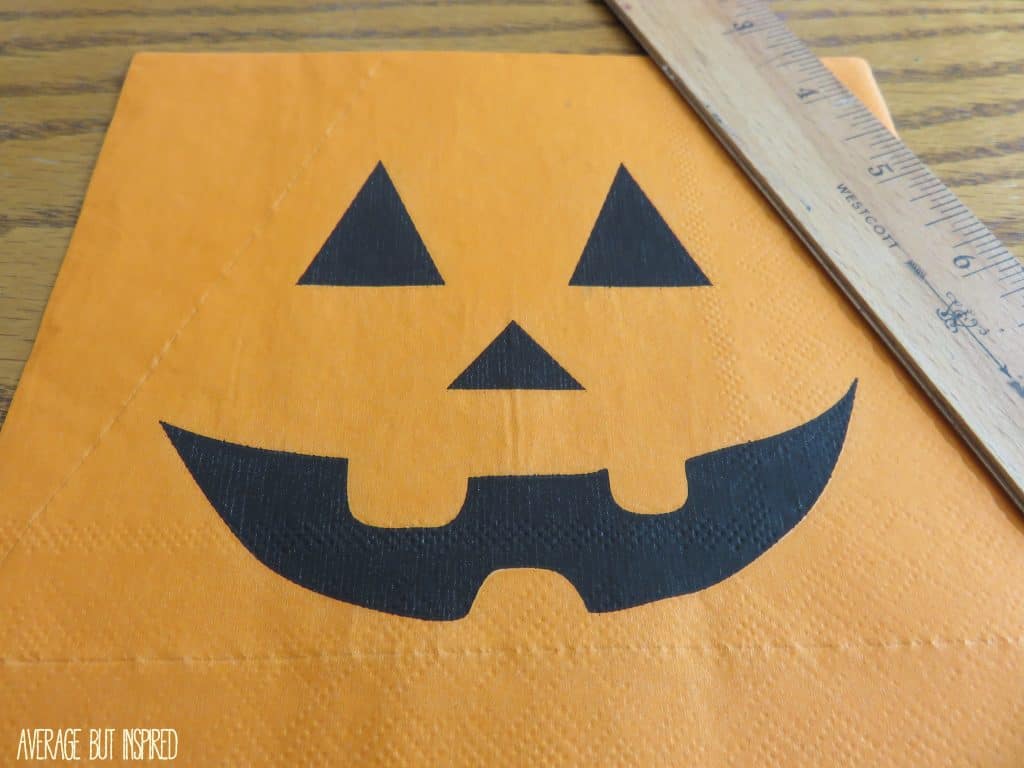 Next, I threaded the twine through the napkins, and glued them at the bottom to keep them from flapping open.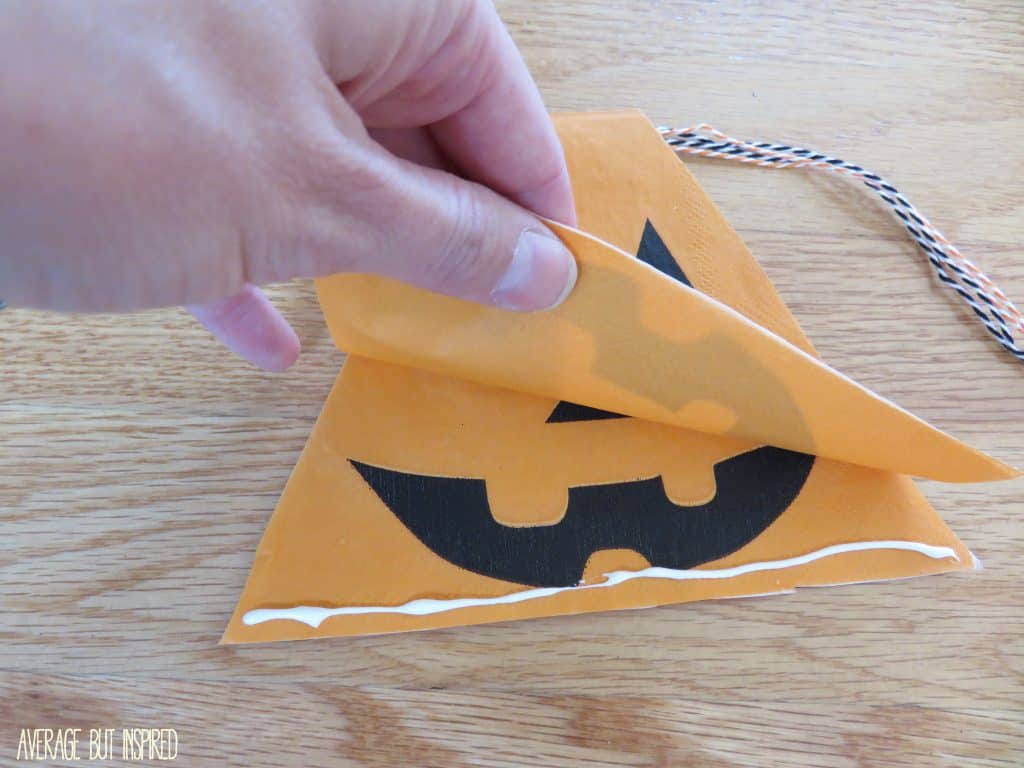 After that, I used packing tape to fasten my coasters to the bakers twine, alternating the coasters and the triangular napkins. I then used a paint pen to write "B-O-O" on the three middle coasters.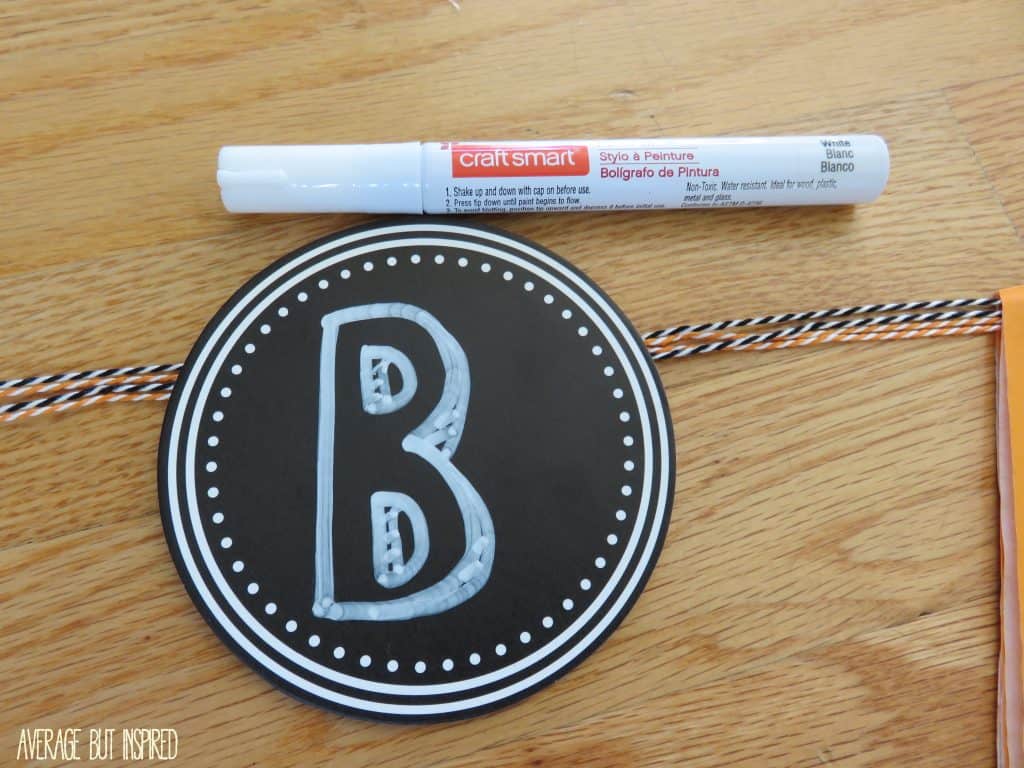 Next, I turned one of the muffin cups inside out and glued it to the inside of another muffin cup. (This way you don't see the white part when you glue it onto the banner.)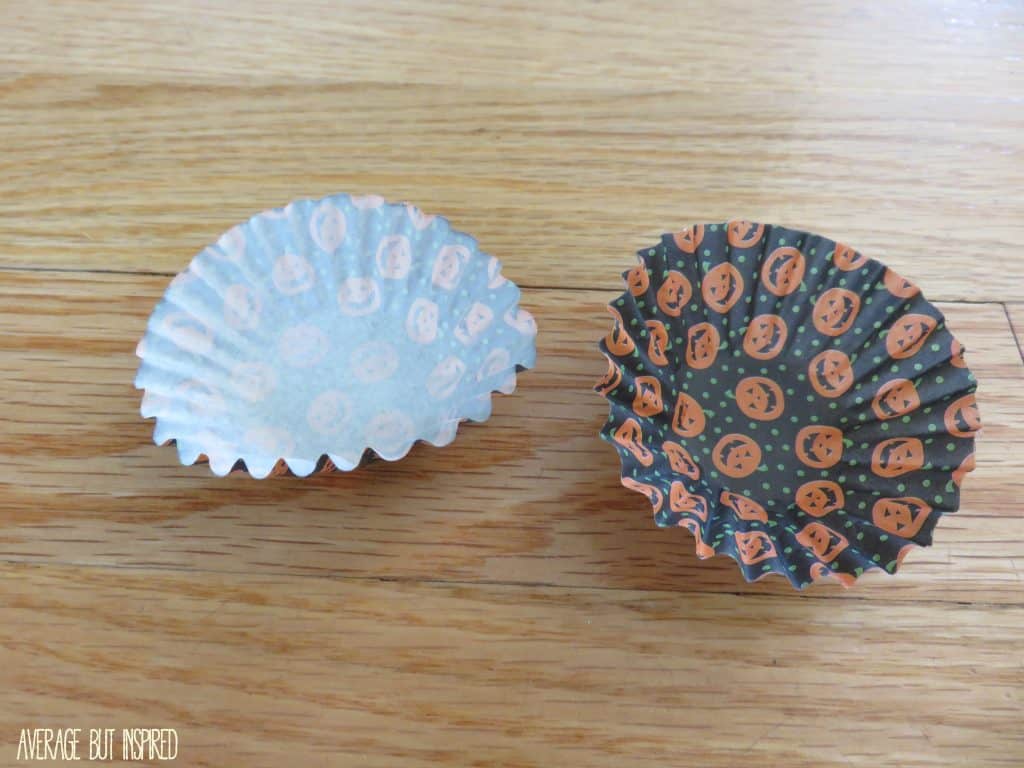 Finally, I glued two sets of the muffin cups to the coasters on each end of the banner, and I added a rhinestone to each for some bling!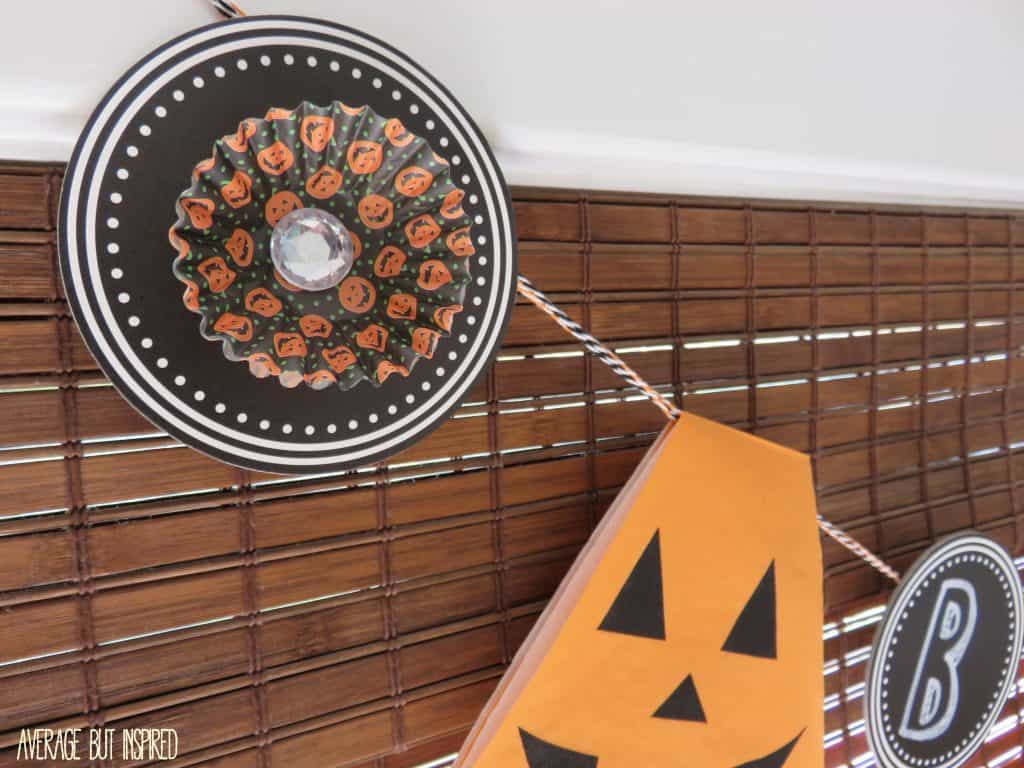 Of course my daughter loved it. She ADORES any holiday, and especially decorating for holidays, so she was really happy to see this go up in the kitchen!

Because of the materials used, it probably won't make it past October 31, but at least it only cost about $4 to make!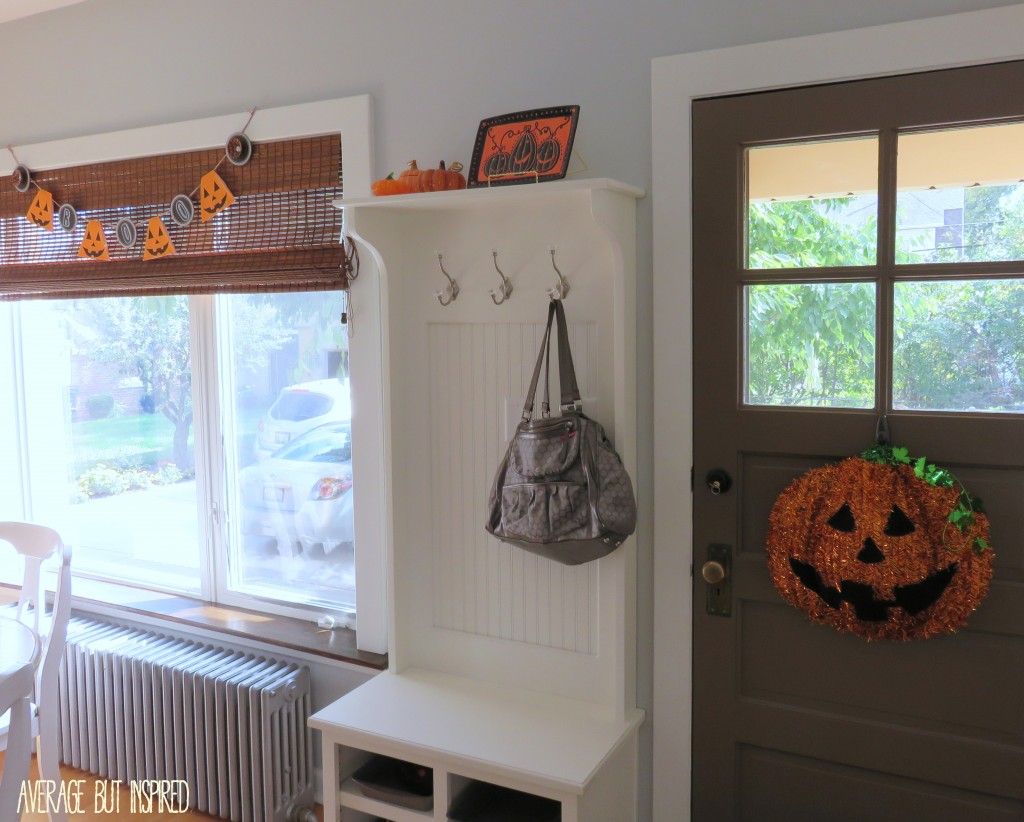 Even though life has been difficult recently, decorating for Halloween made me feel like things are sort of normal. I'm a big believer that celebrating the little things in life can make a big difference in your outlook and overall happiness, so making and hanging this simple banner was a dose of good medicine!
-Bre