This post contains affiliate links. If you purchase through these links, you'll help support Average But Inspired at no added cost to you, and you'll receive some products that I love! To see my full disclosure policy, please click here.
The holidays are almost here and I CANNOT wait! Every year I get so excited to do my Christmas gift shopping, and every year, without fail, I struggle to find the perfect gifts for everyone on my list. I vowed that this year will be different, so I searched high and low to find great gift possibilities for all of the men, women, teens/tweens and hosts on my list. And now, being the thoughtful person that I am, I'm sharing some of those ideas with you in my ultimate holiday gift guide. (I nixed the kids from this list because you can get them almost any kind of toy and they'll be happy (for at least 5 minutes.).)
OK, but that's not all. Nope, not even close. See, not only will get you get some great gift ideas, but near the end of this post you'll also be able to enter to WIN some stunning, semi-precious stone jewelry from my friend Maria at Infinite Warrior. I'm talking a 16″ hand-beaded turquoise necklace that features a sparkling drusy pendant AND a purple and gray agate bracelet that features an amethyst stone pave bead. GORGEOUS!
And if that weren't enough, I have teamed up with TWENTY-FOUR other fabulous bloggers to help bring you their gift guides AND giveaways, too! Seriously! At the very end of this post you'll find links to their posts where you can check out their gift guides and enter their giveaways!
GIFT GUIDE
First up are some awesome gifts for the ladies in your life! Whether you need something for your mom, you sister or your best girlfriend, these gifts are sure to be a hit!
The Fashionista
Infinite Warrior Jewelry – from $30
Every fashionista loves to look good and feel good, and that's why handmade jewelry from Infinite Warrior is the perfect gift! Each piece is made of the most gorgeous semi-precious stones and gems, and comes with an explanation of the healing properties and energies each piece promotes.
The Crafter
Why not give the crafter in your life the gift of a class or two that she can access whenever she likes, wherever she likes? Craftsy offers online courses in a wide range of arts and crafts mediums that are perfect for a person of any skill level. The classes can be stopped and started whenever the participant likes, and they never expire. I took one on furniture painting and loved it!
The Athlete
Fitbit Flex – Amazon.com – $93.99
The Fitbit Flex is the perfect gift for the active woman in your life! She can track her activity and sleep patterns, and ensure that she's leading the healthy lifestyle she desires!
The Foodie
City Grit Gift Set, Southern Comfort – Williams-Sonoma – $129.95
All I can say about this basket is YUM. Filled to the brim with southern food favorites like BBQ cheese biscuit mix and peach marmalade, it would be hard for this to disappoint.
The Homebody
Lively Monogram Custom Pillow – TinyPrints – $44.99
For the lady who loves her home, consider a sweet monogrammed pillow like this one! It's available in several colors and is a perfect mix of classic and modern style!
The Beverage Connoseiur
Beer Opening Glass – $12.95 – Uncommon Goods
Never let your guy be with his favorite drink but without an opener again! This awesome glass comes with the opener attached so he can be sure to stay properly hydrated at all times.
The Player
Custom Cornhole Set – from $225 – WGCornhole
Cornhole is a perennial favorite amongst the guys, so why not get him a set of his own? WGCornhole can customize a set with practically any logo or design you could want, so you guy can play the game with pride.
The Groomer
Kiehl's Refueling Men's Kit – $46.00 – Nordstrom
Maybe your man likes to pamper himself? If so, how about this awesome Kiehl's gift set, which will keep him manly and pampered and at the same time!
The Techie
Google Chromecast Media Player – $32.49 – Amazon
I won't even pretend to understand how this works. All I know is that it streams a bunch of online stuff to your TV, so that's cool, I guess! It's something my husband wants so I thought it was a good thing to add to this list!
The Homebody
Gramercy Textured Faux Fur Blanket – $44.99 – Target
I feel like even though they'd never admit it, every man would love to wrap up in some gigantic fur blanket when it's cold outside. It probably would call to mind some primal hunting and gathering feelings . . . or something like that. So yeah, why not give him a super cozy fur blanket like this to keep him warm this winter?
Personalized Color Dipped Canvas Clutch – Home Decorators Collection – $25
Tweens and teens are always carrying around a bunch of stuff (who knows what). These super cute pouches can be monogrammed in a variety of styles and are the perfect solution for the hard-to-shop-for set.
Nails Inc. Monogram Manicure Set – $25 – Sephora
For tweens and teens who are into their appearance, this manicure set is fabulous! The colors are modern and the monogram decals allow the recipient to express her individuality ('cause that's like so totally important when you're 15!).
Mini Music Portable Speaker – $35.99 – RedEnvelope
The young ones love their music and their phones, so why not get them a gift that combines those loves – speakers that will let them blast music right from their phones!
Custom Monogrammed Bamboo iPhone or Samsung Galaxy Case – $32.99 – Inked Panda (Etsy)
These phone cases are so original that they're just right for the tween or teen who loves to be unique and still attached to his or her phone!

12 Days of Christmas Tea Towel – $5.95 – Crate & Barrel
This tea towel is SO cute with it's depiction of the famous Christmas tune. Any host or hostess would love to receive it!
Garrett Popcorn Chicago Mix – $33 – Garrett Popcorn
I had to throw a little Chicago love into the mix here. Garrett's Chicago Mix Popcorn is FABULOUS with its cheesy and caramel corn flavors. This gift will not disappoint!
"Winter" 3-wick Candle – $22 – Bath & Body Works
This candle smells so divine that I might have to buy enough for the whole year! It is the best scent that is neither fruity nor foody. It's not overpowering and it's just splendid. This is my go-to hostess gift.
Frango Mints (Holiday Box) – $7.99 – Macy's
Every host loves to receive some sweets as as thank you gift, and Frango mints are totally delicious. This cute and festively decorated box is a wonderful gift for the host of any party.
LaMarca Prosecco – $14.99 – Wine.com
Prosecco is my favorite adult beverage because it's light, bubbly and fun! Bring some and hope the hostess opens the bottle while you're there!
INFINITE WARRIOR JEWELRY GIVEAWAY
Now that you've gotten so many great gift ideas for others, why not enter to win these totally amazing pieces of jewelry from Infinite Warrior for yourself? We've teamed up to bring you this 16″ hand-beaded turquoise necklace that features a sparkling drusy pendant AND a purple and gray agate bracelet duo that features an amethyst stone pave bead. Just enter via the Rafflecopter form below, and make sure to read the terms and conditions! (If you're reading this in an email, you may need to visit the post on my site to enter.) Best of luck!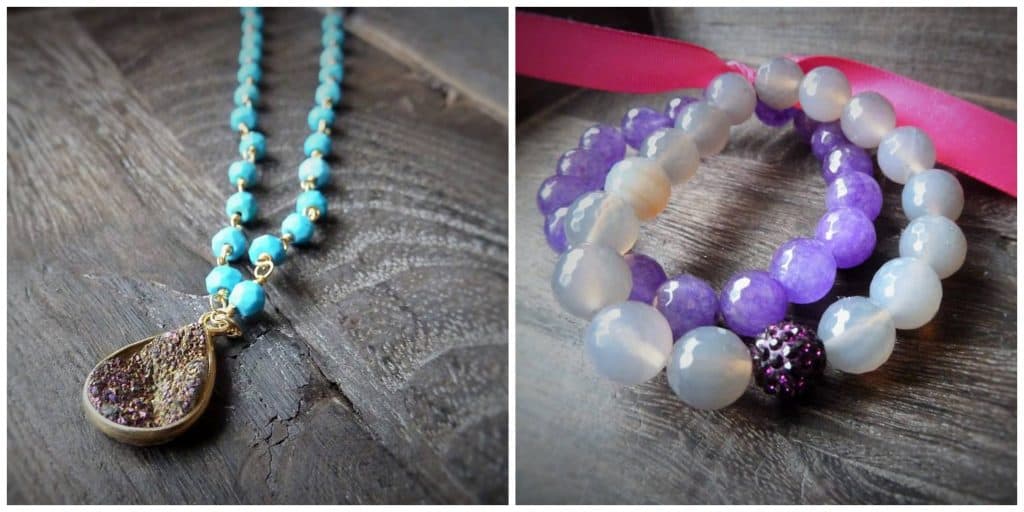 OTHER GIFT GUIDES & GIVEAWAYS
Now don't forget to check out the gift guides and giveaways that my blogger friends are posting throughout this week, too! Every day a different group of bloggers will post their gift guides and open their giveaways for entries, beginning at 8:00 am Eastern! Each giveaway runs for one week, so make sure you don't miss out on all of your chances to win some amazing prizes!
Monday (November 17, 2014)
making it in the mountains
Delineate Your Dwelling
Little Red Brick House
Tuesday (November 18, 2014)
DIY Passion
Canary Street Crafts
New House, New Home, New Life
Child at Heart
Wednesday (November 19, 2014)
Dwell Beautiful
Little House of Four
Meet the B's
Anything & Everything
Table + Hearth
Designer Trapped in a Lawyer's Body
Thursday (November 20, 2014)
Shambray
Joy in Our Home
Occasionally Crafty
Paper and Fox
Fresh Crush
Friday (November 21, 2014)
Houseologie
Brepurposed
Dandelion Patina
Dwelling in Happiness
BD Design
I hope you enjoyed my gift guide! Please feel free to send me any of the items on this list. Wink wink!
– Bre
To see where I'm sharing this post, please click here.