Good morning, friends! I am so excited to have you here today because I'm participating in the Home for the Holidays Blog Hop, where nineteen bloggers will be opening their homes to show you some of their favorite pieces of Christmas decor! You can find links to their posts, which will be going live throughout the week, at the bottom of my post.
But before you check them out, let me show you around my home!
So come on in – step right into the foyer.
Sit right down on the bench and take off your boots.  (I like you, but I don't like your snow tracks all over my floors.)   Now, make sure to check out all of the beautiful Christmas cards on my DIY Holiday Card Holder.
And make sure to check how many shopping days you have left on the chalkboard Christmas countdown calendar I made!  (Note that this countdown calendar actually serves no purpose, since I have never bothered to change the number of days on it.  I am awesome.)

Why don't you cozy up in the living room for a bit?  Sit by the fireplace and make yourself comfortable.  I know my faux chalkboard canvases are so last year, but a girl only has so much time to get everything done for Christmas, so revamping my over-the-mantel-art wasn't exactly on top of the priority list!   


I am loving my new photo stocking holders though! I'm just waiting for my husband to realize that I put a really embarrassing photo of him on his.  (Because I love him I didn't photograph that for this post.)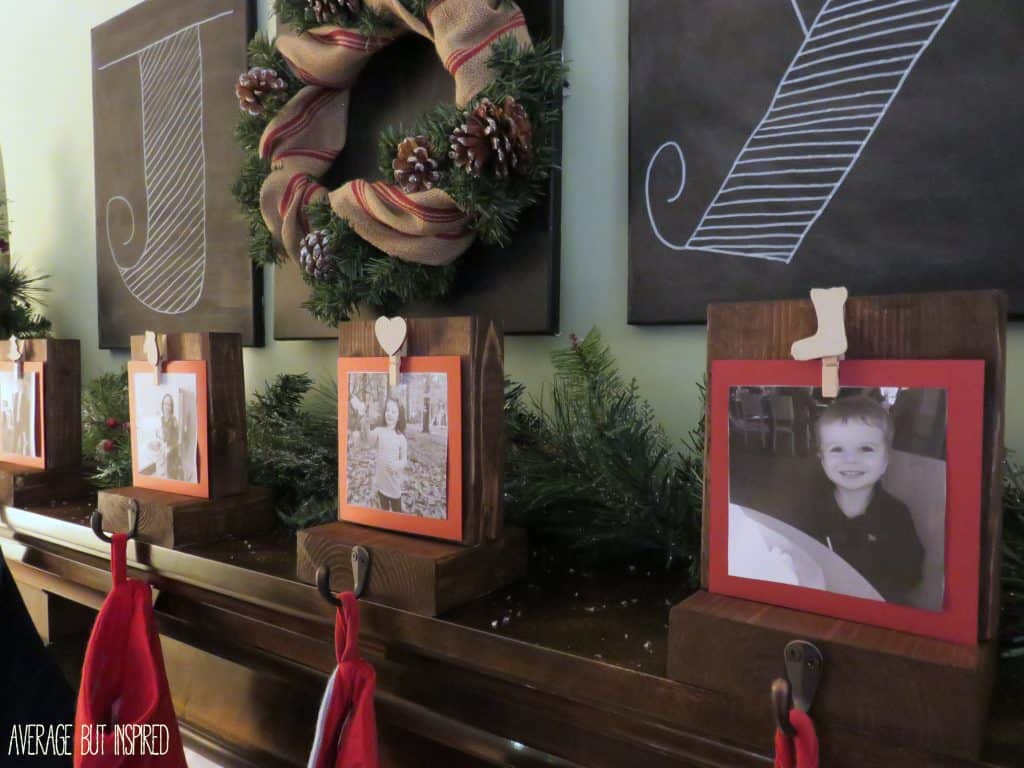 Even my little rolling firewood caddy dressed up for the season.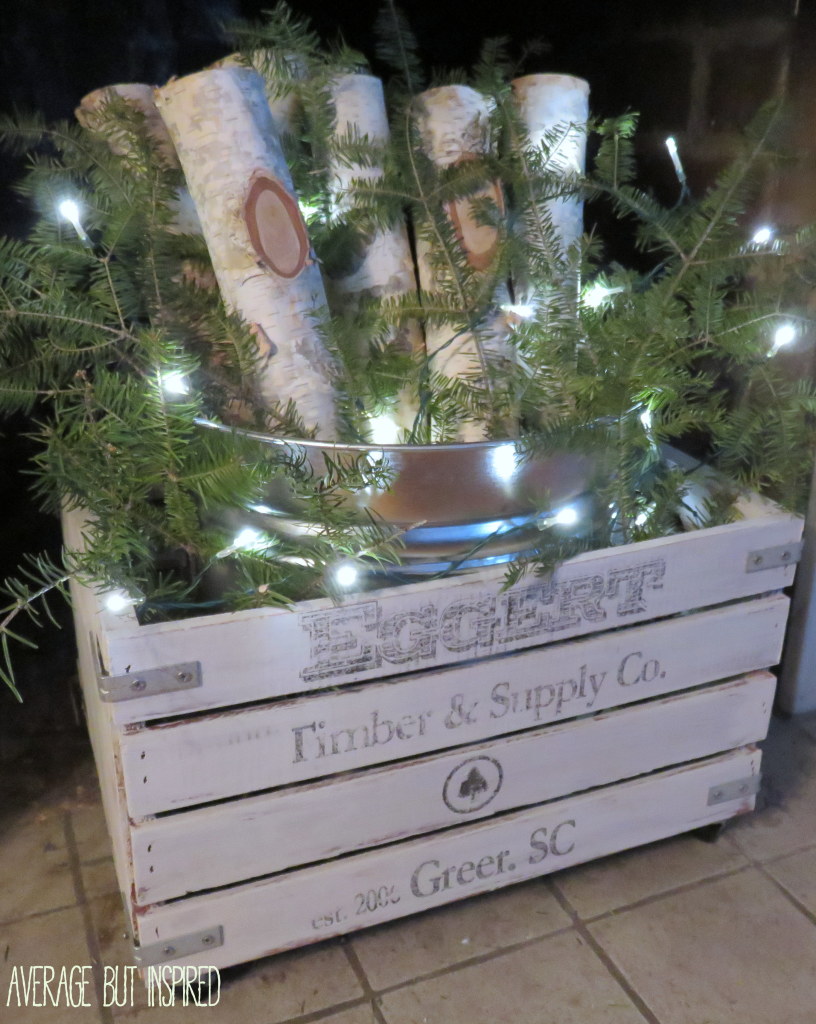 Grab a blanket and let my clear ornament snowman, Pierre, keep you company while I go make some coffee.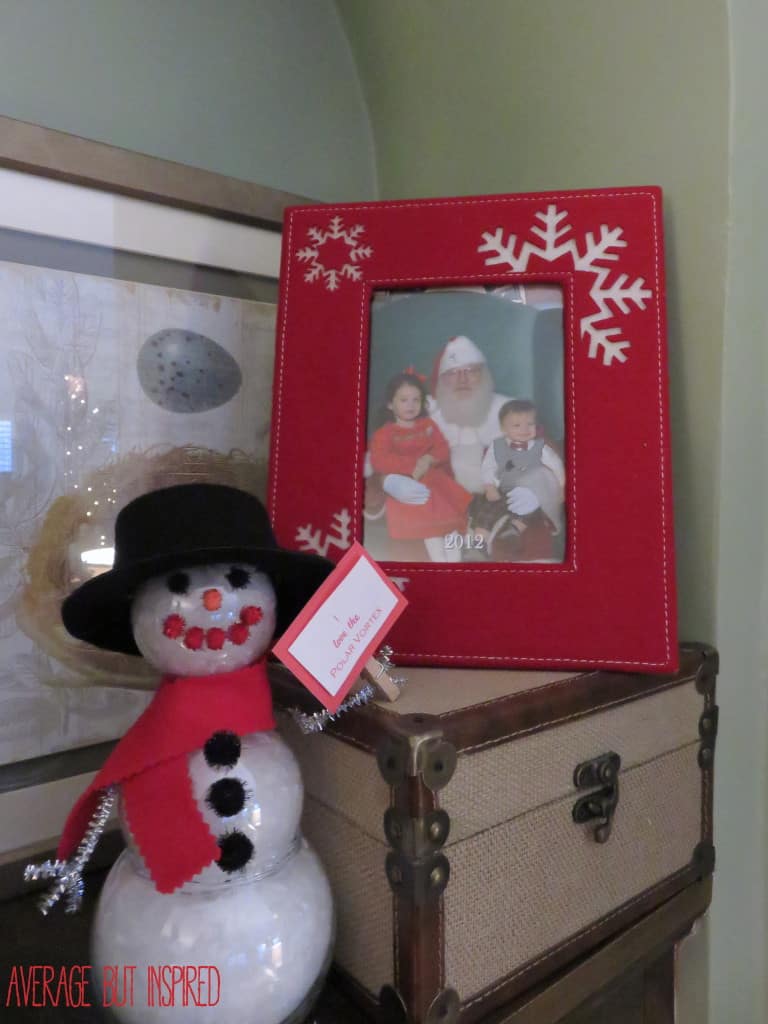 A word of warning though — don't let the "BLOODY SANTA" hanging on the tree freak you out. Although he's front and center on our tree each year, and appears to be dripping blood from his mouth, he's not indicative of our feelings about Santa (or anything else, really).


Alright, enough relaxing by the fireplace and tree. Let's head into the kitchen and grab that coffee I mentioned.  I've got everything ready and waiting on my DIY Wood Slice Serving Tray!  Grab a festive mug and fill 'er up!  Put some of those gingerbread marshmallows in there for an extra treat.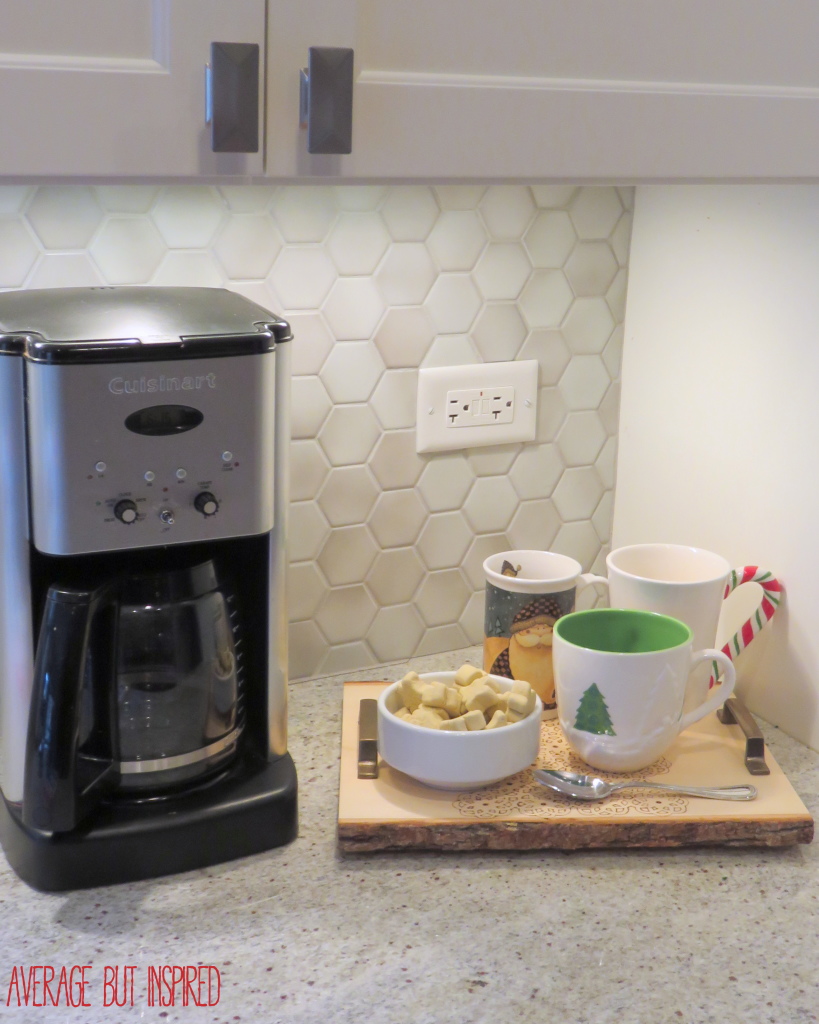 Let me show you the handprint wreath my kids made two years ago. I just love this – their hands were so tiny.

And here's a pretty serving tray my mother-in-law gave me, and I made that tinsel wreath about ten years ago. My kids now love picking the candy cane pieces out of it . . . grr.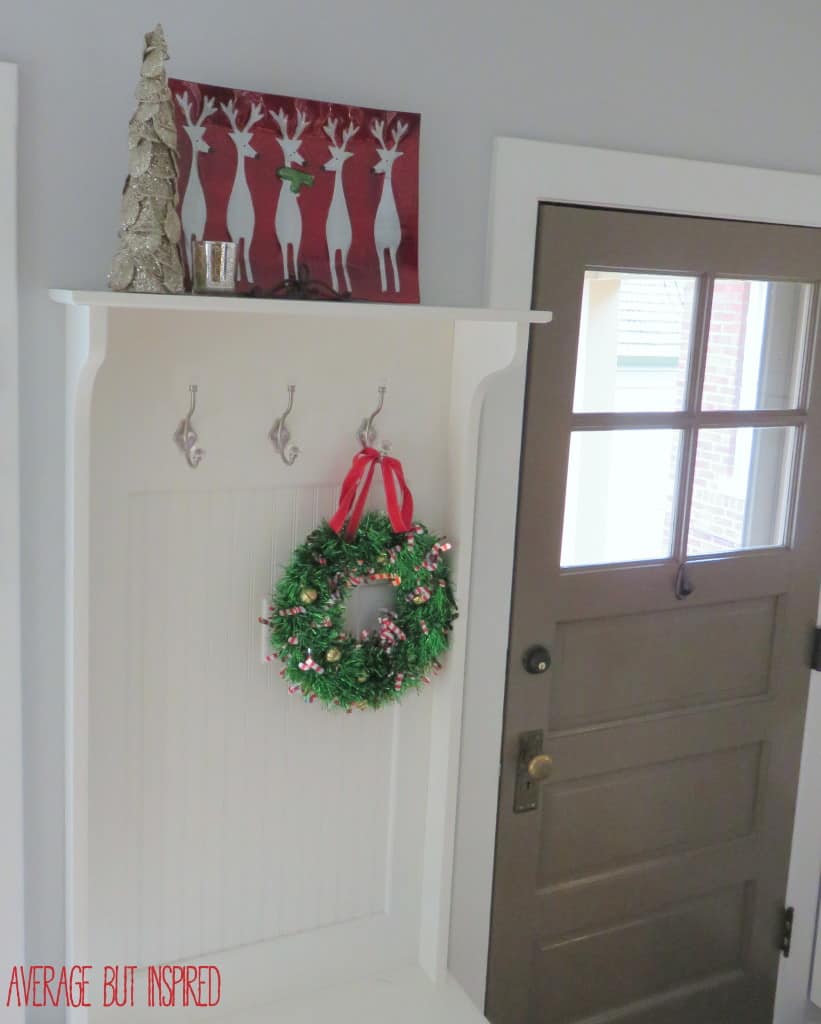 And to remind us of the reason for the season, here's our Advent wreath. I didn't have purple or pink candles, so I used ribbon wrapped around my DIY Glitter Glaze Jars as a substitute. It works, I guess (unlike the JUNKY LED tealights I bought to put inside the jars.).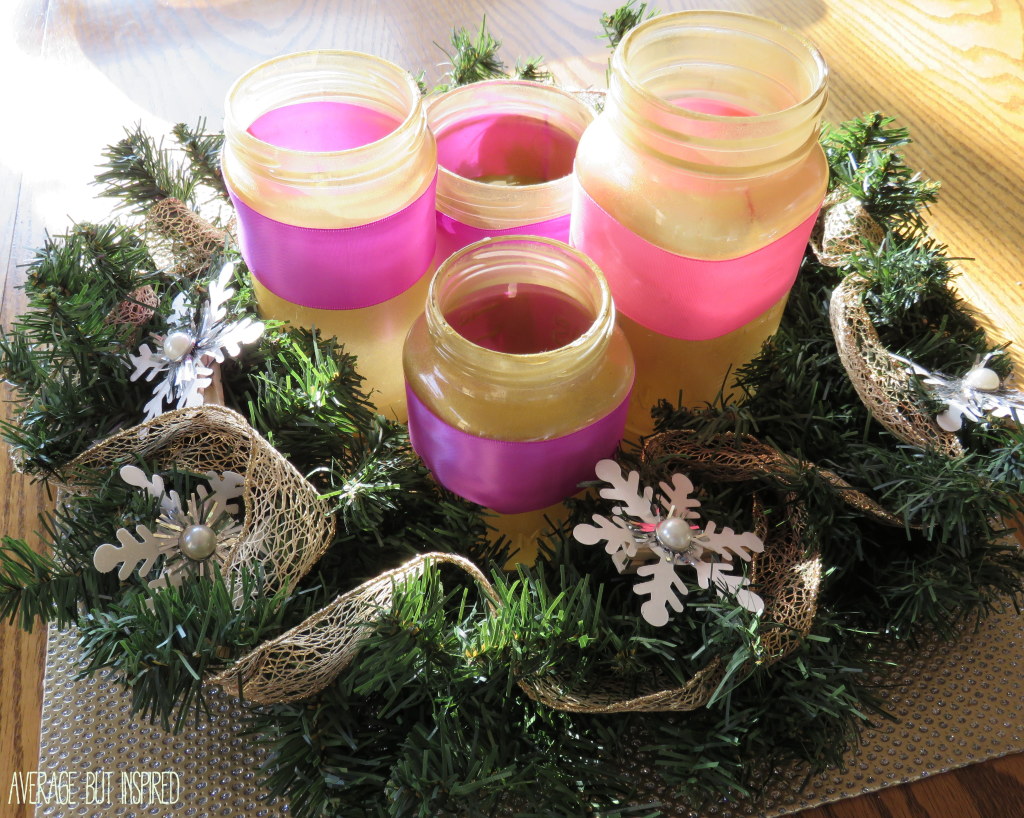 Do you want to take a quick peek inside my dining room? Since it's being used as a present stashing and wrapping center, there's not too much going on, but I've got a few things to show you!  


I made this cute little star garland with polymer clay. Too bad you can't see the way it sparkles in this photo!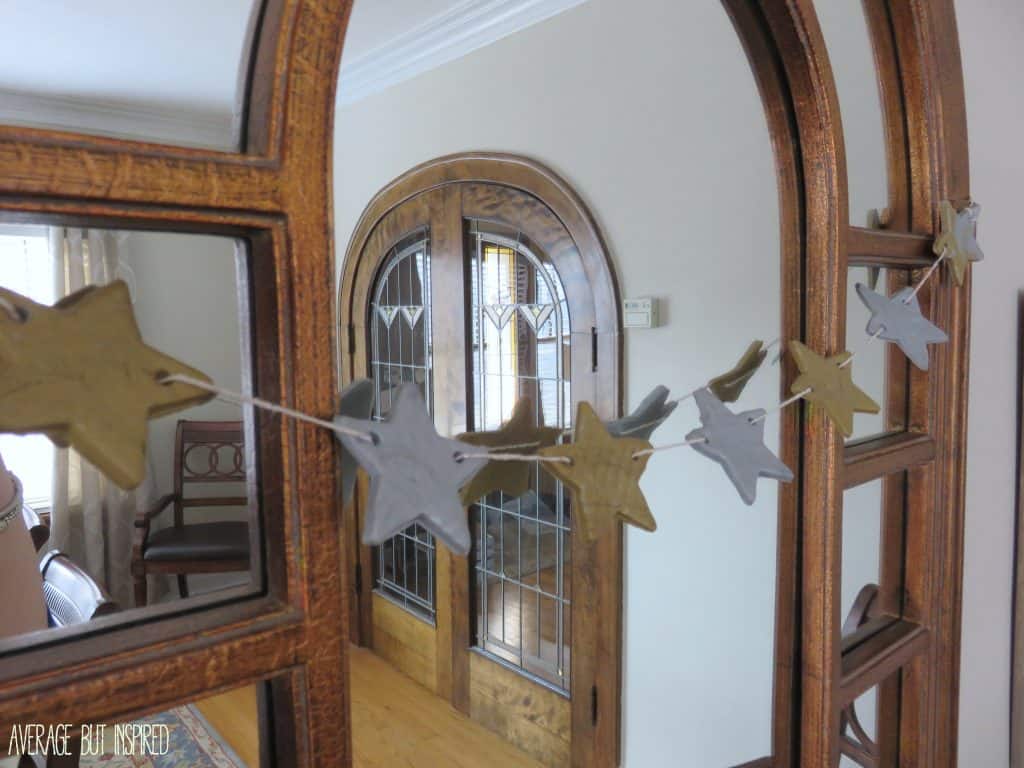 So here's a little sparkle on the table . . .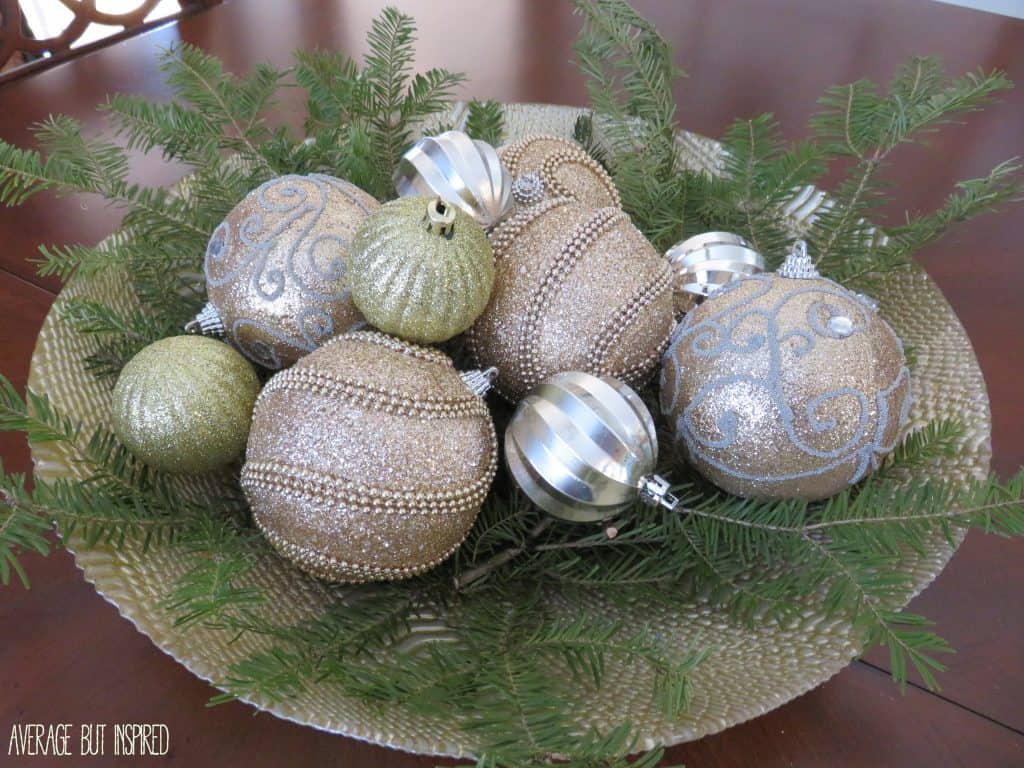 Alright, well I'm so glad you could stop by and visit. I think it's time for me to head upstairs and get to bed now, though. (The random blue snowflakes on the wall were made by my daughter and I'm afraid to remove them . . . don't come between my daughter and her artwork!)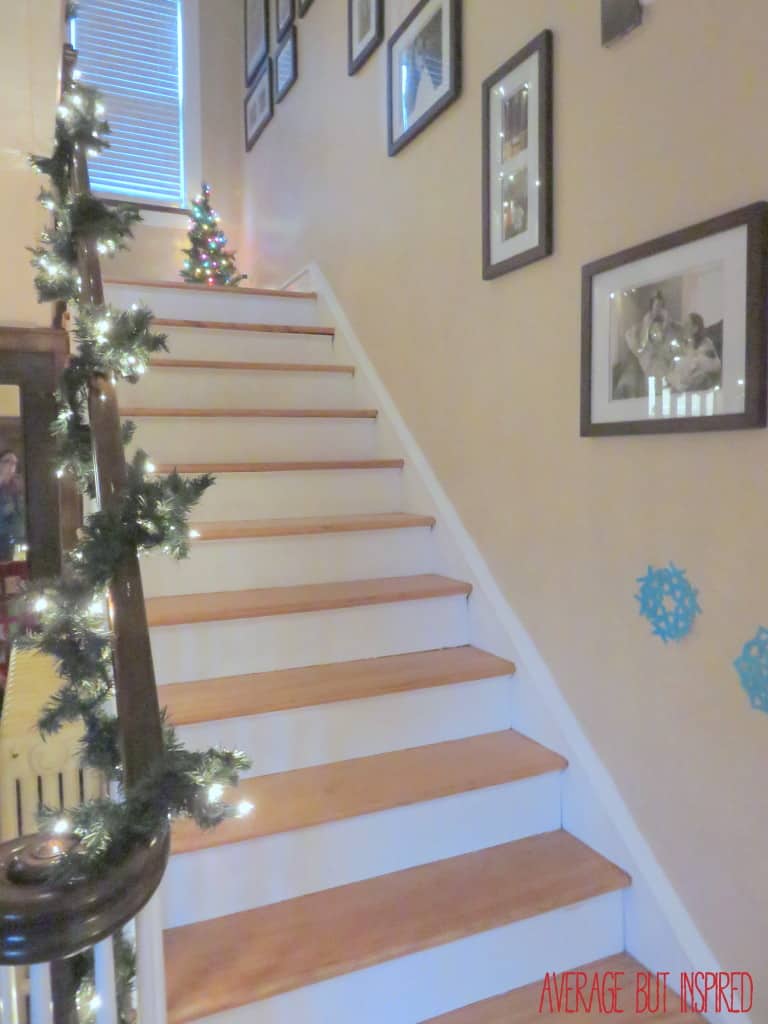 Thank you for visiting! Merry Christmas and happy holidays!
Now make sure to check out these other beautiful home tours!
Table and Hearth
Fresh Crush
– Bre
To see where I'm sharing this post, please click here.