Until recently I'd never tried freezer cooking (where you prepare lots of meals in advance and store them in the freezer until they're ready to be cooked and eaten).  Why?  Because I was intimidated by the entire process.
In my mind, you had to be a serious cook/homemaker/very frugal person to tackle freezer cooking and make it work for you.
Since I am none of those things, freezer cooking scared me to the point of never even trying.
But then one day I decided to give it a go.  And it was glorious.  And what was even more glorious was not having to actually prepare and cook dinner on the weeknights that I had meals already prepared.  I saved time and money with this process, making it a total win.  (For a little context, I prepared five different slow cooker recipes (for ten meals) in a little over 1.5 hours, and spent less money than I did on a regular trip to the grocery store.)
I know that I am not the only one out there who was intimidated by freezer cooking, so I thought I would try and help dispel the fears associated with it – – – as a public service and all.  (It's a serious problem, folks.)  I've learned from the mistakes I made along the way, as well as the things I did right, and I hope they will help you, too!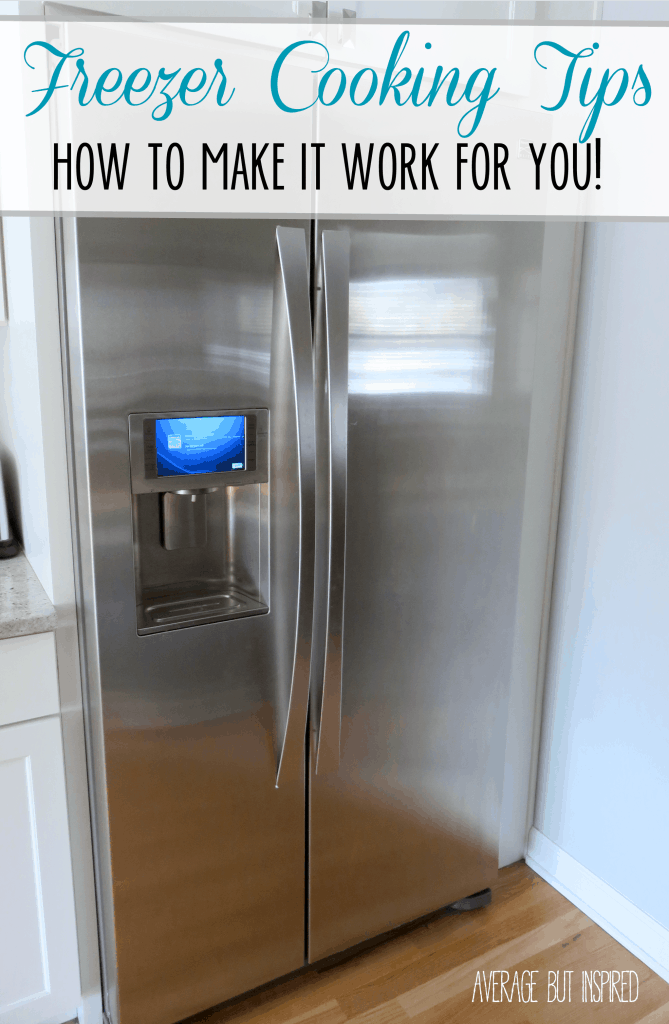 Plan Your Menu Ahead of Time
You must have a plan for freezer cooking because you cannot simply go to the grocery store, roam the aisles, and put together meals that work for a week.  Also, if you plan ahead and see what's on sale at your grocery store, you can tailor your menu to those items that are cheaper than others.
So far, my favorite resource for freezer cooking meal recipes is Six Sisters' Stuff.  The Black Bean and Corn Salsa Chicken is a staple in my dinner rotation, as it is a GREAT filling for tacos, topper for nachos, or to eat on its own.
Make Room in Your Freezer
There is nothing worse than having food prepared and ready to go into the fridge or freezer, and finding you have nowhere to put it.  Can I get an Amen?
Make space in your freezer before you prepare your food so that you can easily store your meals without any hassle!  You will be so glad to have done this ahead of time!
Print Your Recipes
I pin a lot of recipes and then read the recipes from my phone while cooking.  But this method is so inefficient because the print is small, I'm constantly drying my hands to hold my phone, and having to reenter the phone password to view the recipe as the screen locks.
If you're finding your freezer cooking recipes online, print them out before cooking.  It will make meal prep SO much easier.  Trust me!
If you're using recipes in a book, flag them with post-its so you can refer back to them easily!
Have the Right Supplies on Hand
Scan your recipes before you begin prepping and make sure all of the tools you need – – bowls, measuring cups and spoons, cutting boards, etc. – –  are clean and in a convenient location.
Also, make sure you have the correct storage containers for freezer use.  You don't want to prep several meals and find you have nothing to put them in!  I used 2 gallon Ziploc freezer bags, which I could lay flat in the freezer.  This worked great for me!  Another option could be those larger, disposable plastic containers, although that might take up more space in your freezer.
Separate Your Shopping and Meal Prep Days
If at all possible, DO NOT grocery shop and do your meal prep on the same day.  I made this mistake the first time around and it was nothing short of exhausting.  You will be less likely to hate the freezer cooking process if you split up your shopping and prep.
Label Your Containers
Once assembled, I labeled each meal with the following information:
Name of recipe
Date prepared
Thawing and cooking instructions
Garnishes and suggested accompanying food items
This makes the actual cooking part of the process a breeze because you have all of the information right at your fingertips!  No need to refer back to your (printed) recipe!
Grab a Friend
Many of the freezer cooking recipes I have put together make enough for two nights of meals.  (Specifically, the recipes tell you to divide the food amongst two containers.)
I thought that if I prepared, say, five recipes (that divide into two nights of meals, for ten meals total), and if a friend prepared five different recipes that divide out the same way, we could each swap five meals and end up with ten totally different meals.  That's almost two weeks of different dinners with only doing the work of five.
Any takers?
Well, those are all the tips I have for now.  If I think of more as I become a more seasoned expert on freezer cooking (ha!), I will make sure to edit this post and include them here!
If you have tried freezer cooking, do you have anything to add?  Please feel free to leave a comment if you do!
– Bre
To see where I'm sharing this post, please click here.