Top 'o the morning (afternoon, evening, middle of the night . . . whatever) to you!
I did not plan on making any St. Patrick's Day crafts this year, but then my daughter became obsessed with leprechauns and I had to do something to acknowledge the upcoming holiday.  So I whipped up this super easy shamrock craft that uses, well, glass ROCKS, and had to share it with you!  


I never really planned on posting this project, so I have to admit that I did not take photos of all of the steps involved.  My bad.  But for real, you don't need photos. It is that simple.
SUPPLIES
Plain wooden craft frame (mine was $1 at Michaels)
Paints in colors and styles of your choice for the frame
Green paint that is suitable for use on glass and fabric
Cardstock in green
Burlap fabric or wide ribbon to cover the cardstock
Spray adhesive
Large glass gems/rocks from the floral aisle
Glue that adheres to glass
INSTRUCTIONS
First, paint your plain craft frame.  I painted mine brown and then gave it a top coat of white chalk paint.  Next, I stenciled some gold polka dots on there and lightly sanded it for a distressed look.  

Next, I painted the backs of three of my glass rocks with the multi-surface green paint.  


While those were drying, I cut a piece of green cardstock to fit over the cardboard insert in the frame. I sprayed that with adhesive and stuck it on there. I then did the same with a wide piece of burlap ribbon, and stuck that on top of the green cardstock.
Once the glass rocks were dry, I glued them to the now-covered cardboard frame insert. I painted a shamrock stem and wrote "Slainte" (which means "health" in Gaelic, and which is a common toast over in Ireland), on a leftover piece of cardstock.  I glued that to the bottom and was all finished with my festive shamROCK art!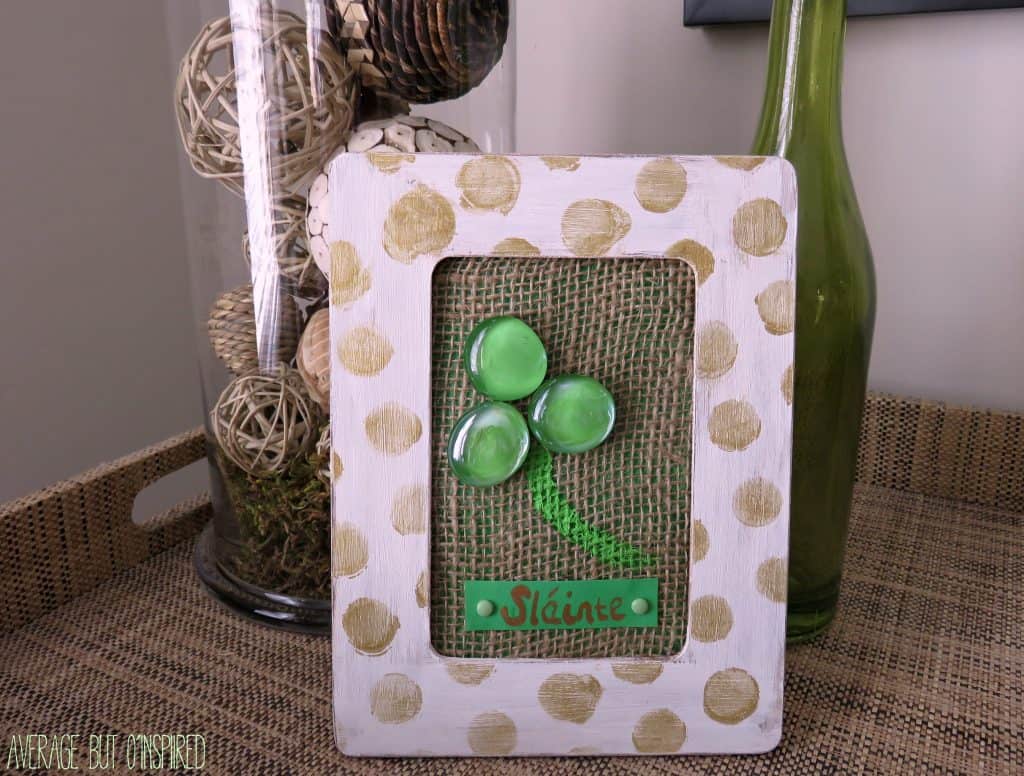 I guess I'm all set for my green beer on March 17th!
Will you be celebrating St. Patrick's Day?
-Bre
To see where I may be sharing this post, please click here.