The day when we honor some of the most important women in our lives – Mother's Day – is coming up soon!  This year my kids and I made the cutest Mother's Day craft and gift, which we are sending to my mother-in-law as part of her gift.
Although we don't get to see her that often, she loves to bake with my kids every time we get together. It is one of their favorite things to do with Grandma, so naturally we wanted to incorporate their special activity into their gift to her.  With a little help from me, my kids made this Mother's Day fingerprint tea towel, using their thumbprints to make cookies all over it.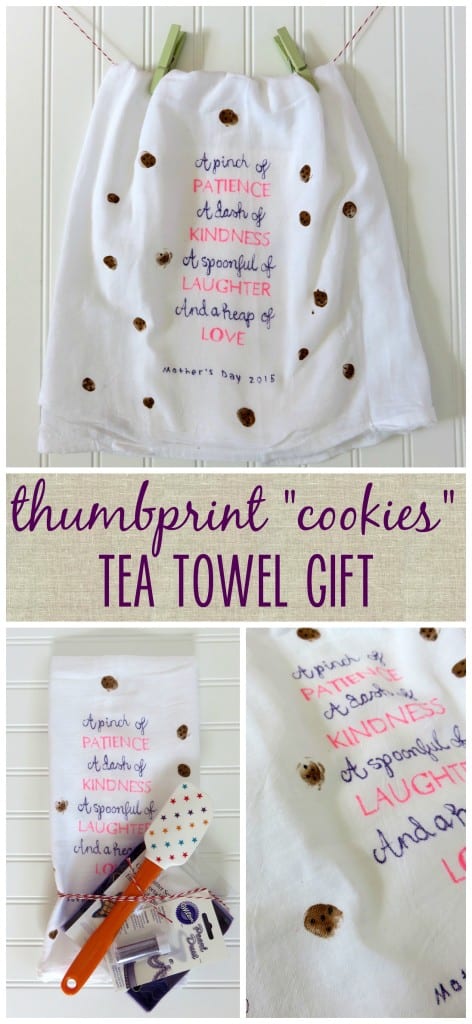 This project was really fun, inexpensive, and I think it will make a great keepsake that any mother or grandmother who likes to bake would appreciate.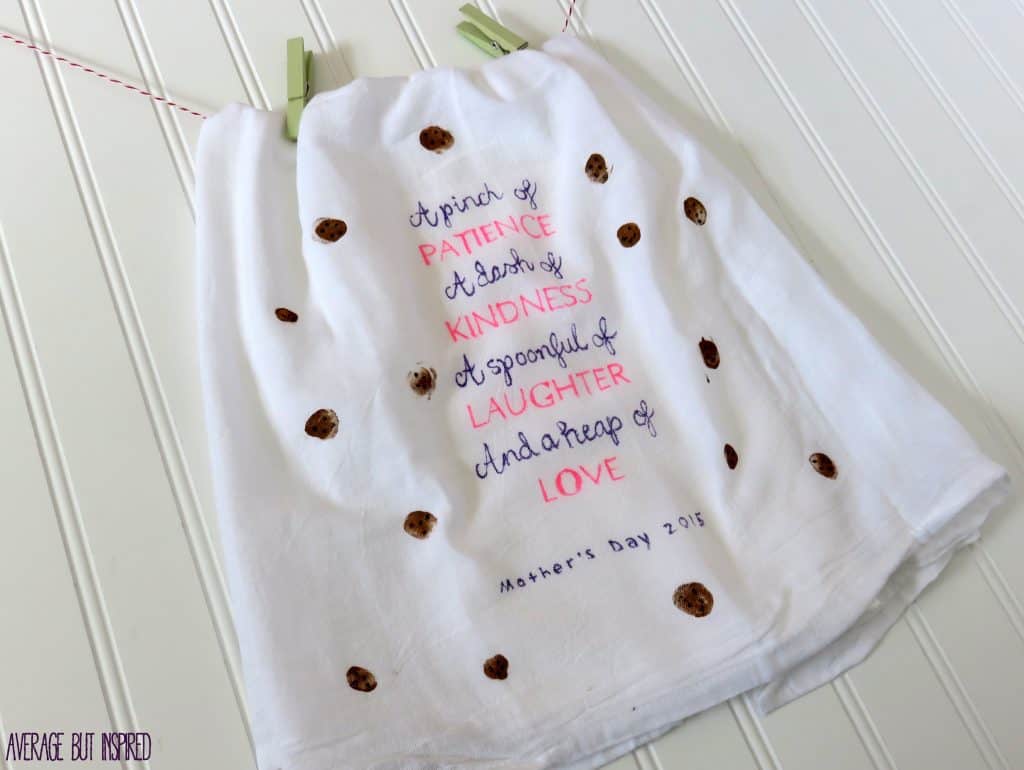 Supplies Used to Make a Mother's Day Fingerprint Tea Towel
Here are the supplies we used to make our fingerprint tea towel.  (Products marked with an asterisk are affiliate links, which means that I receive a small commission at no added cost to you if you purchase through them.  You can read my full disclosure policy here.)
How To Make Your Own Fingerprint Tea Towel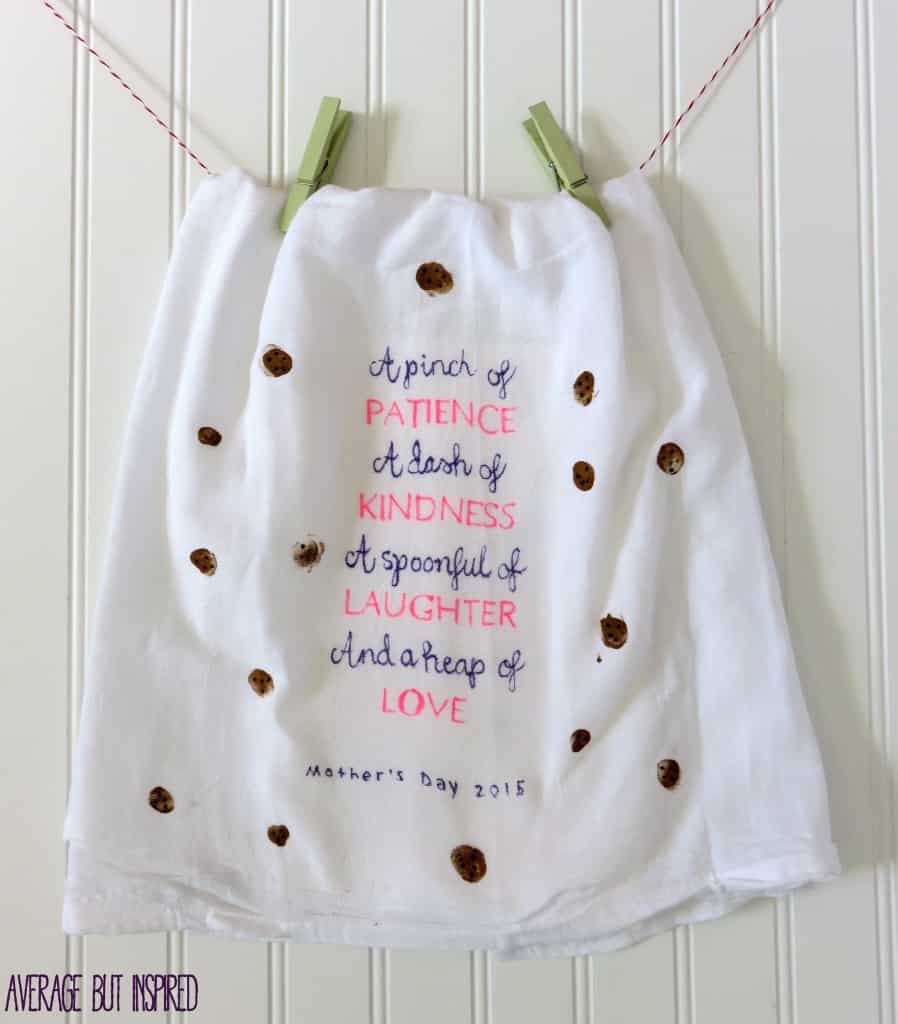 First, I found a cute quote that I wanted on our tea towel.  I typed it up and printed it out.  If you would like a copy, I'm happy to share and you can download it HERE and print it out for yourself.  (NOTE: Change the year if you'd like to add that part, or just don't trace it onto the tea towel.)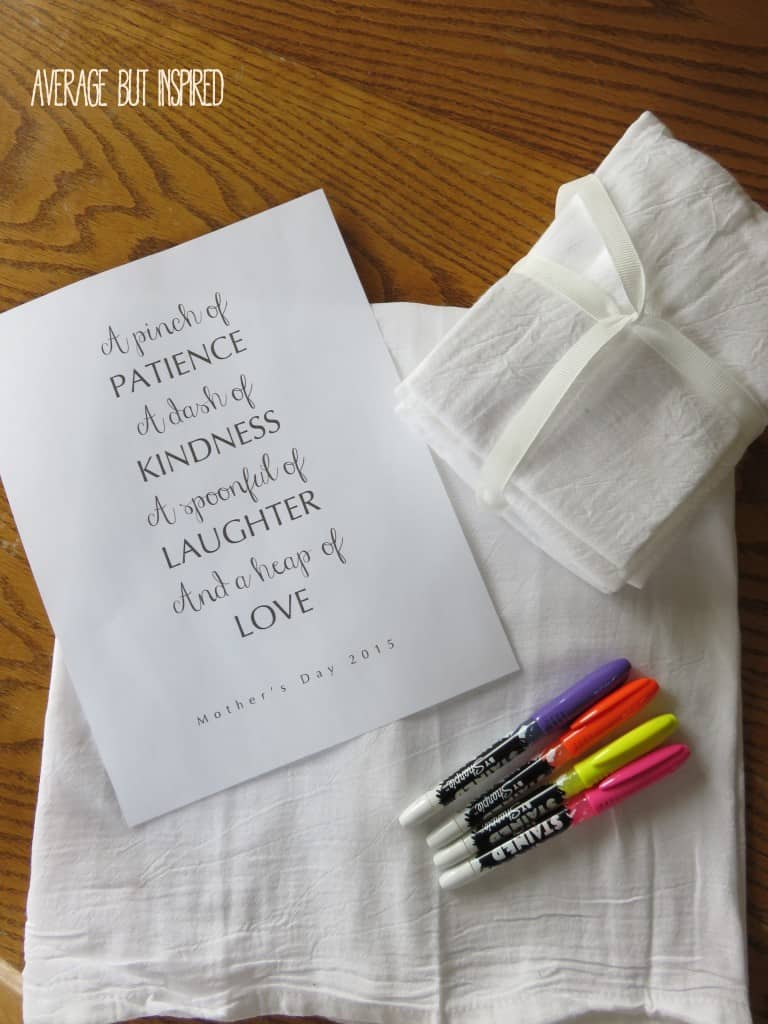 Next, I ironed the flour sack towel and figured out where I wanted the quote to go.  I placed the printed quote underneath the towel and traced the text with my Sharpie fabric markers.  It was really easy to see the text underneath and get some good penmanship on there.  I was pretty proud of myself for thinking of that.  (Hey, if I don't pat myself on the back, who will?)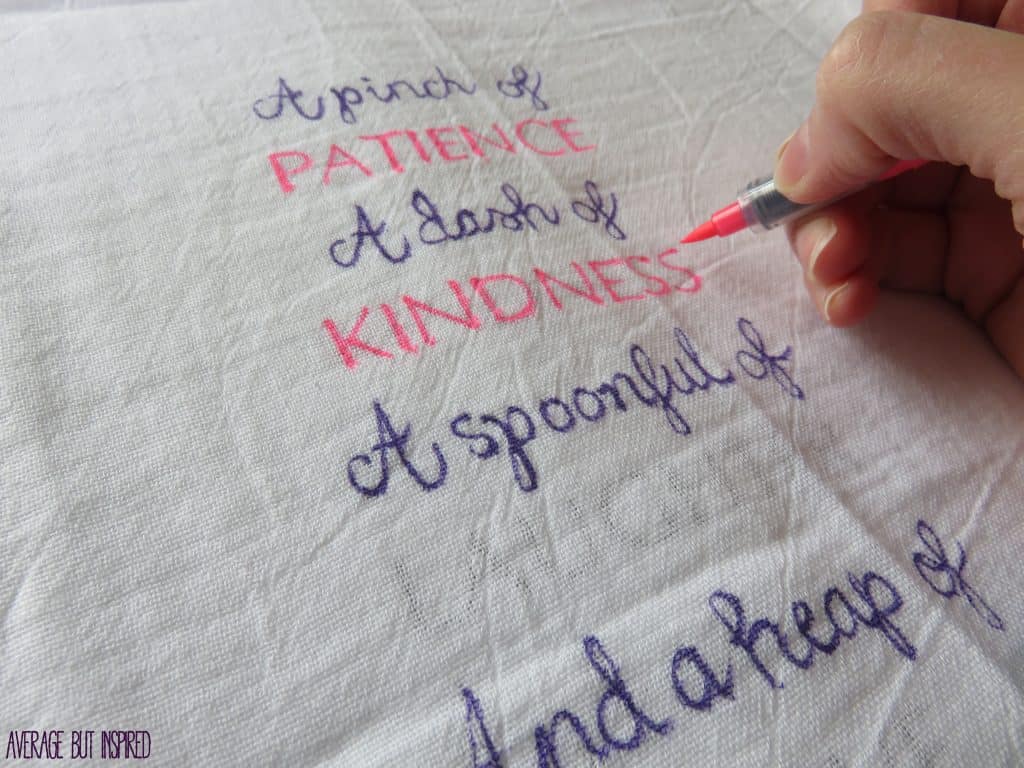 Now came the fun part . . . allowing my kids to put paint on their hands and get messy.  Awesome.  But it actually wasn't too messy because I just put it on their tiny little thumbs and had them stamp around the quote.  Of course they loved it.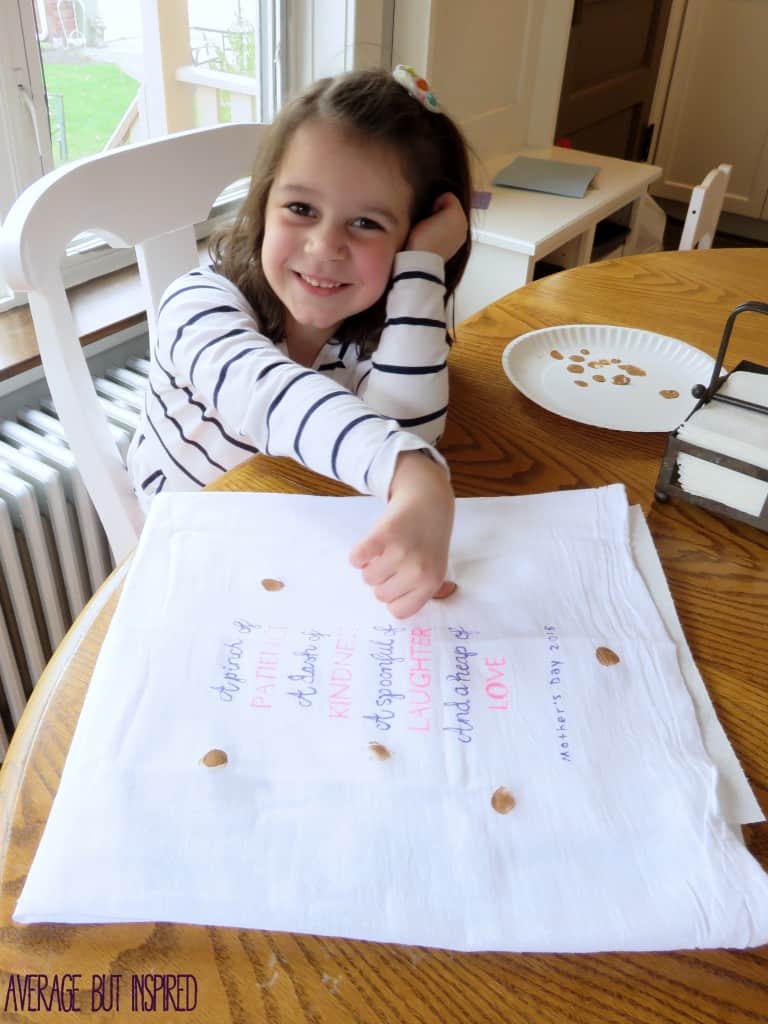 Finally, I added some black dots to their dried thumbprints to make them look like chocolate chip cookies.  So cute!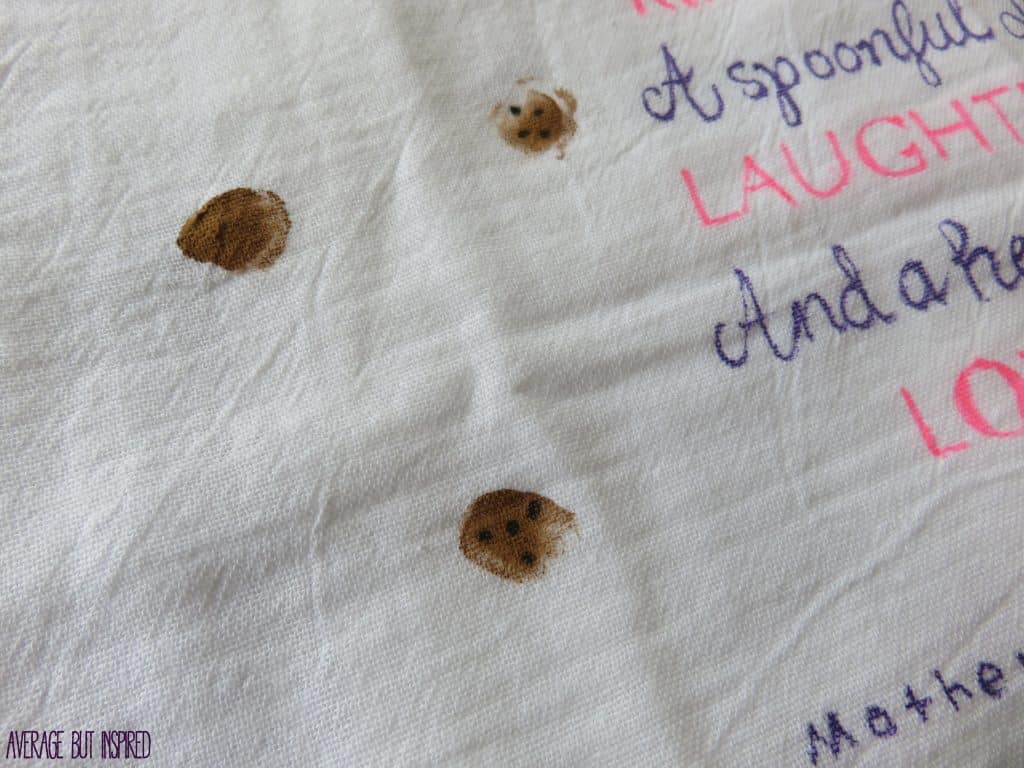 Of course this baking tea towel would make a great gift on its own, but we added some cute baking accessories and tied them all together with baker's twine to complete the gift.  I just know my mother-in-law is going to love it as much as we loved making it.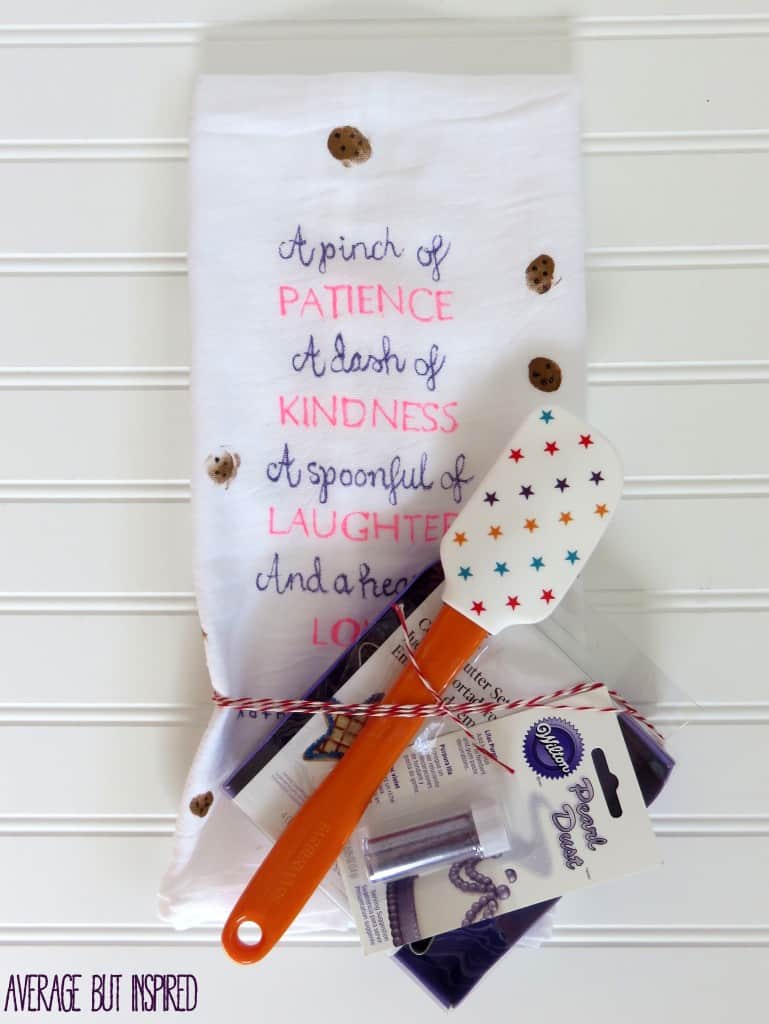 This is a special DIY Mother's Day gift that any baker would love to receive.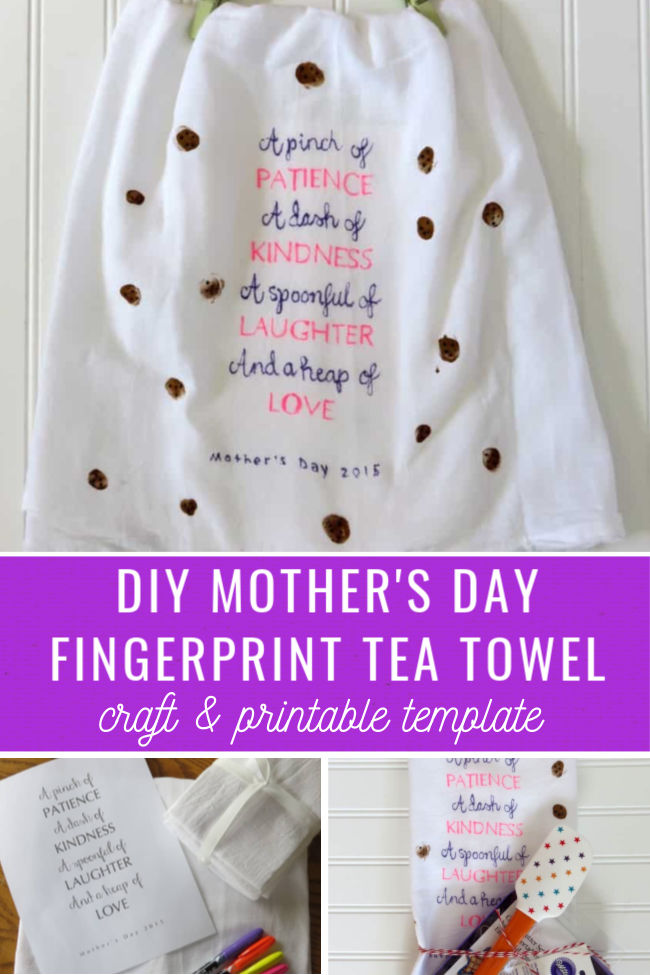 – Bre