If you happen to have "liked" Average But Inspired on Facebook, you may have seen that I declared that I am "totally over cooking" last week.  It's true; I just don't want to do it anymore!  So if anyone knows of a personal chef who is willing to work for free, please send him or her my way.
Until that happens, I just have to suck it up (I guess), and continue preparing meals for my family.  So I'm resorting to my favorite slow cooker meals, which are easy to prepare and delicious.  These slow cooker tangy beef sandwiches are near the top of the "favorites" list because they're so darn tasty!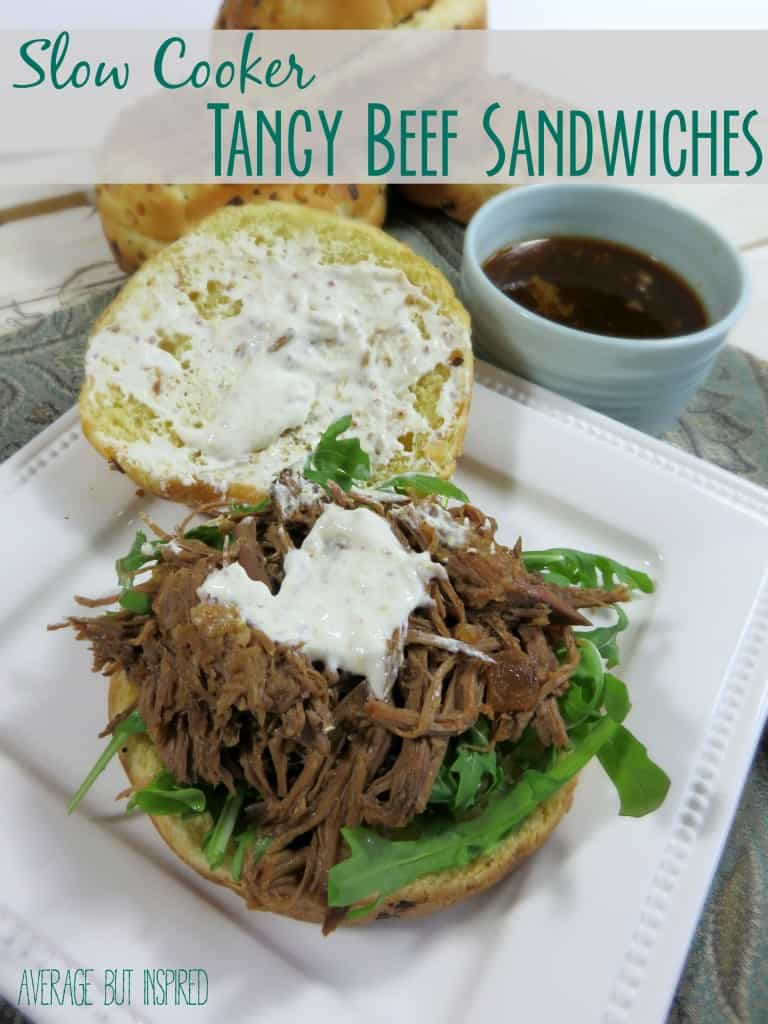 I love to serve these slow cooker tangy beef sandwiches with oven fries or tater tots and a garden salad. They make an awesome meal, and the leftovers freeze really well, too!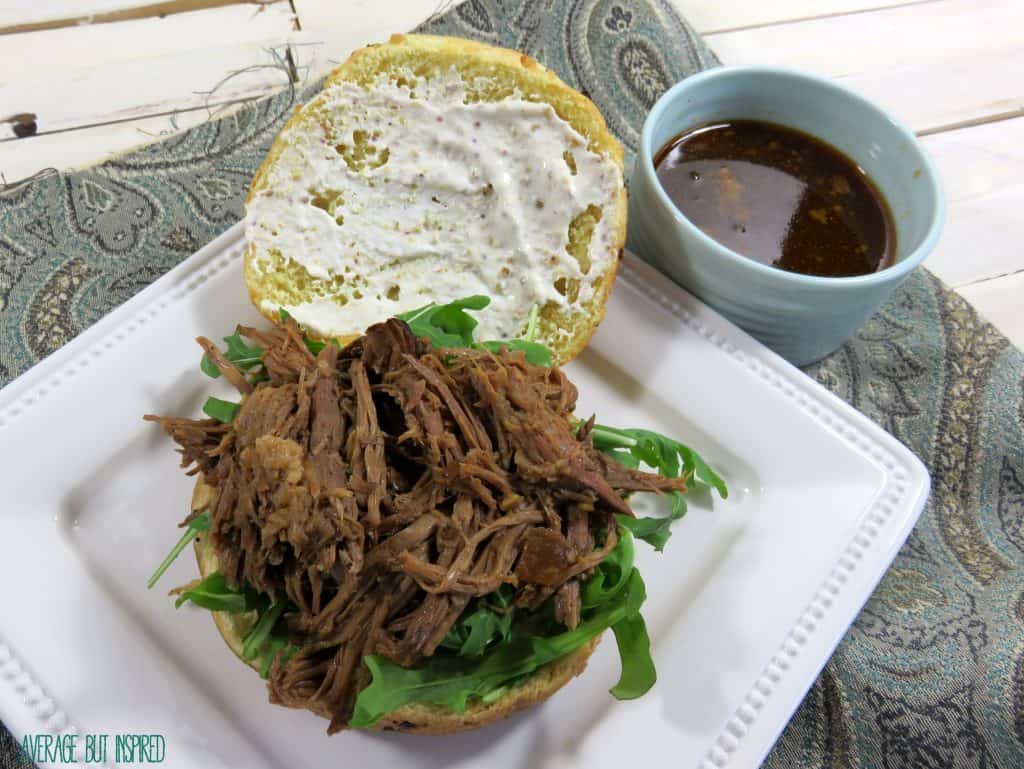 They're perfect for feeding a crowd, too, because the recipe makes around 10 servings!
Slow Cooker Tangy Beef Sandwiches
Ingredients
For the Beef

4-5 pound boneless beef chuck roast
1 tablespoon chili powder
1/2 teaspoon dried thyme
6 minced garlic cloves
salt to taste
pepper to taste
1 cup diced onion (I use frozen onions that are already diced - major timesaver!)
1/2 cup brown sugar
8 ounces of beer (I used a lager)

For the Sauce

1/2 cup sour cream
2 tablespoons prepared horseradish
2 teaspoons whole grain mustard

To Serve

Onion Rolls
Arugula
Instructions
For the Beef

Trim the roast.
Season the roast with salt and pepper.
Sprinkle the chili powder and thyme over the roast.
Put the onion in the bottom of the slow cooker, and add the roast on top.
Put the garlic and brown sugar on top of the roast.
Pour the beer around the roast, but do not pour it on top of the brown sugar.
Cover and cook on low for 8-10 hours.
Shred the beef and return to the slow cooker on warm.

For the Sauce

Mix the sour cream, mustard and prepared horseradish.
Refrigerate until ready to use.

To Serve

Toast the onion rolls.
Top the rolls with sauce and arugula.
Add beef and serve with a side of gravy for dipping from the slow cooker.
*Recipe adapted from a Pioneer Press newspaper article
https://averageinspired.com/2015/05/slow-cooker-tangy-beef-sandwiches.html
The mustard and horseradish sauce is also such an amazing, flavorful addition to these sandwiches. They wouldn't be the same without it!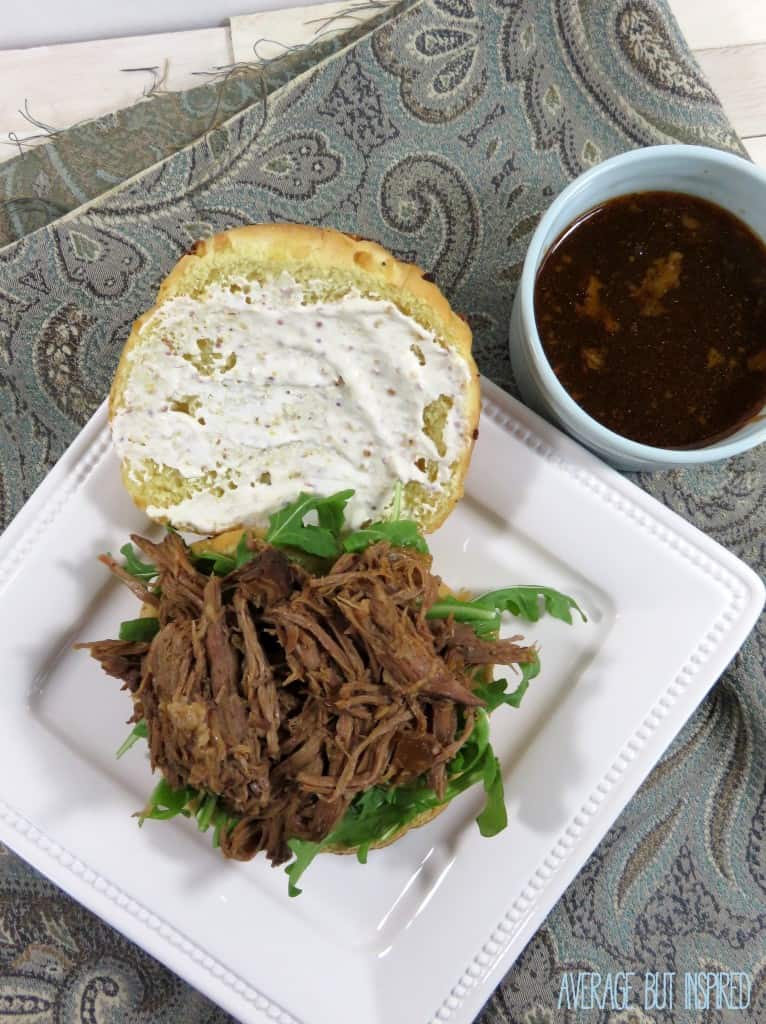 If you aren't a fan of horseradish, you could try one of those prepackaged mayonnaise sauces (like Chipotle, for example), as a topping, too!
– Bre
To see where I may be sharing this post, please click here.
I Bet You'll Like These Posts, Too!