If you're looking for an inexpensive way to "frame" a poster, art, or large photograph, I have the solution for you! This DIY Plywood Picture Frame is not only the easiest thing to make, but it's super inexpensive, too!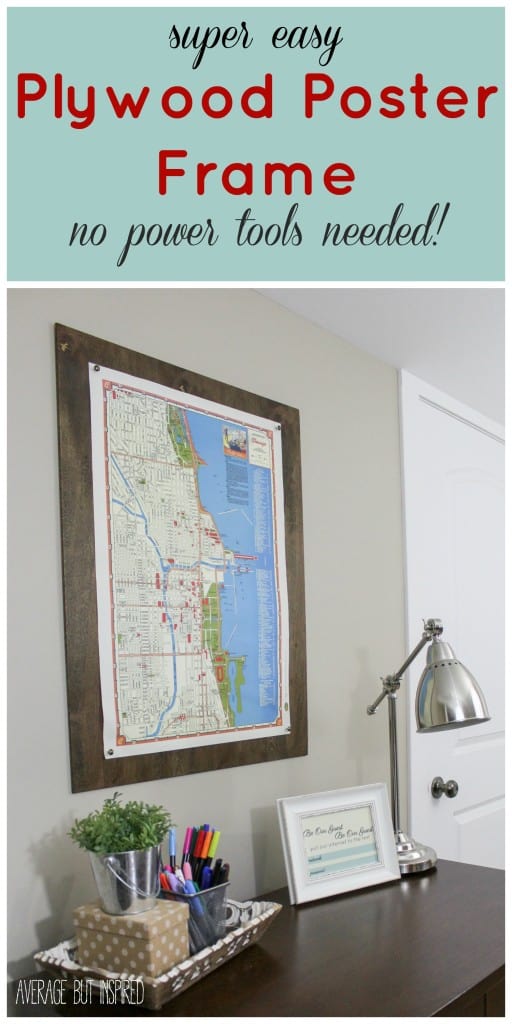 I made this plywood picture frame so that I could hang an awesome vintage wrapping paper map of Chicago in my basement. It prettied up a wall down there as part of my Basement Makeover that I just finished! I thought that guests who are staying down there might enjoy checking out the lay of the land!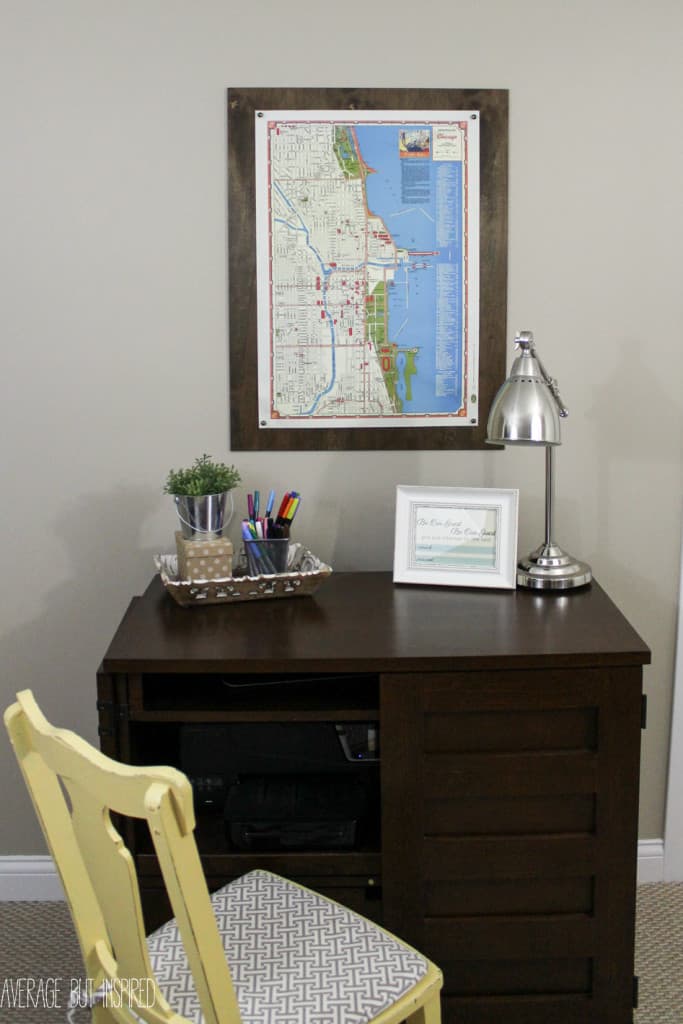 Also, it was totally inexpensive and a very simple project – just how I like it.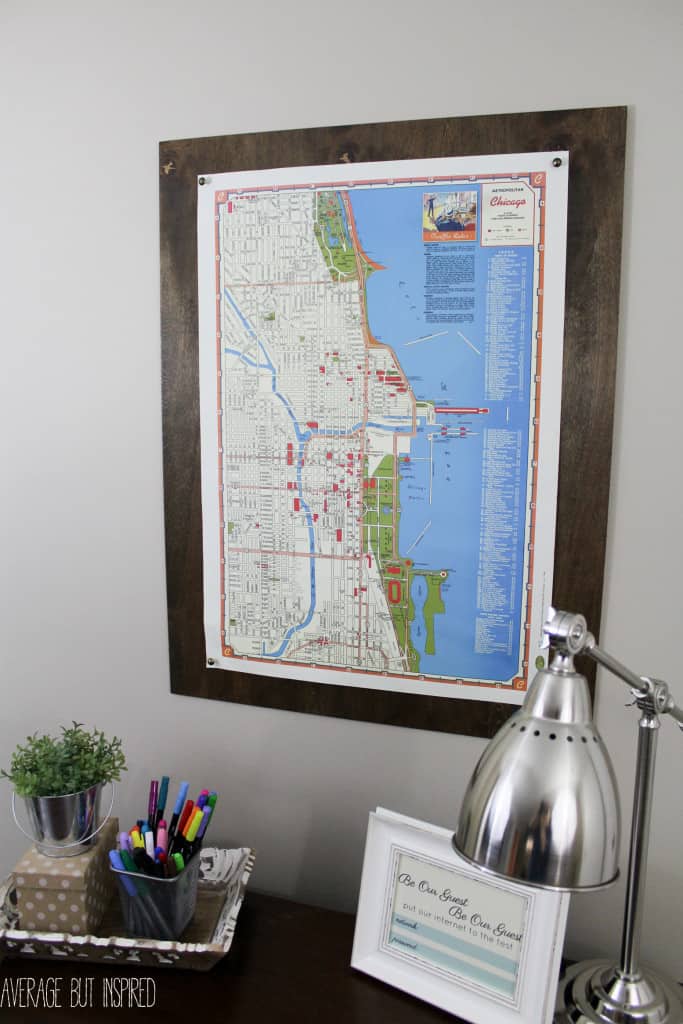 Supplies Needed for a Plywood Picture Frame
Some of these links are affiliate links. To read my full disclosure policy, please click here.
1/4″ birch plywood, cut to desired size (approximately 3-4″ wider and taller than the poster to be framed)
Wood stain (I used Minwax Dark Walnut – my fave), or paint
How to Make a DIY Plywood Picture Frame
Now, guys, I have to apologize here for a MAJOR BLOGGER FAIL. I recently started a new photo organization system and somehow I am completely DISorganized as a result. I have searched everywhere and I cannot find my tutorial photos for this project! I think I may have accidentally deleted them; they are nowhere to be found. So I'm really sorry, but I don't have step-by-step photos. I think it's OK though because it is seriously SO simple!
Step One: Cut the Plywood to Size
First, go to Home Depot's precut wood aisle (sometimes called "project panels"), and find the 1/4″ thick birch plywood. This wood is thin, but sturdier than other types of plywood. Then have one of their employees cut it to the desired size for you. Alternatively, cut if yourself if you are skilled with the saw!
Step Two: Sand and Stain the Plywood
Sand down the rough edges and stain it or paint it.
Step Three: Apply Spray Adhesive
Once it's fully dry, apply spray adhesive to the back of the picture or poster you want to display. Also carefully apply a thin layer of spray adhesive to the plywood, but be careful not to spray it on the edges of the plywood that will not be covered with the poster. Press the poster into place, making sure to gently smooth out any wrinkles.
Step Four: Add Pushpins or Tacks
For a decorative touch, add furniture tacks or push pins to the corners of the poster. I used furniture tacks, which were longer than the depth of the plywood. Because of that, I let them stick out so that they wouldn't push through the back of the wood.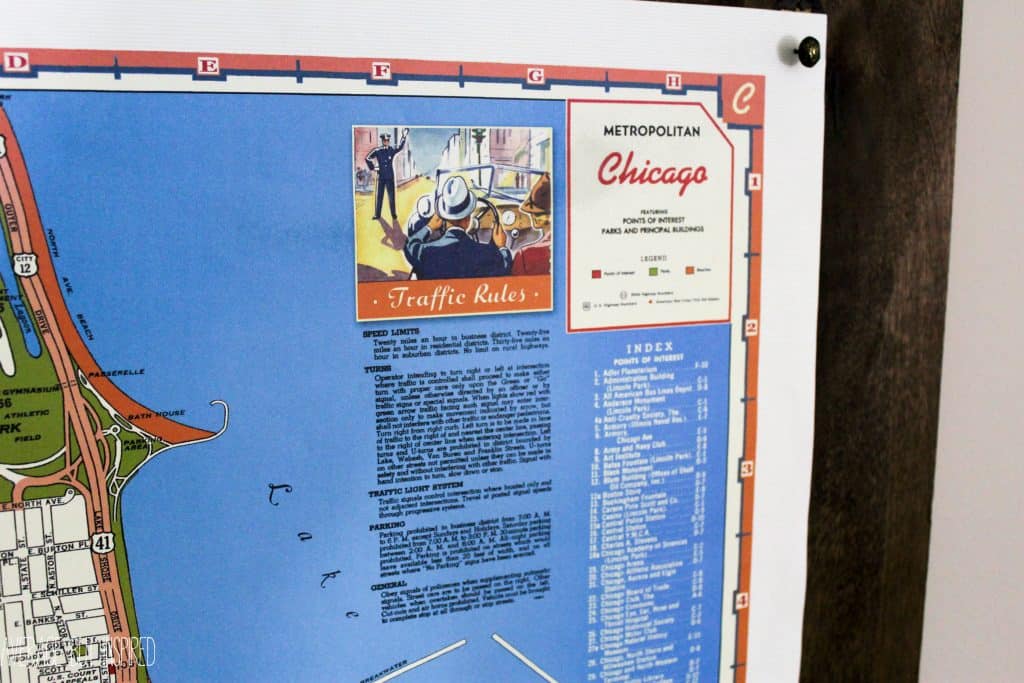 Step Five: Hang the Plywood Picture Frame
Finally, I hung the plywood poster frame with Command Large Picture Hanging Strips. They work perfectly for this type of project! Since the wood is so thin, it would have been difficult to hang the frame with regular picture hangers.
That's it! So easy, right? Almost as easy as popping a picture into a real frame, but a little more unique!