Today is SO much fun!  Why, you ask?  Well, because I'm taking you on a tour of my home as spruced up for Fall and Halloween (Fall-oween, if you will), and so are fifteen other talented bloggers!  We've teamed up to bring you this fun Fall-oween Home Tour and Hop, and  you can click through to see all of the tours right at the bottom of this post!
But first, let me show you around my house!  
At this time of year it's definitely got a mix of Fall and Halloween decor going on.  Don't let my scary signage from Dollar Tree keep you away.  I'm happy you're here!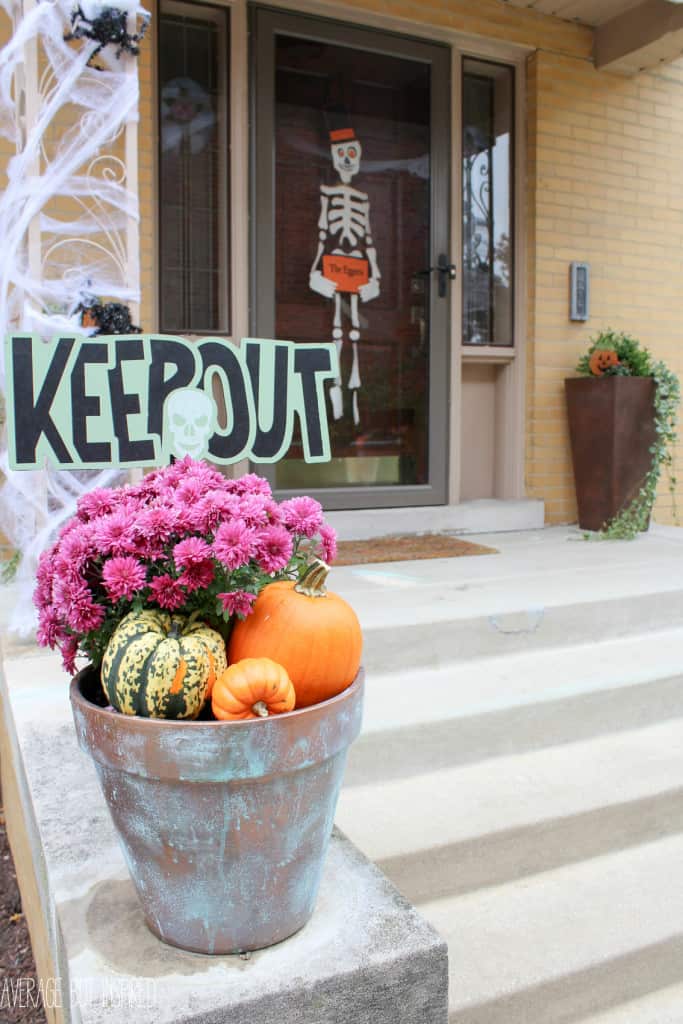 Now come on in and take a peek around my living room.
The fireplace and mantel is the perfect spot to show off some of the projects I've done over the past year – like my Rolling Firewood Caddy and Light Up Pumpkin Sign.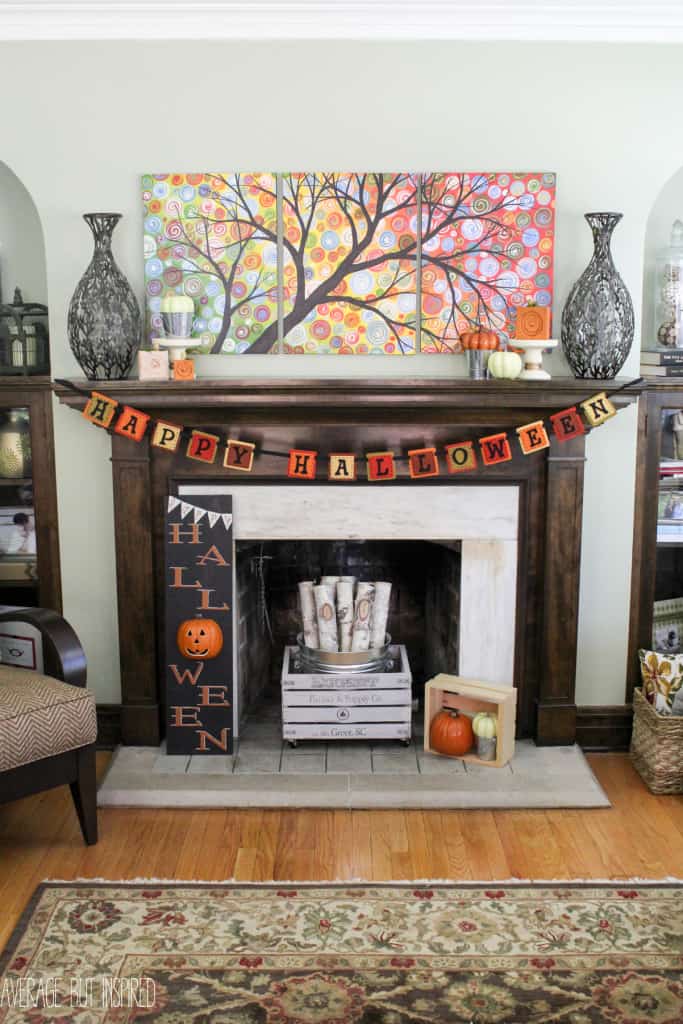 And of course, don't forget the Wood Trim Corner Block Pumpkins!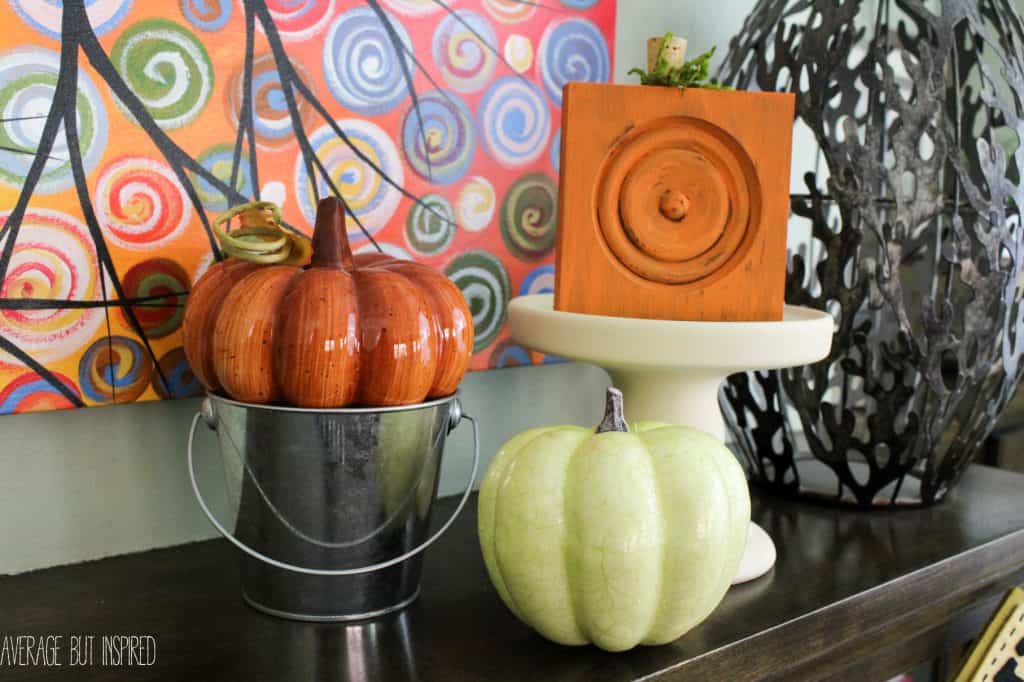 They're a perfect addition to my decor this year!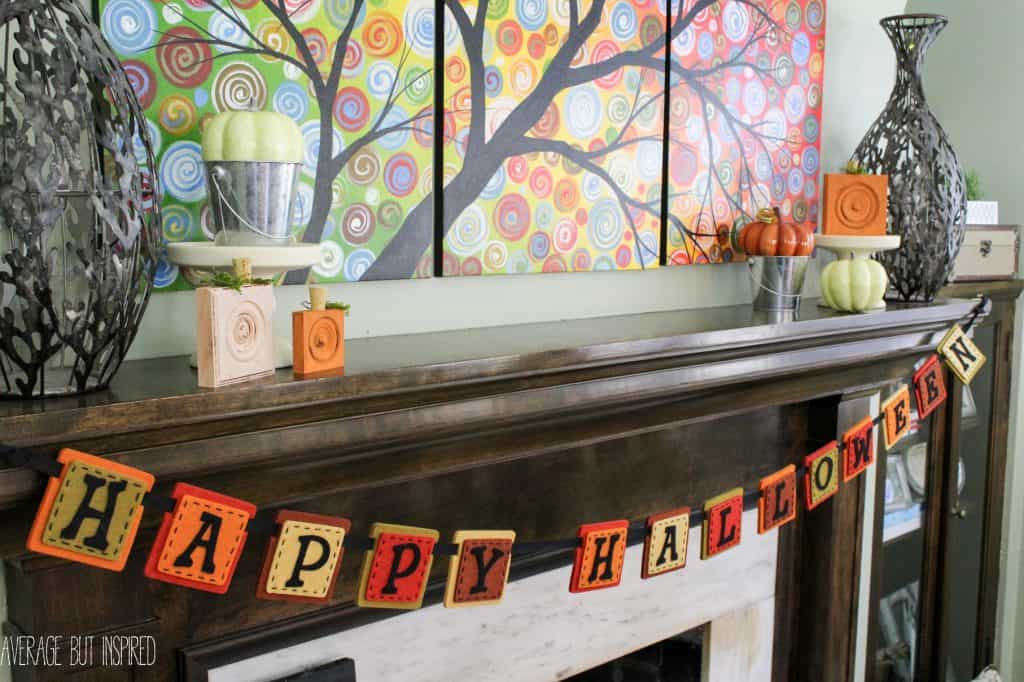 Some new pillows in fall colors round out the look.  It's definitely fun to update a room's look with pillows and that's something I'm going to be better about from now on!  (I'm sure my husband will be thrilled about that!)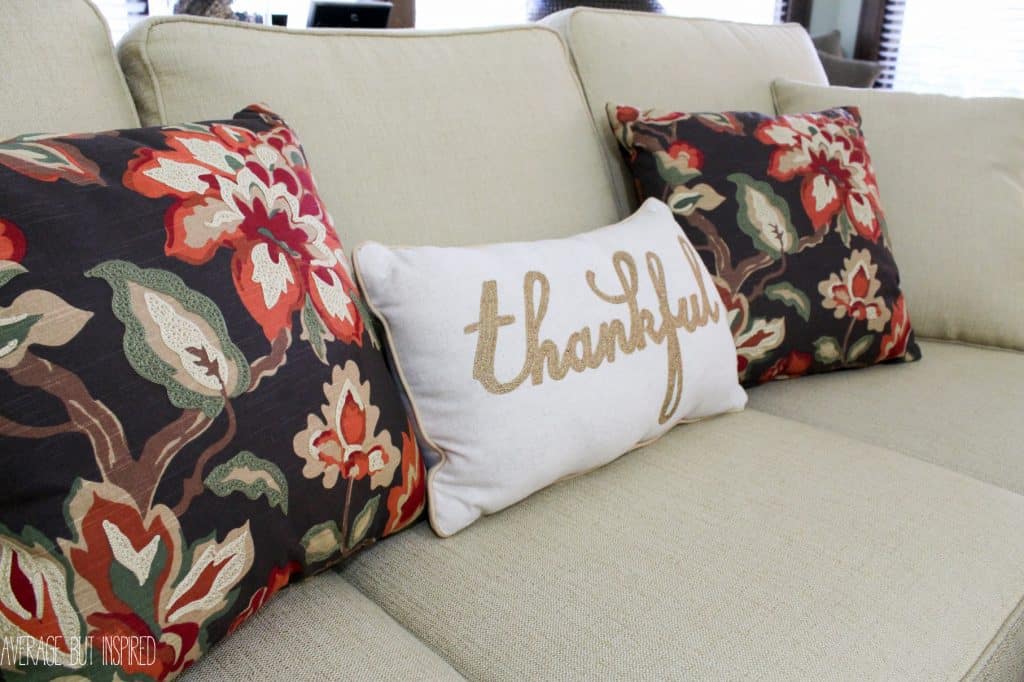 One of the simplest but most special fall decor touches I added this year were some family photos of a recent apple picking trip.  They're a beautiful reminder of a fun day spent with family, and they look great in frames that I refinished with chalky spray paint and hung above my Changing Table Upcycle.  


I am the WORST about actually printing photos I take, but I'm trying to get better. This was a big step!
As you come out of the living room, you can see that I have a few simple fall decor pieces in the dining room.  I'm not one for doing fancy tablescapes, especially if I'm not entertaining, so I kept it really minimal in here.  


I put this centerpiece together with an awesome wooden tray I found at Marshalls and other materials that I already had on hand; faux moss, faux greenery, and faux pumpkins.  I like that it's definitely "fall" without being over the top.  The colors also work perfectly in the room!


This cute acorn banner from the Target dollar spot is also a favorite find!  I love the whimsical touch it adds hanging on the mirror.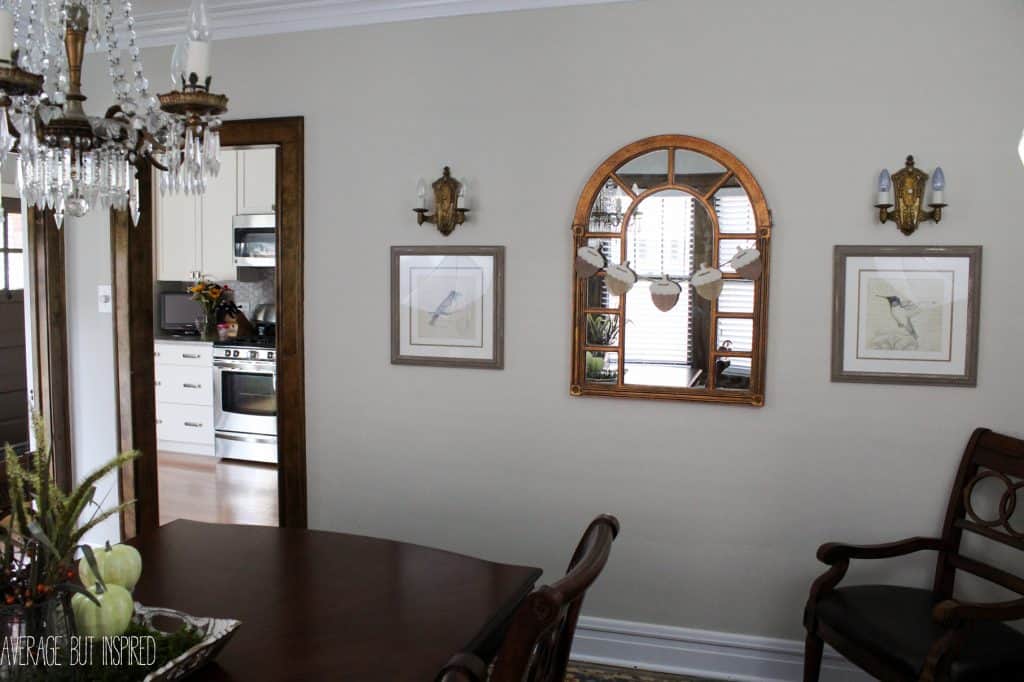 And then in the kitchen some more fun accents bring the color of the season inside.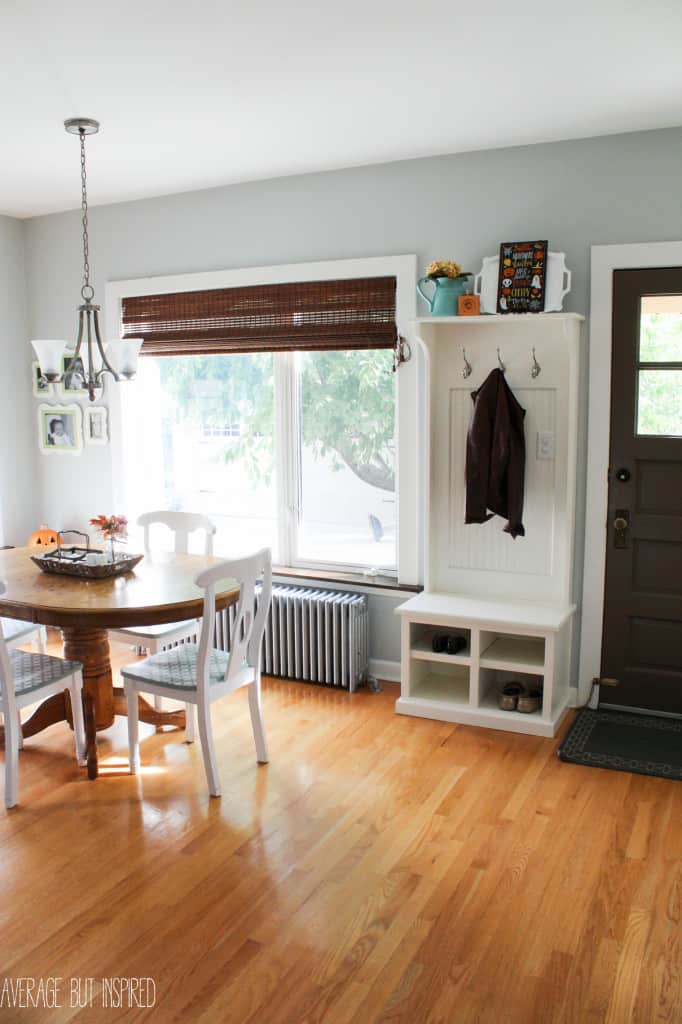 A smaller version of the wooden tray on the dining room table got a dose of fall color with some simple faux leaves in a small glass bottle adorned with a raffia bow.


And the decor on top of my backdoor boot bench got a seasonal update with faux dried hydrangeas, another Wood Trim Corner Block Pumpkin, and some adorable Halloween subway art that I got at Dollar Tree!


Over by the sink there's not much going on, except for a cute Halloween plate that my mother-in-law gave me, and an awesome sign that says "my kids drive me batty."  My kids think this sign is awesome, but that's because they can't read yet.  


My three-year-old keeps saying that the sign says, "my kids are serious." What?  (Sidenote: aren't those flowers gorg?  My friend gave them to me as a hostess gift a week ago and they're still amazing!)


Well, that's all I've got for you.  I could only keep the toys and clutter out of plain sight for so long!  Thanks so much for stopping by. Don't let the door hit 'ya on the way out!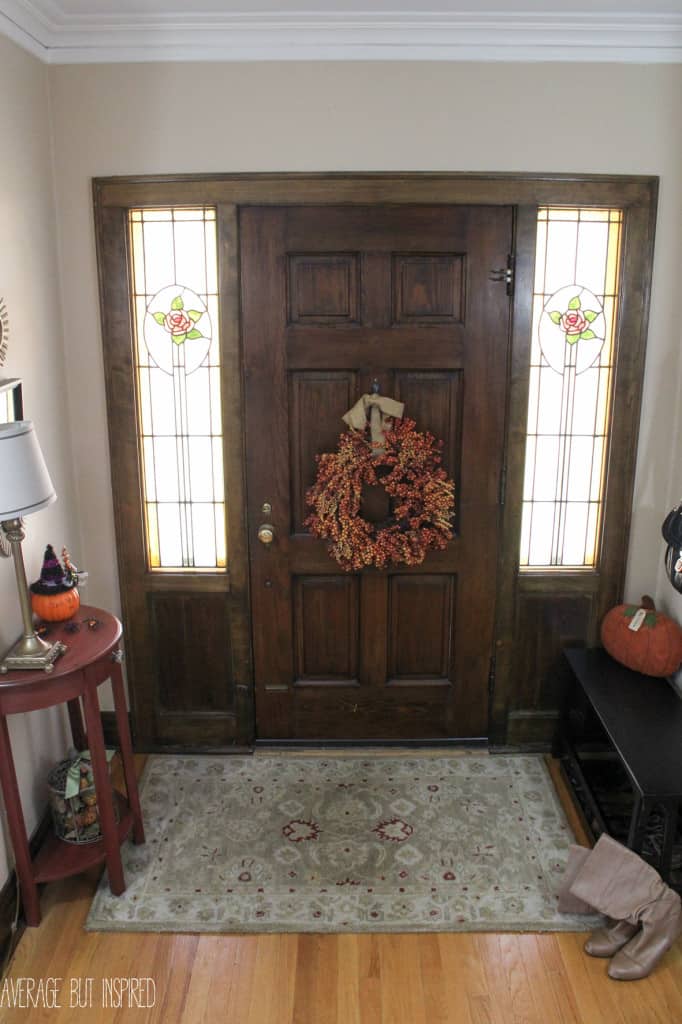 Now that you've seen my home, please visit my friends to see their gorgeous Fall and Halloween decorating ideas! You can click through to their posts right beneath this picture!  


​1.  Farmhouse 40
2. Around the Watts House
3. Domicile 37
4. Our House Now a Home
5. Hobnail Salvaged Goods
6. The House Down The Lane
7. Pocketful of Posies
8. Average But Inspired
9. Karen's Up On The Hill
10. Beauteeful Living
11. Casa Watkins
12. What Rose Knows
13. Shabby Grace Blog
14. The Deans List
15. Green With Decor
16. Elizabeth Joan Designs
Thanks so much for stopping by!  I hope you enjoyed your peek into my home!
Bre