This post contains affiliate links. To read my full disclosure policy, please click here.
Last month I tested out spray chalk paint and blogged about my experience with it here. Much to my surprise, a lot of people liked that post (yay!), and wanted to know all about the product. Because of that, I figured that people might also want to know about spray wax and spray topcoat that can be used for finishing projects painted with spray chalk paint or hand painted with chalk paint. So once again, I got to work testing it out and am sharing all the details on spray wax finishing for chalky finish paint projects.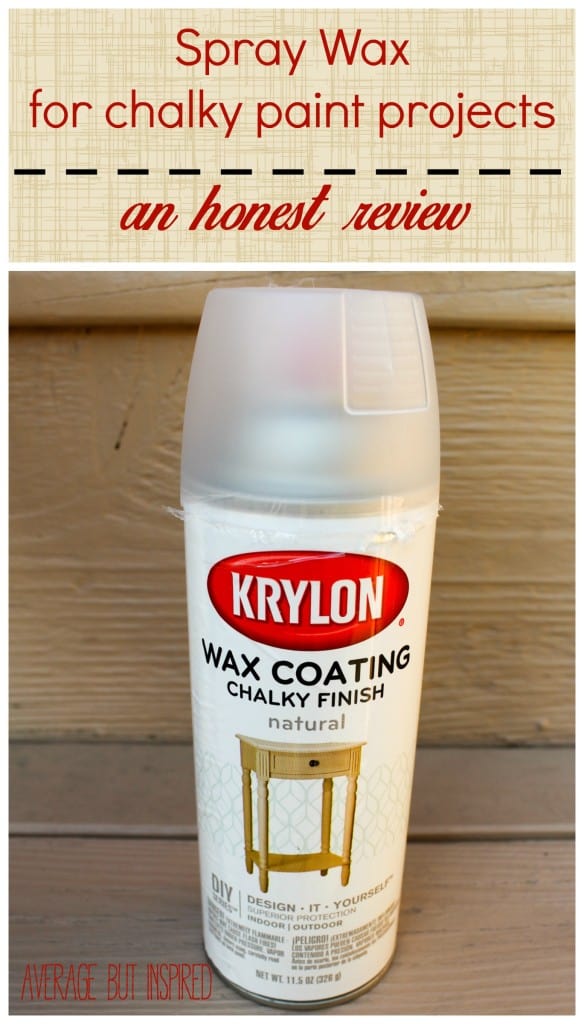 For those of you who may not be overly familiar with chalky finish paint, wax is a commonly used sealant or topcoat on pieces that have been painted with chalky finish paint. It's popular because it seeps into the paint to form a protective finish and produces a really beautiful and subtle sheen on the surface.
Wax typically comes in a tub (like this – my usual brand of wax) and is applied with a special wax brush (like this), or sometimes a lint-free rag (though that usually results in an uneven application). It dries to a haze and then must be buffed to get a beautiful shine.
To me, wax didn't seem like something that can be sprayed. Because of that, I first decided to test out the Krylon Spray Wax on a dud of a project (a painted thrift store tray), in case it wasn't going to work. Most recently, I tested out the Rustoleum Chalked Protective Topcoat on a stool I painted with Rustoleum Chalked Spray Paint. Although it is not a true wax product, it is a spray topcoat suitable for chalk painted projects. Here are my thoughts on both of these products!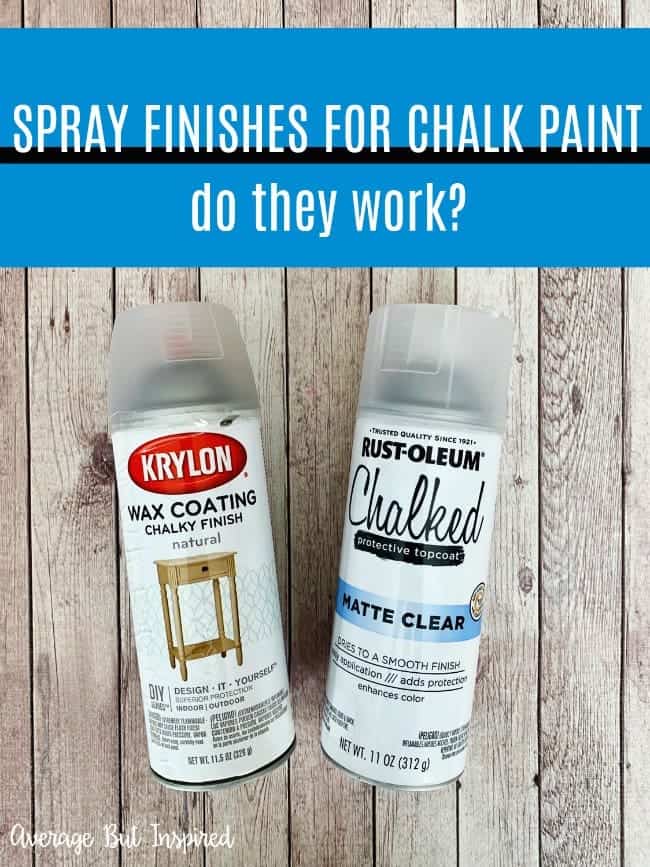 Odor
The wax I usually use STINKS. I'm talking "plug your nose because it smells like you doused your house in gasoline" stinks. And that odor sticks around for a couple of days. (Some other brands of wax like this have virtually no odor.)
Conversely, the Krylon spray wax did not smell nearly as bad. While it DID have an odor, the smell dissipated after a couple of hours as opposed to a couple of days.
The Rustoleum Chalked Protective Topcoat had no real odor.
The bottom line is you will still need a well-ventilated area if you're going to use spray wax or spray topcoat.
Application
Spray wax and spray protective topcoat could not be easier to apply. It comes out of the can so smoothly and evenly. A bonus of application of spray wax is that you do not need to purchase another supply – the wax brush.
There is definitely some overspray, however, so surrounding areas should be covered. That's not really an issue with regular wax. If you spray paint regularly, you may want to purchase this awesome pop up spray shelter, which protects your projects from debris flying onto them. I love mine!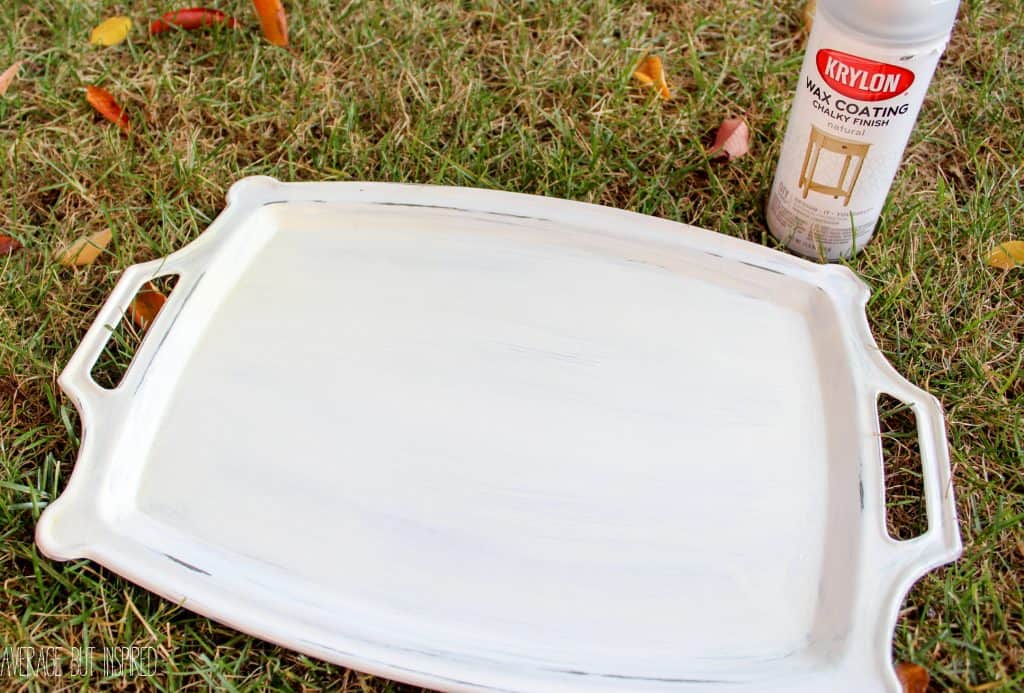 Time
I don't think that applying wax by brush takes an extraordinarily long amount of time. That being said, spray wax or spray topcoat may take slightly less time to apply. (But any time saved may be negated during the buffing process (if applicable – see below.)
Sheen
Like regular wax, spray wax does have a slight sheen. To me it didn't seem as rich and velvety as the sheen that's produced by brush-on wax, but it does give a nice look that's not achieved with poly products.
I tried to capture the sheen achieved with the Krylon spray wax in this photo. You can kind of see it in the top right corner, but it's not the best photo.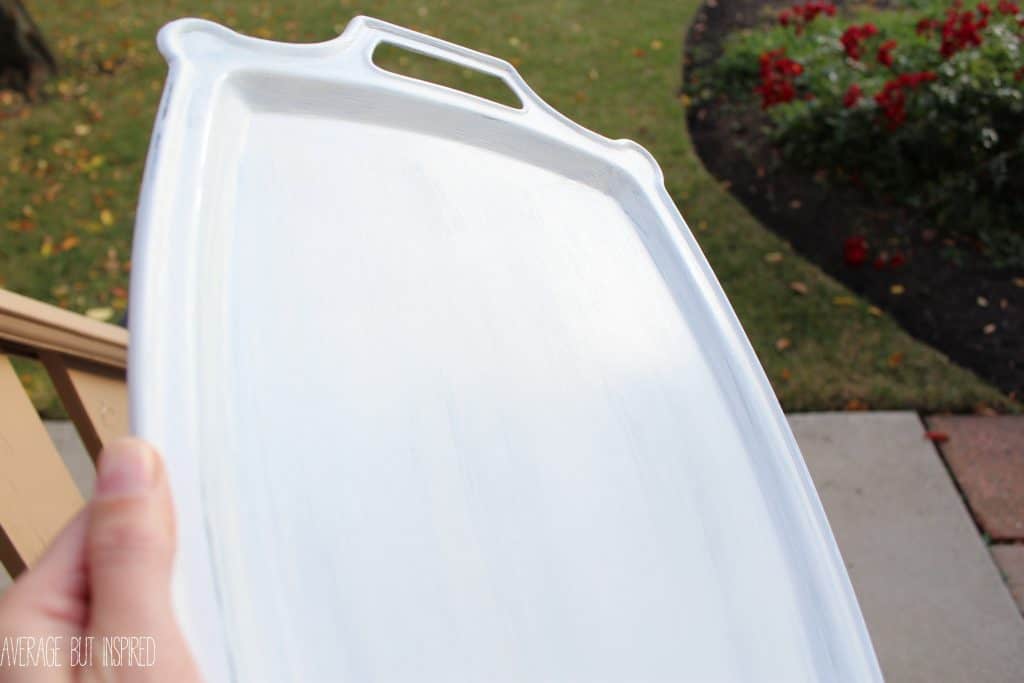 The Rustoleum Chalked Topcoat in matte gave a beautiful finish with a hint of sheen – not too dull and not too shiny.
Buffing
All waxes, once dried to a haze, must be buffed to produce a sheen. To me it seemed that buffing spray wax was much more difficult than regular wax. The finish felt stickier than regular wax (once dried), and it took a lot more buffing to remove the excess wax. This could be a huge pain on a larger piece that's been sprayed. I really did not like this aspect of the spray wax.
Conversely, with the Rustoleum Chalked Topcoat, no buffing was required. The finish dried nice to the touch with no stickiness, and the sheen was beautiful.
Discoloration
Although the Krylon spray wax appeared yellow on parts of the white paint to which I'd applied it, once buffed there was no visible discoloration of the finish. In this photo you can sort of see the yellow I'm talking about (prior to buffing). My experience with regular wax is the same.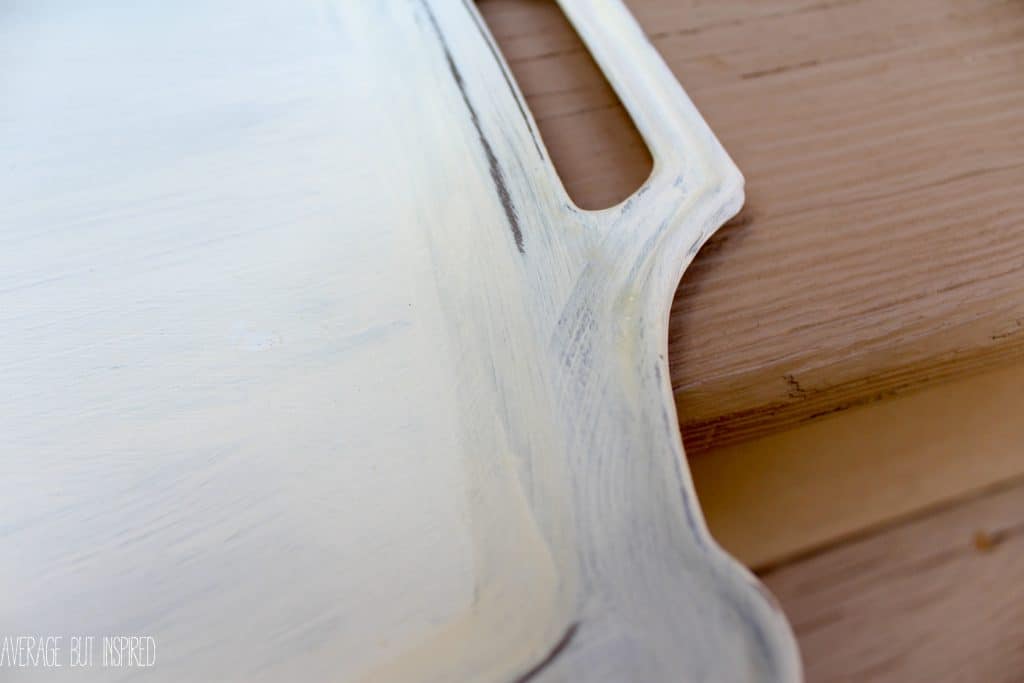 I tested the Rustoleum Spray Protective Topcoat on a blue piece and did not notice any discoloration.
Spray Wax Durability
Wax is never the best finishing choice for pieces that will be getting a lot of use – like a table top. With that being said, spray wax seems to be as durable as regular wax. I tried scratching some of the sealed finish off, and it withstood my attempts.
And similarly, the Rustoleum Chalked Topcoat also seems to be quite durable, though I haven't used it on a heavy-use piece.
The Bottom Line
So here's where I ultimately come out on these products:
If you're not regularly using chalky finish paint and don't want to invest in a wax brush, spray wax or spray protective topcoat is probably perfect for you. You will be able to get several projects sealed with one can (depending on the size of the projects, of course), and likely be happy with the finished product.
If you're a chalky finish paint fanatic like me, you're probably better off using your regular wax. Since you already have the wax brush and maybe even a drill buffer, the cost will be less to continue using your wax and you will get the gorgeous finish you're accustomed to – even if you've painted the piece with the Rustoleum Chalked Paint or the Krylon Chalky Finish Spray Paint.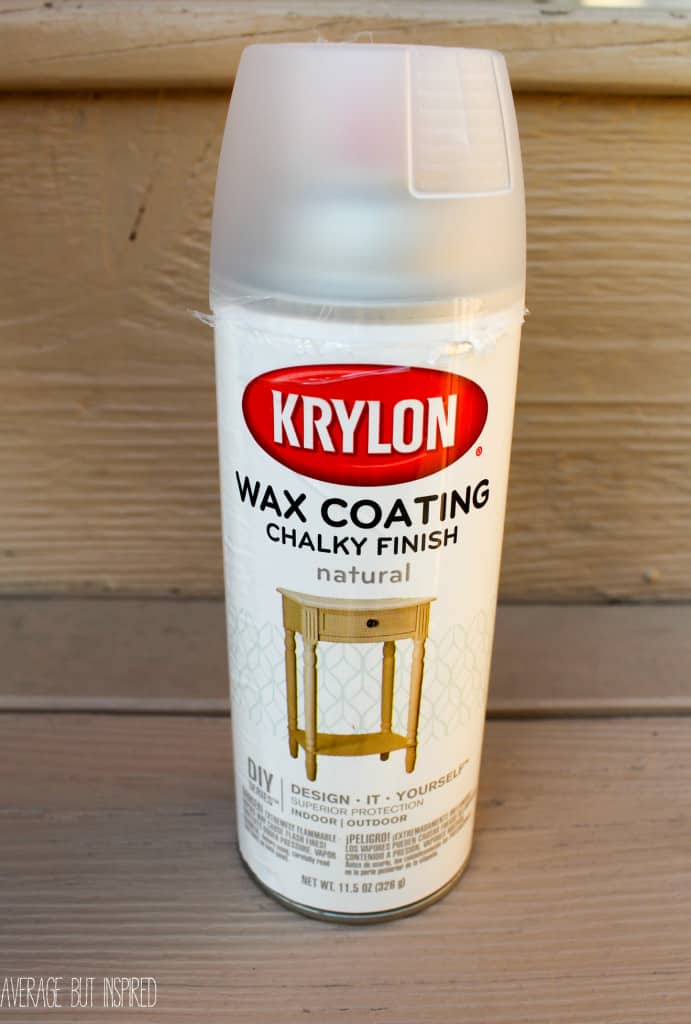 Have you tried Krylon's Spray Wax Coating or Rustoleum's Chalked Protective Topcoat? What do you think of it? Let me know – I love to hear from you!
Bre