Hello and welcome back to another Monthly DIY Challenge – where some blogger friends and I challenge one another to create projects based on a common item or theme.  This month — in the spirit of the holidays — we are all sharing festive wreaths!  You'll find links to all of the projects at the bottom of this post, but first let me show you my mini manger wreath, which is a perfect project to get the kiddos involved with!
 So I have to be completely honest with you all.  I made this project in a rush before I left for vacation, and I didn't take step-by-step photos of the creation process.  I fully intended to do that when I returned from vacation, but of course real life won (if ONLY my family didn't need clean clothes or food!), and I ran out of time to recreate the steps in photos.
Thankfully it's TOTALLY EASY, so I think you can do it even without the photos!
Here are the supplies you'll need (some of these are affiliate links.  To read my full disclosure policy, please click here.):
I started by wrapping the wooden knob (which was leftover from my Ikea Bar Cart Hack), with a small piece of white felt and hot gluing it together.  Honestly, I think a wooden peg would have worked better as Jesus, but this knob was all I had.
Once wooden Jesus was all swaddled up, I drew a little face on Him and hot glued Him to the wreath.  Then I hot glued some moss around the bottom of the felt.
Next, I hot glued some glitter die cut stars to the top of the wreath.
Finally, I cut a bunting banner out of scrapbook paper and wrote "JOY" on it.  Can you guess what I did next?  Yup – I hot glued that to the back of the wreath.
I tied a little bakers twine around the top for hanging and called it a day.
Don't you think my little wooden Jesus looks happy in His manger wreath?  I think He does.  

This mini wreath hangs on my daughter's bedroom door now.  I think it's a great way to help remind my young children why we celebrate Christmas.
Now that you've seen my wreath, please go visit my friends' posts and see their fabulous and festive wreaths, too!

Thanks for stopping by, and happy holidays!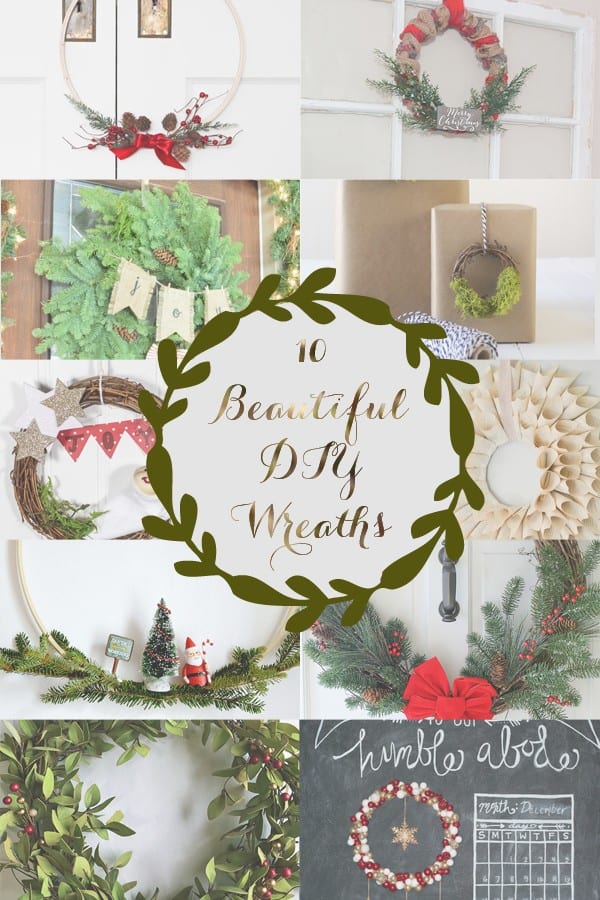 -Bre