One of my favorite things to do is wander the aisles of Michaels to see what adorable, new craft supplies they have.  It's like an instant injection of happy for me, and I bet a lot of you feel the same way!  With every trip, my cart ends up with lots of fun finds and I leave with many new project ideas in mind.
But truth be told, there are certain craft supplies that I do not purchase from Michaels because I can get them from Dollar Tree for less (in some cases for a lot less).  Of course people have quality concerns about products from Dollar Tree, but I've personally tested all of these products time and again and can vouch for them!
That's why I'm spilling my secrets on 10 Dollar Tree Craft Supplies you can't afford to skip!  (UPDATE: When you finish reading this post, make sure to also read my newest post on 10 MORE MUST-BUY DOLLAR TREE CRAFT SUPPLIES!)  Trust me – this list (and my follow-up post linked right before this), will save you money so you can buy more of those cute supplies at Michaels or Hobby Lobby!
This post contains affiliate links.  To read my full disclosure policy, please click here.
1.  Glassware (Vases, Mason Jars, Candle holders)
The selection of glassware at Dollar Tree is ah-ma-zing.  There are tons of shapes and sizes of vases, mason jars, candle holders – you name it!  And it's all $1.25!  Comparable glassware at a craft store  typically costs five times as much.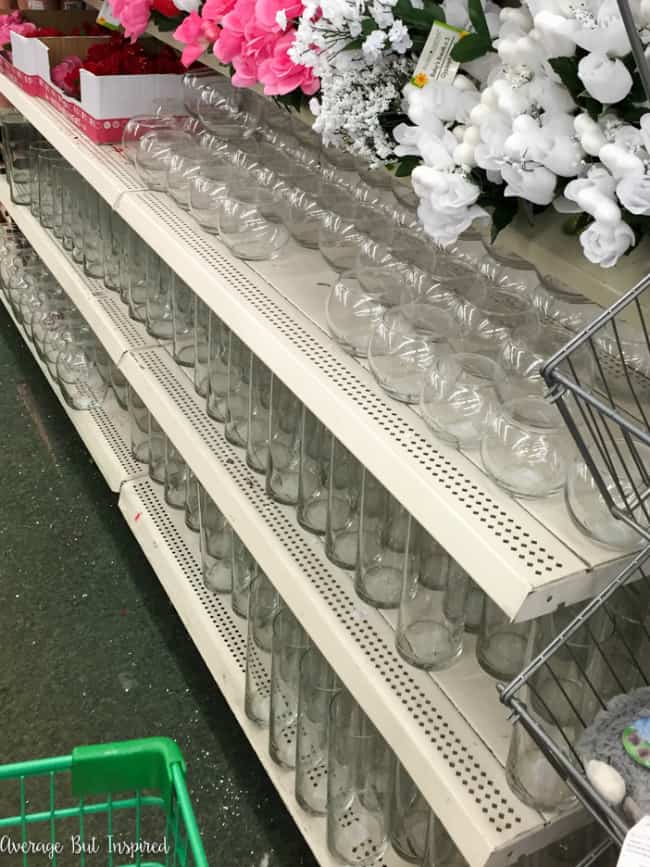 I've used glassware from Dollar Tree to create my sand art terrariums, etched glass votive holders, funky pilgrim vases, and cozy sweater gift jars, among other things.  I also use all different sizes of their vases and glassware for fresh flowers at parties.
2.  Twine (Jute, Bleached, and Baker's Twine)
Jute twine adds a perfect rustic touch to any project, while bleached twine and baker's twine can definitely add a cute and whimsical feel to a craft.  Dollar Tree has every type of twine you could need or want!
Find three packs of twine in the automotive aisle, and multi-packs of colored baker's twine in the craft aisle.

I have used twine from Dollar Tree on my vintage tin tile wall decor,  cozy sweater gift jars, printable glitter glue valentines, and moss bunny topiaries, among other things!  I also recently used Dollar Tree twine in my Facebook Live debut where I showed you how to make three cute holiday gifts with Dollar Tree supplies!

3.  Dollar Tree Floral Foam
Oh my gosh.  Floral foam is SO expensive when you buy it at the craft store.  And I can't figure out why.  But at Dollar Tree it's, yep, a dollar.  And it comes in lots of shapes and sizes, too!

Now let me tell you I am not doing a lot of floral arranging over here, but floral foam is really great for building height in projects or stabilizing items within a container.  I have used Dollar Tree's floral foam in my moss bunny topiaries and patriotic paper straw centerpiece.  It's great.
4.  Glitter
If you're a crafter then you probably love glitter (until you have to clean it up).  For something so tiny it can be kind of pricey though, you know?  That's why I like to purchase it at Dollar Tree.  They typically have a lot of colors in their craft aisle, and they come in packages or containers that have enough to get the project done without leaving me with a ton left over.

Their glitter glue is also awesome for projects for adults and kids alike!  I have used Dollar Tree glitter or glitter glue on my glitter glue valentines and a guest post I did on another blog (that you'll see later this year).
5.  Contact Paper
Most of you probably don't think of contact paper as a craft supply, but it is awesome for making stencils on an electronic cutting machine (like a Cricut – check out my Dollar Tree DIY Gift Baskets Using  Cricut!), or even by hand!  And it is half the price at Dollar Tree than at the hardware store or a big box store!

I have used Dollar Tree contact paper on projects like my DIY Modern Desk (that I BUILT myself!), child's rocking chair, friendly stool makeover, and etched glass votive holders.
6.  Clothespins
Clothespins are another product that might seem like a strange craft supply, but you see them ALL over the craft stores.  And they are really versatile for crafting – from hanging banner pieces to making clips for signs or frames – they can be used in many ways.  At Dollar Tree you get a pack of 36 for $1.25, and you can find them in the home improvement aisle.

I have used Dollar Tree clothespins on my DIY Christmas card holder and my magnetic chip clip holder.  And of course I have some of them on my drying rack in the laundry room.
7.  Foam Board
If you have kids of school age then you know that foam board can be kind of expensive for what you're getting.  Hello, it's a glorified poster board!  That's why it's so great to purchase it at Dollar Tree.  You will pay at least three times more at another store.

I have used Dollar Tree foam board in my Mr. and Mrs. moss bunny topiaries, as well as other projects I have not blogged here.  If you want to check out the queen of foam board projects, you need to visit 3 Little Greenwoods because Ashley can turn a foam board into just about anything.  Search her site and you'll see what I mean.
8.  Tissue Paper
Of course tissue paper is great for wrapping gifts, but it's also a good product for crafting.  Dollar Tree sells 40 pieces of white tissue for $1.25, and smaller packs of colored tissue for the same price.  It's the same quality as tissue paper I've purchased elsewhere and is not overly flimsy.
I have used tissue paper on my Tissue Paper Coffee Mugs, and think it would work great on home decor crafts, too!
9.  Popsicle Sticks
I know that popsicle sticks are generally more of a kids craft item, but I ALWAYS use them as paint stirrer sticks in my smaller chalky paint containers or as glue applicators.

I keep them on hand at all times! I also used them in this "LOVE" popsicle stick craft that my daughter made a couple of years ago (pardon the photography; this was when I was still using my phone to shoot blog photos.).  They're dirt cheap at Dollar Tree and a smart thing to have on hand!
10.  Decorative Tape (Washi Tape, Duct Tape)
Finally, decorative tapes like washi tape and patterned duct tape are a great thing to buy at Dollar Tree!  $1.25 is so much less than you pay at the craft store!
I don't have any blogged projects that use washi tape or duct tape, but I have purchased these items from Dollar Tree and can attest that they work just as well as others that I've purchased elsewhere.
11.  BONUS UPDATE – Paint Brushes
I was so pumped to find 8 packs of foam brushes and synthetic bristle paint brushes at Dollar Tree this week!  The prices on these brushes is so much lower than you pay at the craft store or home improvement store!  Get some!  A reader also gave me a tip that the $1.25 makeup brushes at Dollar Tree work great for decoupage.  Keep that in mind as well!

I hope you found this post helpful!  If you did, I'd really appreciate if you'd share this image on Pinterest or share the post on Facebook or somewhere else!

Well now that you've seen my list of craft supplies that you should be buying at Dollar Tree, what do you think?  Do you have any others to add?  Comment below, and don't forget to check out the newest post on Dollar Tree Craft Supplies, which has TEN MORE CRAFT SUPPLIES YOU MUST BUY AT DOLLAR TREE!
-Bre