It's Monthly DIY Challenge time again. Say whaaaaat? (These weeks are flying by and I'm beginning to feel like my life is measured in increments of Monthly DIY Challenges.) Anyway, if you're new here, the Monthly DIY Challenge is when a group of my blogger friends and I team up to create projects based upon a common object or theme. In the past we've done things like stencils and Sharpies, and this month we're all creating projects that use a perennial craft favorite – FELT!
I'll be showing you how to make an adorable DIY Felt and Canvas Banner with a Monogram, but first let me give you a sneak peek of all of the felt projects!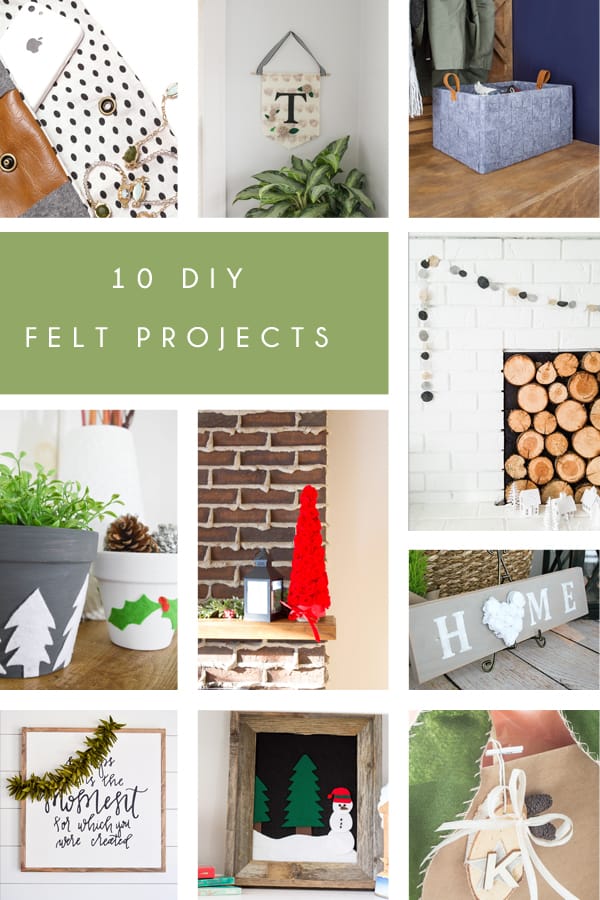 You'll find links to all of these posts below, but let me show you how to make your own felt and canvas banner first!  It makes a PERFECT gift for anyone who has just moved, had a new baby, gotten married, or really, is just living.  😉  I made this one for a sweet friend of mine who just bought a beautiful new home!  You can customize the colors and look any way you like!

Supplies Needed to Make a DIY Felt and Canvas Banner
Some of these links are affiliate links, which means that I earn a small commission at no added cost to you, if you purchase through them.  To read my full disclosure policy, please click here.
Acrylic paint
Sponge or stamp
Sharpie marker
Hot glue
Wood dowel
Ribbon
Optional: embellishments like buttons, pom poms, sequins, etc.
Optional: Computer and printer
How to Make a DIY Felt and Canvas Banner
First, cut your canvas to the shape and size you want.  I free-handed my shape because it was a simple one.  Next, if you want to add some pattern to the canvas, cut a sponge into a shape or use a rubber stamp to stamp acrylic paint on the front of the canvas.  

Next you'll want to create the monogram portion of your banner.  I did this by typing a large letter on my computer and printing it out.  Then I traced the letter onto my felt and cut it out.  If you don't have a printer, you could just write a letter and cut it out.  I did it this way so that the letter would look a little more "perfect" than it would have if I had written it myself.  

After I cut out my letter, I made a bunch of felt flowers and leaves in varying shapes, sizes and colors.  (If you don't know how to make felt flowers, you can search on Google or Pinterest for some tutorials.  There are SO many out there that I didn't think I needed to put instructions in here, too!)  

Then I glued the monogram to the front of the canvas.  I played around with the arrangement of the flowers around the monogram, and once I decided where each should go, I used a combination of fabric glue and hot glue to fasten them to the front of the canvas.  

Once my flowers were in place, I folded the top part of the banner over and glued it to the back side to create a pocket for the dowel.  Make sure to make the pocket wide enough to fit the dowel, but snug enough to hold it in place!

Finally, attach ribbon to the ends of the dowel.  You can either tie it at the ends or glue the ribbon ends together like I did.  

And with that you have a cute and personalized felt and canvas banner to keep for yourself or give to a friend!  

You could hang a banner like this on an empty wall or on a front door!  

The handmade details make it extra special!  

Make sure to "pin" this project for later!  Keep it in mind for the next time you want or need to make a DIY gift for someone!

Now please go visit my friends' posts to see how they used felt to create some fantastic projects!

I'm Thinking You Might Like This Post, Too!