Digital photo clutter is real, and the thought of organizing thousands of digital photos on multiple devices is pretty overwhelming.  I, like many others, have let this task go for too long and absolutely have to get my digital photos organized and under control!
As an Amazon Prime member, I have come up with a system for how to organize digital photos using Amazon Photos – Amazon's online photo storage program – and guys . . . it is pretty quick, simple, and inexpensive!
This photo organization system works, so if you're in the same boat as me and feeling overwhelmed by your digital photo collection, think about giving this a try.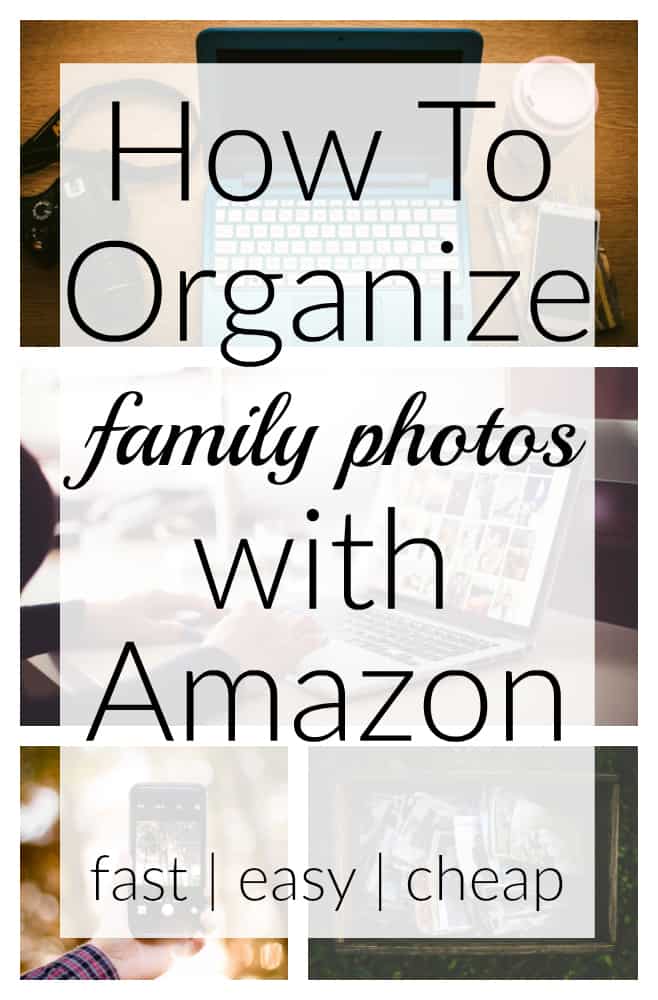 How to Organize Digital Photos Using Amazon Photos
First things first . . . this post contains affiliate links, which means I earn a small commission at no added cost to you if you purchase through them.  To read my full disclosure policy, please click here.
Step One: Sign Up for Amazon Prime (if you Don't Already Have an Account)
I am pretty sure that everyone I know has Amazon Prime.  If you do, you can skip this step of the process – you're already good to go.  (If you don't know about the Amazon Photos benefit of your Prime Membership, however, you might want to read this anyway.)
If you don't already have Amazon Prime, how are you still alive?!?  No, but seriously, I couldn't live without it.
For $139 a year or $14.99 per month (as of February 3, 2022), you get free 2-day shipping on Amazon purchases, free instant streaming movies and TV, free book downloads, free streaming music, AND, important to this post, free access to Amazon Photos.
Amazon Photos Unlimited Full-Resolution Storage
Amazon Photos gives you UNLIMITED full-resolution photo storage (and 5 GB of video storage) with your Prime membership.  
You can download the full-resolution photos back to your devices at any time.  Many other online photo storage systems (including Google – (unless you pay extra)) downgrade the quality of your photos, and many do not allow you to re-download photos to your devices once you've uploaded them.
That means that you can store all of your photos off of your computer, phone, external hard drive, etc., and save all kinds of space and speed on those devices.
Amazon Photos App Syncs With Your Phone
I downloaded the Amazon Photos app on my phone and now have my iPhone photos automatically syncing with my Amazon Photos account.  I know they're safely stored off of my phone and I can delete them without worrying and without constantly running out of space on my phone.
Plus, my husband downloaded the app, synced his phone with our family photo account, and has his iPhone photos going in there, too.
So, if you don't have Amazon Prime already, you should strongly consider getting it.  It is life-changing!  You can get a free 30-day Amazon Prime trial by registering at that link.
You probably won't want to begin uploading your photos to Amazon during your free trial, but definitely take advantage of the free shipping and other features to see if you like it.  Then, if you do, get that photo organization going!
Step Two: Gather All of Your Photo Sources
These days most of us have photos on many sources: computers, tablets, phones, cameras, thumb drives, external hard drives, and more.
If you're going to be organizing many years' worth of photos, you'll need to think about where all of your photos are located.  Remember that you might have some old devices (like that defunct laptop you used ten years ago), that contain family photos.
Get all of those devices into one place so you have convenient access to everything.  Once you're in the groove, you'll be glad you won't have to stop to go device hunting!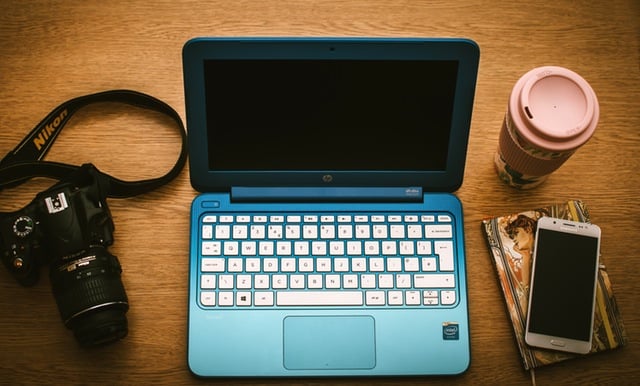 Step Three: Do Some Weeding
At this point, begin to think about how you want to tackle your photo organization process: do you want to do everything all at once or do you need to break this task up into more manageable chunks?
For me, working year-by-year seems to make the most sense,  You could broaden out from there, or take smaller chunks of time, like months, for example.
Once you've settled on your initial timeframe, get your first device and start looking through the photos in the decided-upon timeframe.  You'll need to do some eliminating here, so look for photos to delete, such as blurry photos, duplicates, near-duplicates, irrelevant or not meaningful photos, etc.
Repeat this weeding process for each device on which you have photos.  Doing this initial sweep will cut down on your photo uploading time, so it's a good idea to do this step.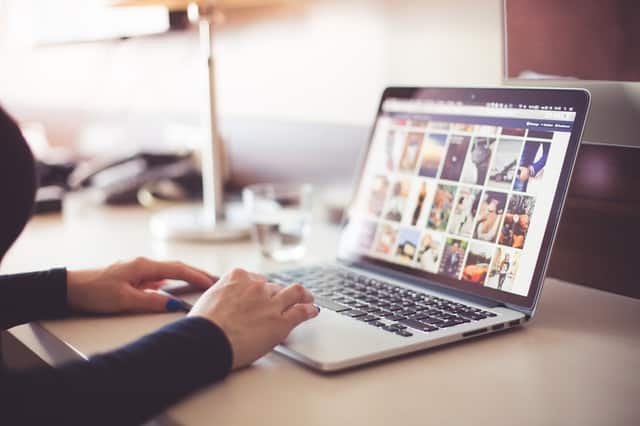 Step Four: Upload Photos to Amazon Photos and Group Them
Once you've done the initial pass through on your photos, it's time to start uploading them to Amazon Photos.
I uploaded photos for the year from multiple devices – one device at a time.  I used the Amazon Photos app on my phone to upload my phone's photos wirelessly.
Once everything was uploaded, I sorted the photos by "date taken" and then added all of the pictures taken in 2016 (for example) to an album for that year.  You could choose to group your photos differently – any meaningful way that works for you will be great!
The great thing is that on your photos homepage, a little timeline appears on the righthand side of the screen, which breaks the photos down by year and month.  This way you can quickly navigate to a particular set of photos if you want.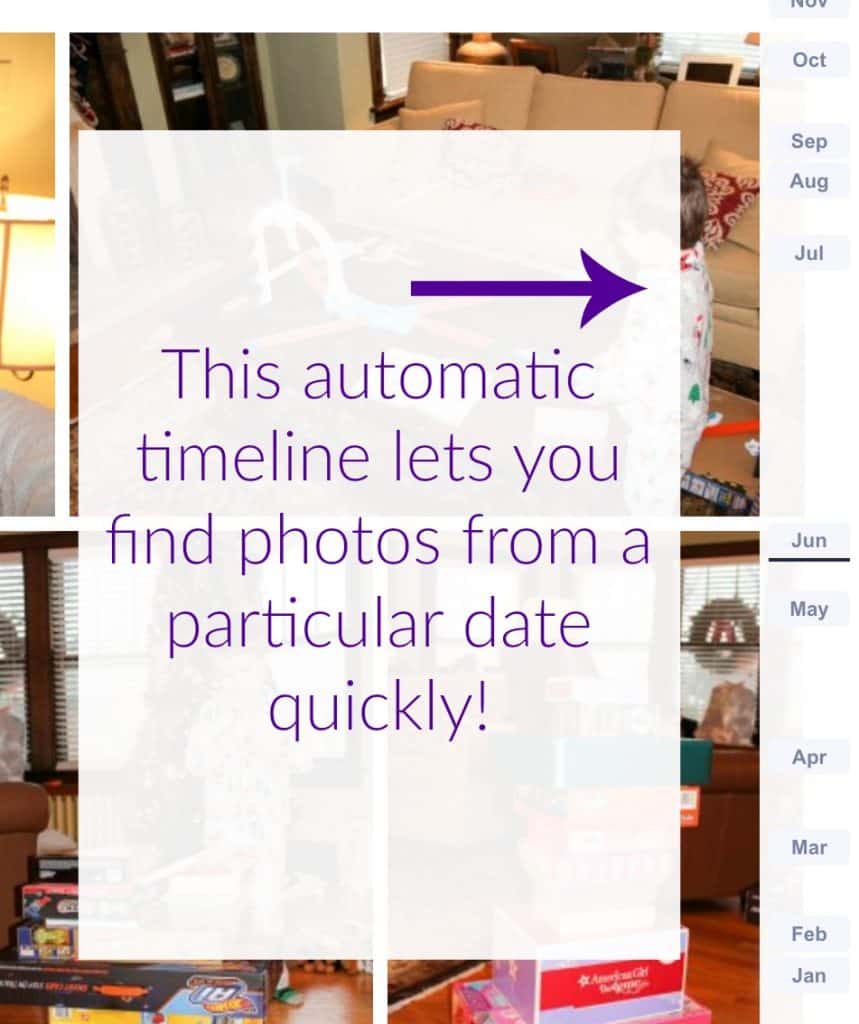 A sorting feature also appears on the lefthand side, without having to do anything.
Photos are automatically given tags, like "Food," "Beach," and "Bridge," people in photos are recognized with facial recognition software (depending on where you live; this is illegal in some states) so you can quickly find photos of one particular person in that grouping, and photos are tagged by location (if they were taken on a device with geotagging turned on – like a mobile device).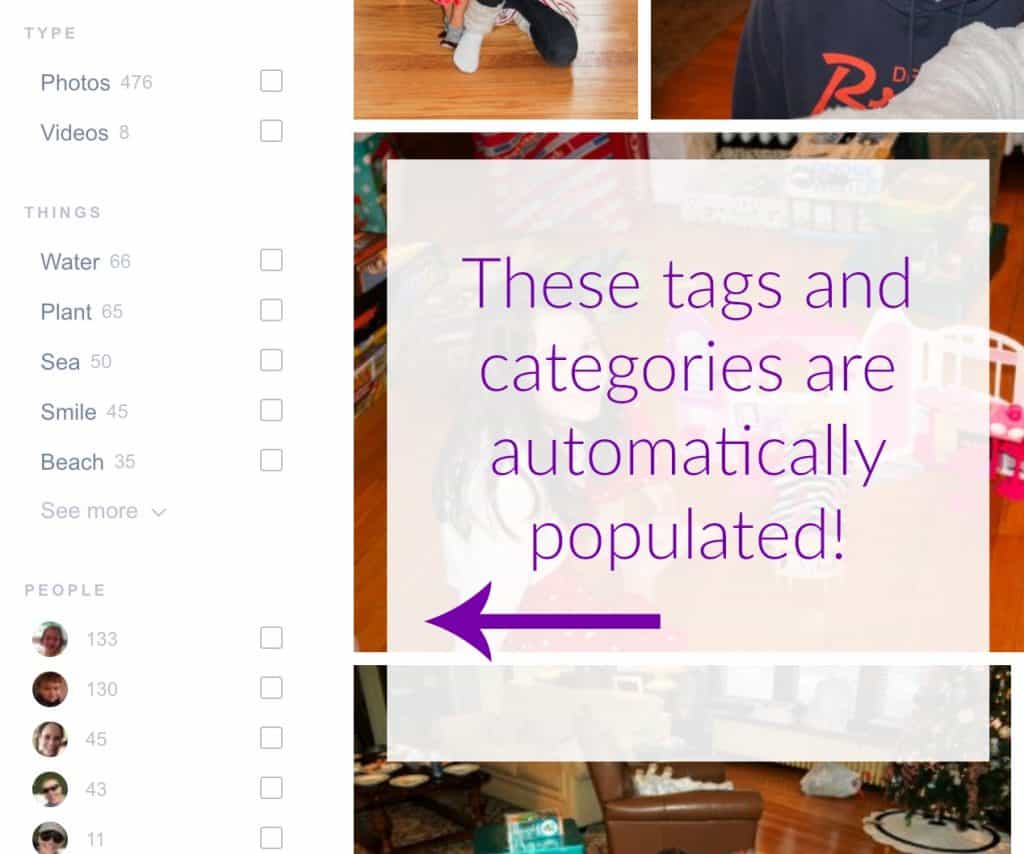 Step Five: Do a Second Pass Through to Weed Out "the Uglies"
Even though you did some photo removal in Step Three, I guarantee there will be photos that slipped through the cracks and were uploaded to your Amazon Photos account.
Take time to go back through the photos you've uploaded and scan for duplicates (or near duplicates), blurry photos, and photos that are just plain ugly and not worthy of keeping.
Remember that you don't NEED three variations of every single event in your life.  That is photo clutter.
So do some editing of your photo collection and weed out the uglies.
Step Six: Decide How To Preserve Your Photos
At this point, you have made it SO far in your photo organization quest.  It's actually really exciting to feel like you have a handle on your digital photos.  Even just knowing where they all are and that they're safe and accessible to you is a fantastic feeling!
But you'll probably want to do something with them other than keep them on the Amazon cloud somewhere.
I decided to do several things with the first year of photos I have uploaded: (1) print a hardcover photo book of a special family vacation; (2) print a hardcover photo book of the highlights of my family's year (a family yearbook of sorts); (3) print a copy of each picture from the year to store in archival photo boxes (like these awesome ones and maybe some of these for a decorative touch); and (4) leave all of the photos on Amazon Photos since I get unlimited storage.
I was able to do all of my photo printing through Amazon.  Also, the Amazon Photos books start at $19.99, but when I ordered mine, they had a 75% off coupon, so I got them for $5 a piece.  Yes, $5!  That is insane!
Anyway, I know I still have a lot of work ahead of me.  I have THOUSANDS of pictures to get through.  But all in all, this method of storing and organizing digital family photos is manageable and effective, and it's one that's going to work for me and my family.
In the future I will be better about keeping up with current family photos so that I don't have to play this catch up game.  At least I have a plan in place and a great solution to my family photo organization dilemma!
I hope this post helps you get your family photos organized, too!  Please let me know if it does, and let me know if you have any tips of your own to add.
Amazon Photos Frequently Asked Questions
In the time since I've written this blog post, I've gotten lots of questions about Amazon Photos, so I thought it would be helpful to answer some of them here!
It may also be helpful for you to read the comments below, as many people have offered their opinions on Amazon Photos. This post is intended to help you organize your photos, and I do not have all of the answers for all of your questions.
Finally, I kindly request that you do not email me with questions; I do not have the ability to personally help you with your photo projects. Thank you!
1. Is Amazon Photos free?
Amazon Photos is free for anyone with an Amazon account!  Read number two below about the storage differences with a paid Amazon Prime account versus a regular Amazon account.
2.  Is Amazon Photos storage really unlimited?
If you have Amazon Prime, yes it is!  Photo storage is truly unlimited, and video storage is up to 5 gigabytes of video.  You can add extra video storage for a fee.
Non-Prime members can store 5 gigabytes of photos for free.
3.  How do I access my pictures on Amazon Photos?
On a laptop or a desktop, you can go to Amazon Photos and sign in to view and manage your photos.  On a mobile device, download the Amazon Photos app to store and manage your photos.
4.  Is Amazon Photos for personal use only?
Yes, according to Amazon's terms and conditions, use of Amazon Photos is for personal photography only.  Professional photographers and commercial uses are not permitted.
5.  Which is better – Google photos or Amazon Photos?
Well, I think that's a matter of personal preference!  However, in the Amazon Photos vs. Google Photos debate, I will say Amazon Photos because, as I mentioned above, Amazon Photos doesn't downgrade the quality of the image in any way, and you get unlimited storage as a Prime member!  Google photos only gives you 15 gigabytes of storage and it downgrades your photo quality.
6.  What happens to my photos if I need to cancel my Amazon Prime account?
Before canceling your Prime account, you can download all of your photos from Amazon Photos to an external hard drive or cloud location of your choice.
Then you will have everything saved in the original, high-resolution format and all of your pictures will be safe and sound.