It's Week Three of the One Room Challenge, and that means my six week master bathroom makeover is halfway finished (in theory).  If you've just now found yourself in the middle of my makeover, welcome and feel free to peruse my disaster of a master bath as shown in Week One, and the progress I made in Week Two.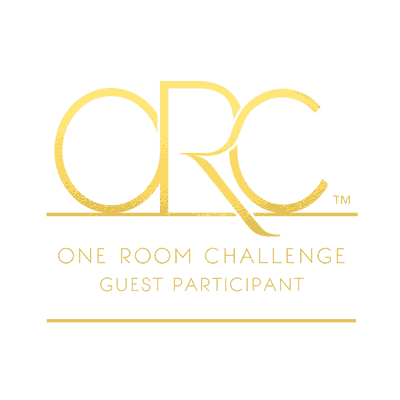 I have to admit that Week Three started out strong, but then my daughter's birthday came along, followed by Easter.  I got a little sidetracked, and now my preschooler is on spring break.  I can feel my momentum shifting toward the "getting nothing done" column.  BUT . . . that isn't stopping me from showing you what improvements I DID make over the last week!
I started out by giving my master bathroom vanity a death stare.  I really don't like its fussy styling or cherry wood finish.  And I especially don't like the copper vessel sink or weirdo pump faucet.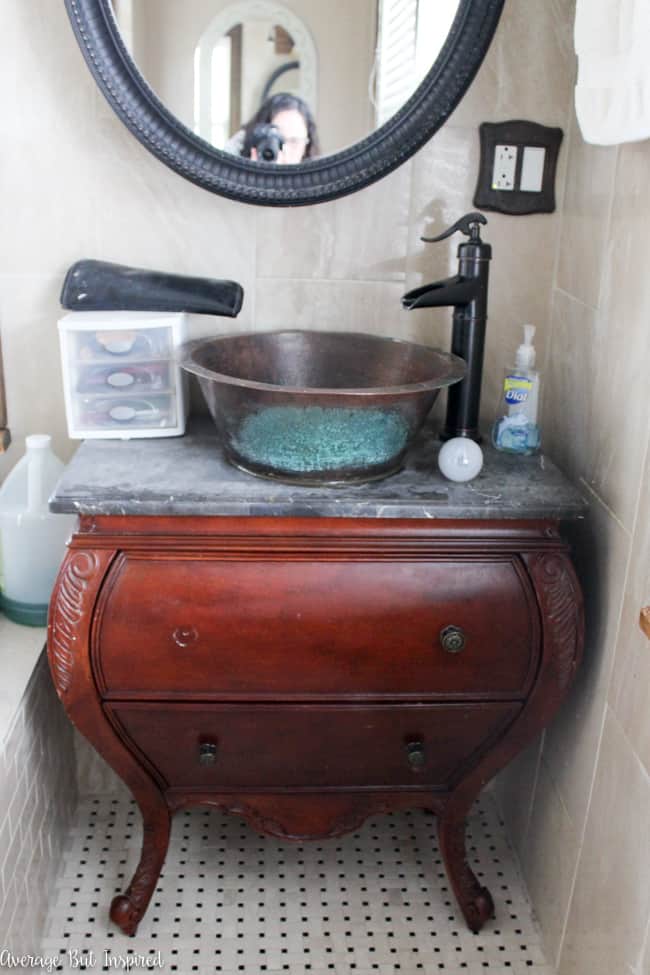 But because this is a BUDGET bathroom makeover and not a renovation, I am going to live with this monstrosity.  I decided to do what I love and just paint the vanity.
This post contains affiliate links.  To read my full disclosure policy, please click here.  Also, thank you to DecoArt for providing me with the paint used in this post.  The project and opinions are my own.
In order to get a great finish in no time flat, I used some awesome furniture and cabinet paint from DecoArt called Americana Decor Satin Enamels.  I knew about it because I previously refinished a table for my mom with it.  I love it because it goes on really evenly and it doesn't require a topcoat!  Yup – it's self-sealing.  I am all about instant gratification when it comes to painting furniture, so this paint was the logical choice for my bathroom vanity.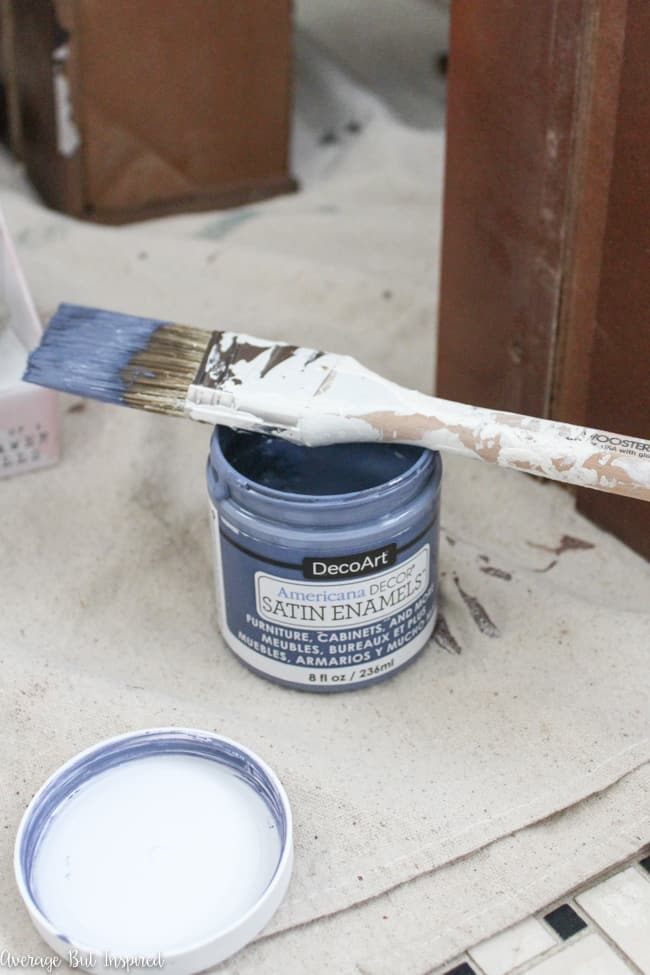 I chose the color Steel Blue because I wanted a moody blue that wasn't a true navy.  I lightly sanded the vanity and painted it right in place!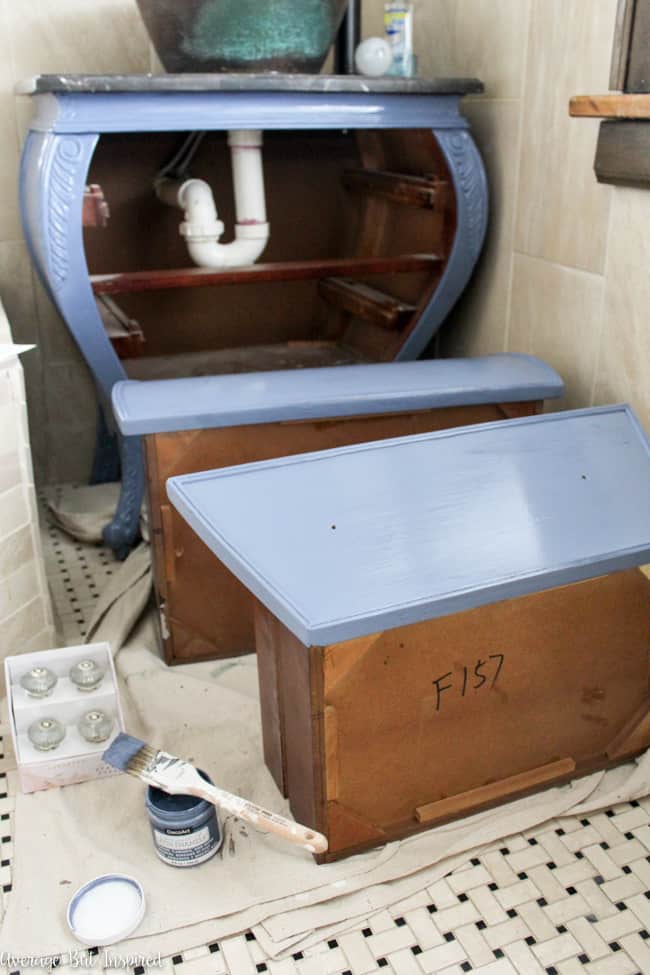 Two coats later and I was finished.  The result is awesome; it's so smooth and a perfect amount of shine for a bathroom vanity.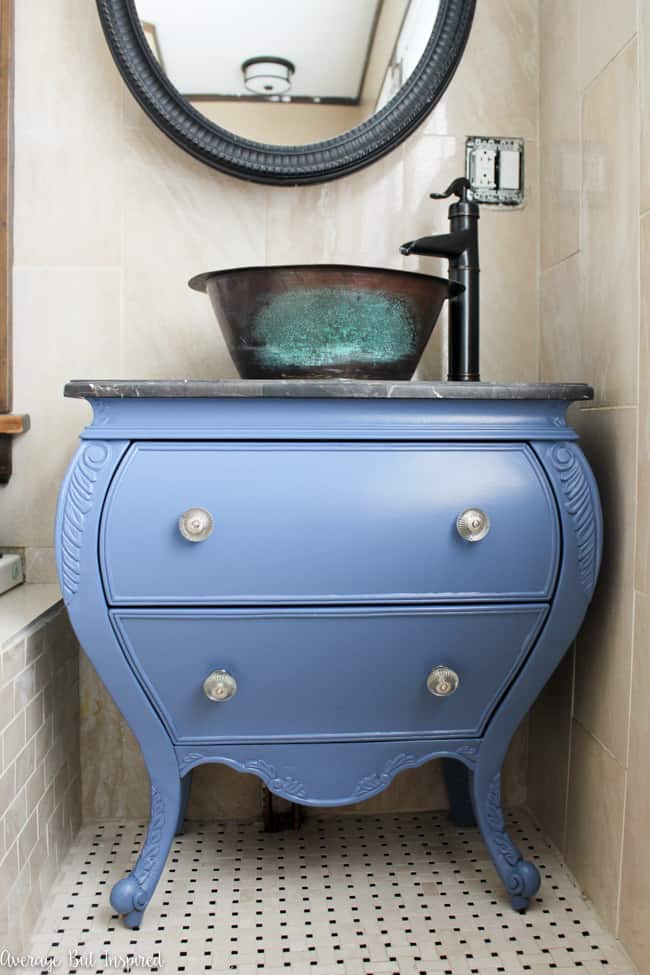 I also added new hardware, which I found on clearance at Marshalls for $4.50 (for all four knobs)!  This hardware is different from the hardware in my original design plan, but for the price I couldn't pass these up!  Plus they look like the doorknobs throughout my home so they work.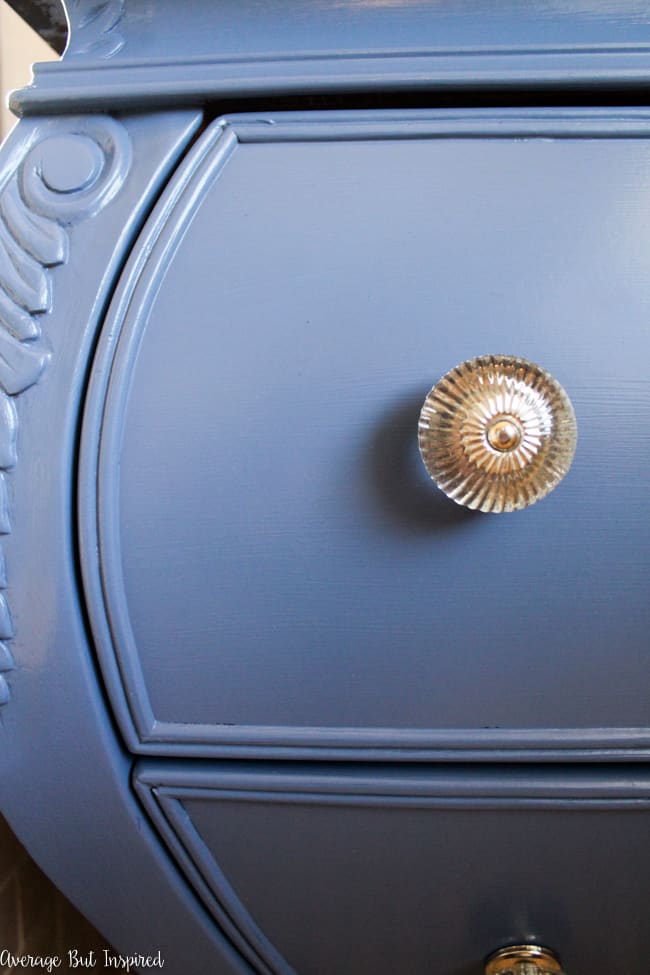 I also restored the countertop, which was dull and lifeless.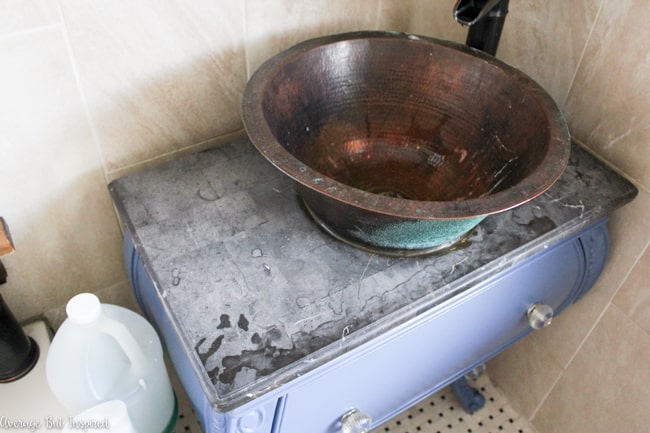 I found this awesome product called Rejuvenate Polish and its little microfiber applicator and chamois buffer, and I gave it a try.

It was super easy to apply, and it made my countertop look SO MUCH BETTER!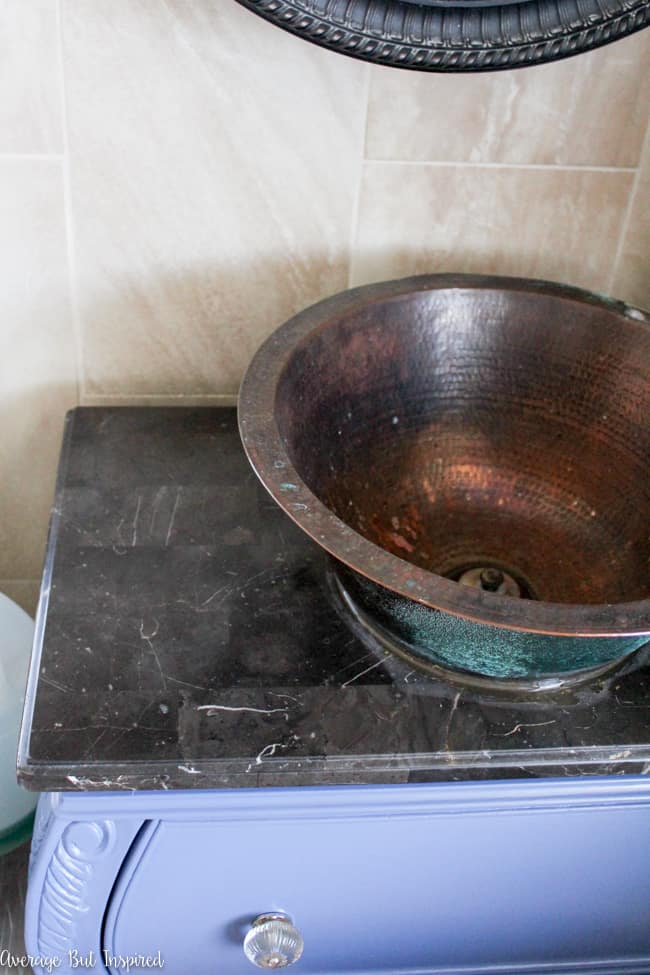 I really could not get over how easy it was to make the countertop look that good!  Next up – shining up that copper sink!
Now, even though the vanity painting was a big part of this week's progress, the other big news is that my husband and I got the new lighting installed!  (When I say "my husband and I," I really mean "my husband."  I supervised and ate some snacks while he worked.)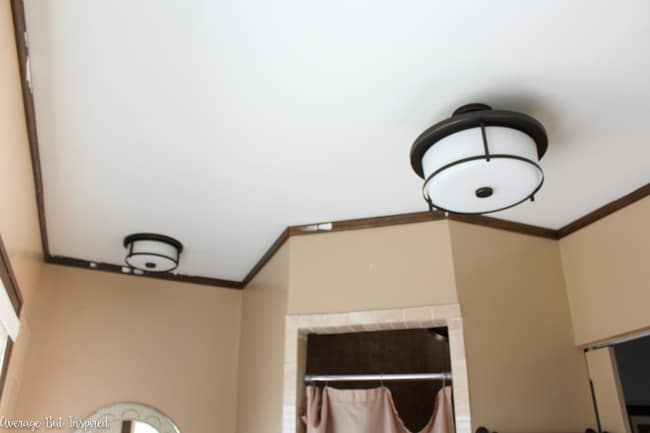 We chose fixtures that were slightly different from the one in my design plan, primarily because we decided those were just too expensive for this project.  We loved them, but were glad to find ones with a similar look for a much lower price tag!  We chose a three bulb semi-flush mount for the main fixture, and a two bulb flush mount for over the toilet.  Let me tell you that the added light in the room is incredible, and I do not miss the weird pendant light over the toilet and flowery flush mount that were there before!
We also installed a new vanity light, and were very disappointed to find that the previous homeowner installed that strange wood piece over the tile / under the fixture because he didn't center the electrical box, so he had to mount his fixture on the wood to get it centered.  Because of this, we had to leave the wood, which I hate.  I'm thinking I might paint it to match the marble, but I'm a little nervous I could make it worse.  Any thoughts on this?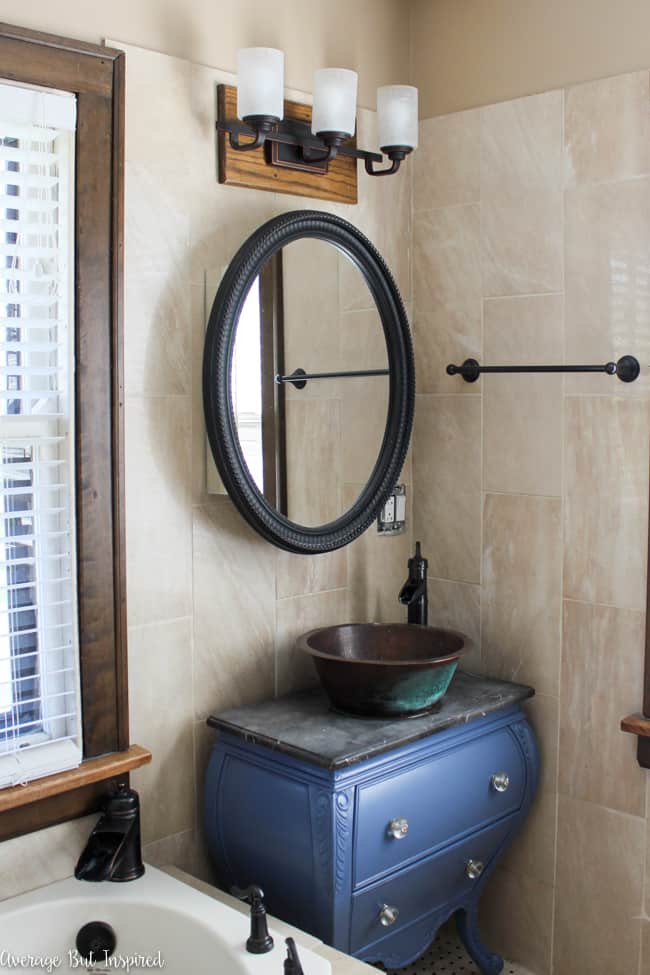 So, the painted vanity and the new lights were the highlights of Week 3!  Other little things I accomplished were nailing the window trim pieces back into place and attempting to replace the rusty return vent cover.  Let's take a look at the to-do list and what remains:
Patch drywall
Scrape ceiling
Re-paint ceiling
Paint moulding
Paint windows
Paint walls
Paint pocket doors (or maybe replace these . . . )
Re-stain window sills
Change light fixtures
Paint vanity
Make cornice boards for over windows
Create art to replace mirror near toilet
Tailor shower curtain to fit non-standard shower entry
Shop for decor for bathroom
Yikes.  Typing this was a bit of a reality check for me.  I don't think I can afford to slack off this week.  Time to get painting!
I hope you'll check back with me next Thursday to see what else is new in my master bathroom makeover!  I hope to have it looking even better!  Also, please make sure to visit the other designers and linking participants that are making over their spaces in six weeks as part of the One Room Challenge!
-Bre
Thank you to these sponsors for providing product for my Master Bathroom Makeover!  




YOU MIGHT ALSO LIKE TO SEE THESE ONE ROOM CHALLENGE POSTS