Thank you to Cost Plus World Market for sponsoring this post.  The fall decor and entertaining ideas you'll see are all my own.  This post contains affiliate links, and to read my full disclosure policy you can click here.
The kids are back in school and the weather here in Chicago is getting more crisp with each passing day.  My favorite season is almost here, and I cannot wait to share my love of all-things-fall with my family and friends!  Intimate gatherings with comforting foods and cozy decor (like at the Beer Tasting Party I hosted last fall), are right around the corner, and I'm getting ready for fall entertaining by creating a dining room that's filled with gorgeous color, texture, and pattern.  After one visit to my local Cost Plus World Market store in the South Loop, I think I'm all set!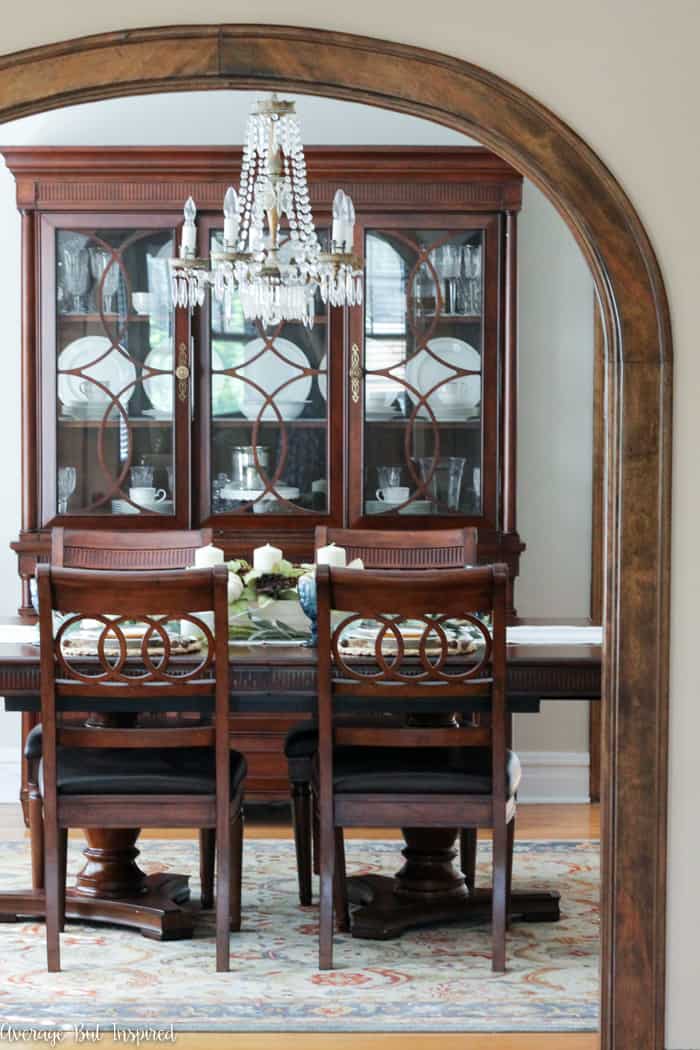 Back in the day my fall decor was a little more, shall we say, obvious.  At one point I remember declaring that my house would look as though a pumpkin patch had exploded inside of it.  While I still love pumpkins, fall leaves, and scarecrows as much as the next pumpkin spice latte loving lady, my taste has matured a bit, and now I'm decorating for fall in a more subtle way.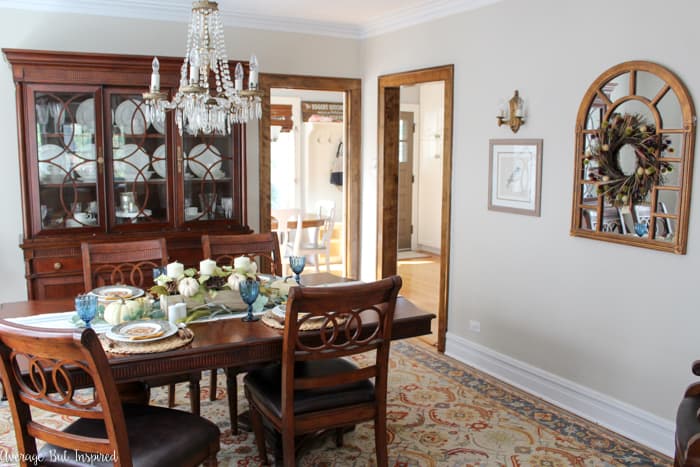 Working with colors, textures, and patterns that embody the changing season, I've created a lovely fall dining room that's perfect for entertaining!  This year I think my first get together will be a fondue party.  (Except for the lactose intolerant, who doesn't love a party that centers on cheese?  Am I right?)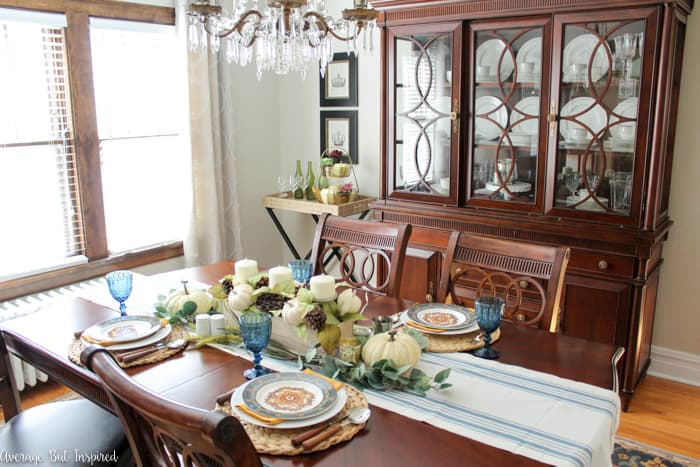 I bet your friends and family would enjoy a nice evening at your home this fall, so let me give you my tips on how to decorate for fall entertaining with color, texture, and pattern!
Pick an Inspiration Object for Color
It was so easy to pull together a look that works for the changing season because I started with these salad plates as my inspiration.  I love the fall oranges, reds, and yellows, and the fact that these plates have such an interesting design.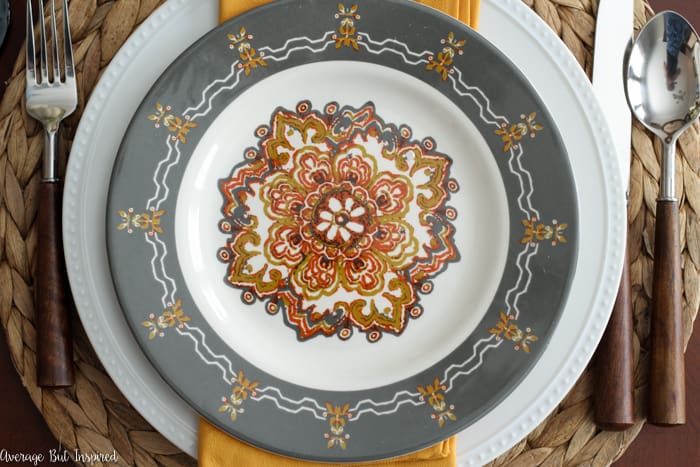 These plates served as the jumping off point for all of the other items that adorn my entertaining space this fall.  I think that's a great way to decorate a room: find an interesting object you like and allow it to guide your subsequent decor choices.  Even if you think you have no idea how to decorate, using an inspiration item's colors to inform your other choices will help you make good decisions.
For example, I chose these golden yellow buffet napkins because that color is in the plate.  I guarantee you I never would have purchased anything this color if I would have seen it in isolation.  But with the plates, it works!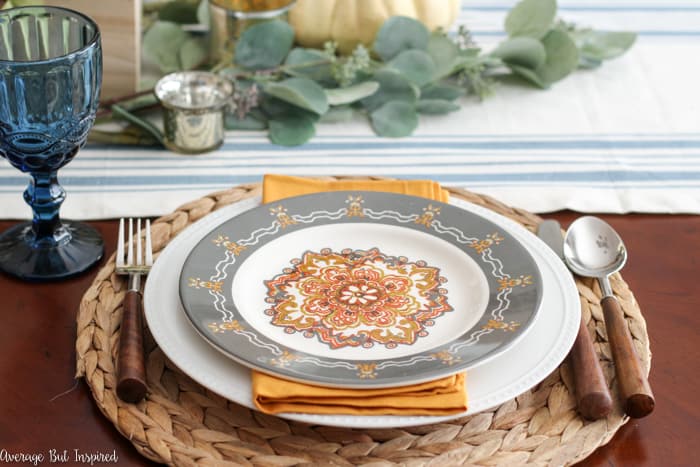 The same is true for the gorgeous blue pressed glass goblets.  Sure they're pretty on their own, but look how gorgeous they are with the contrasting gold napkins!  Thank you, salad plates, for putting these colors together for me.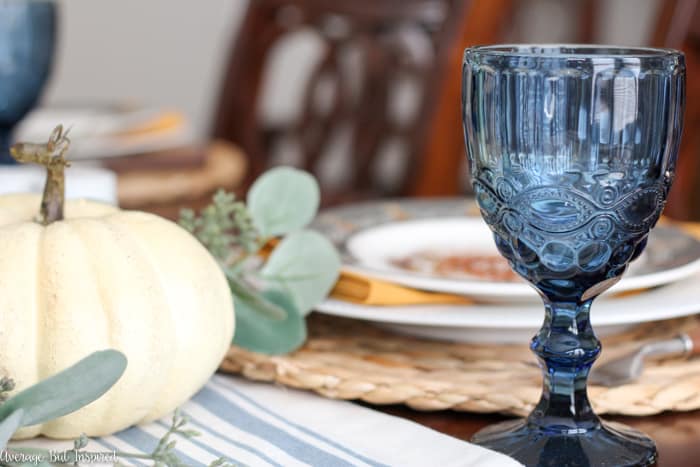 Add Some Texture
Once you've followed your inspiration object's color lead, it's great to add in some items with texture.  Because I had a lot of color already happening in this entertaining space, I decided to add texture with neutral elements so as not to go overboard.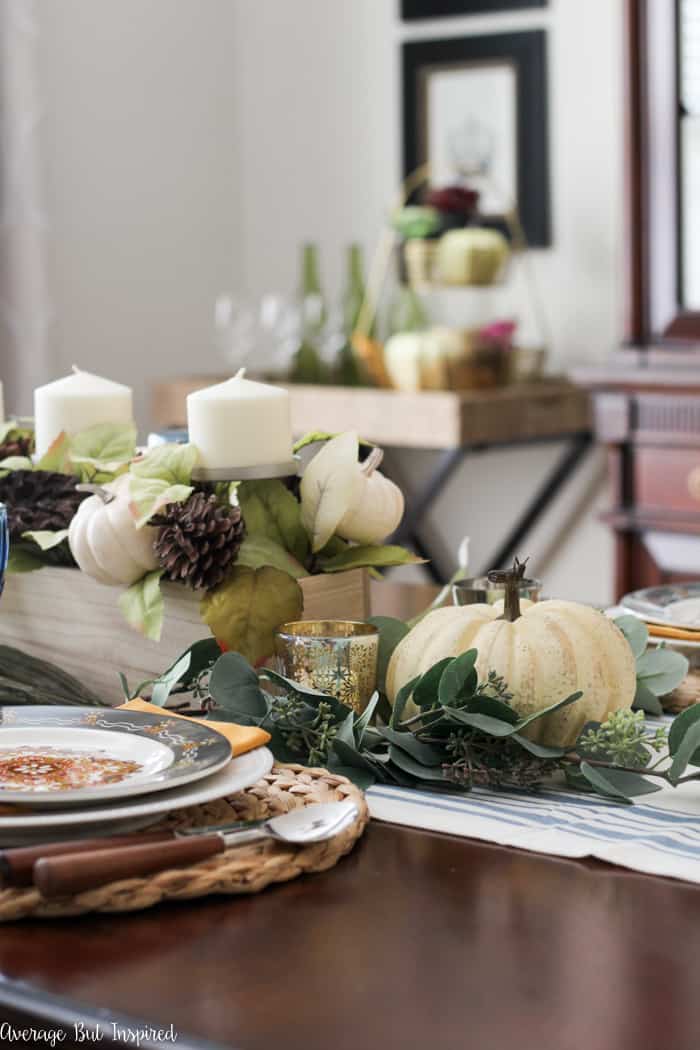 These placemats woven from natural materials are my new favorite thing.  They will work for any single occasion, holiday, event . . . you name it!  And they're not boring.  Their woven pattern and thickness makes them assets to the table instead of something that's commonly overlooked.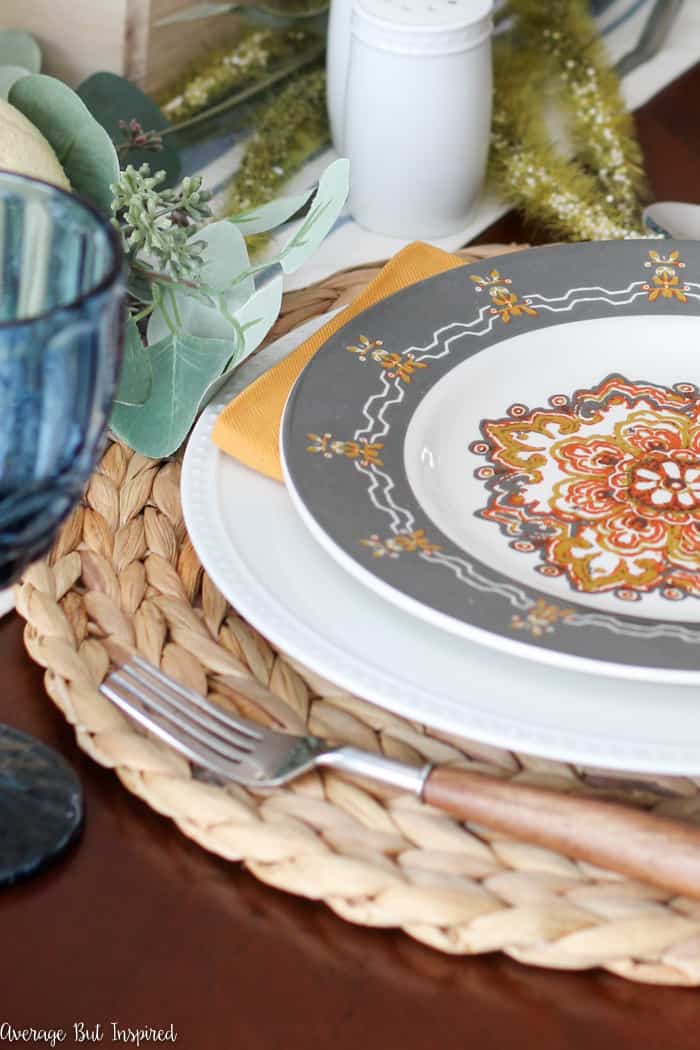 And don't even get me started on these fabulous wood handled utensils (forks, knives, and spoons).  To me, wood is a perfect decor element for fall because it's just so "nature-y."  (My inner outdoorsman is coming out there with that "word.")  You cannot help but pick up these utensils.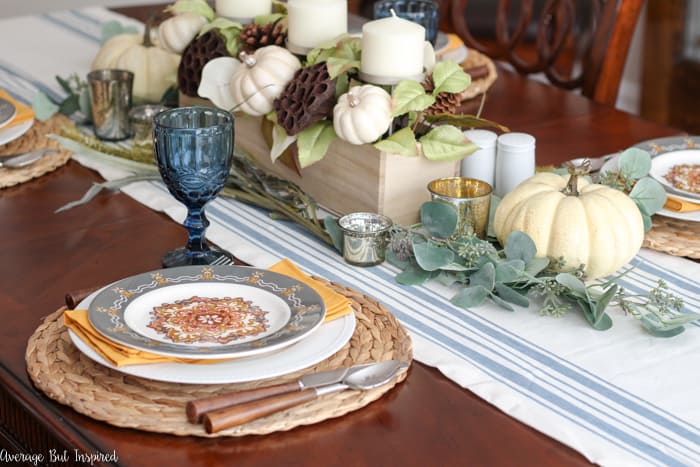 And finally, this pretty puff ball wreath on the mirror opposite the dining table is 100% texture.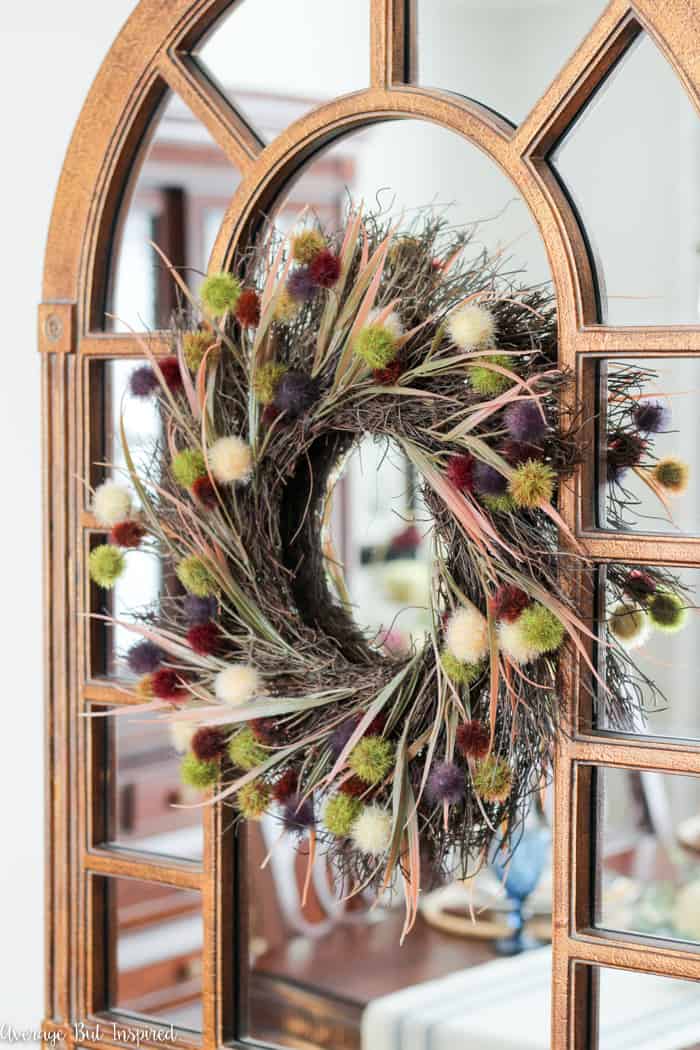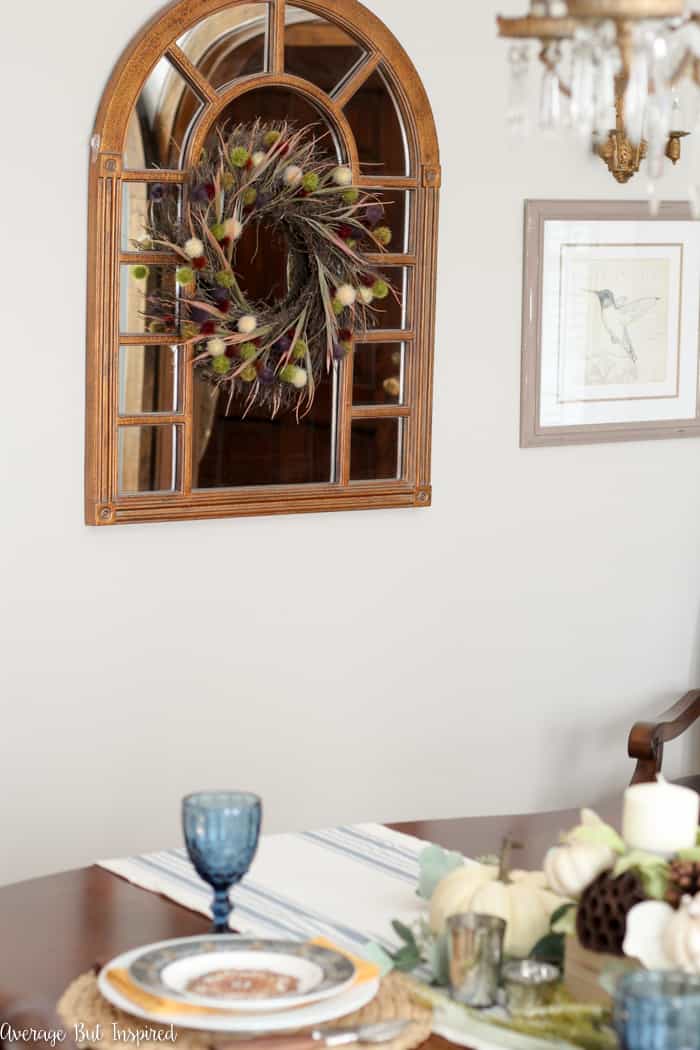 Play with Pattern
Because the salad plates that inspired this fall entertaining space already have a lot of pattern, I worked with simpler patterns on other things in an effort to layer the look in a way that is not overwhelming.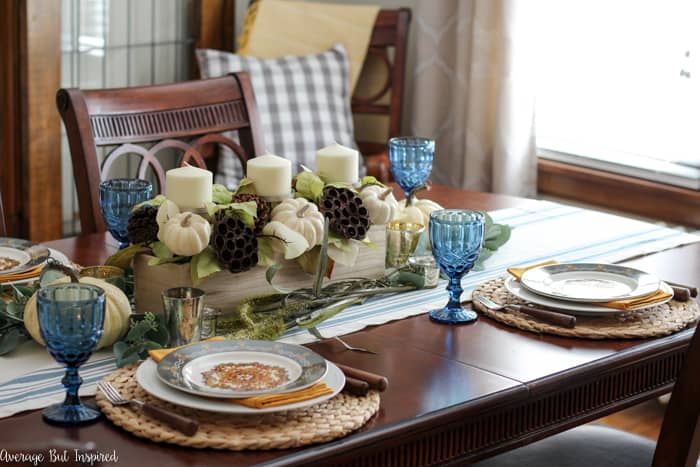 This striped table runner, for example, grounds the entire table.  It uses the same shades seen elsewhere on the table, but has a simple pattern that makes it interesting and not overpowering.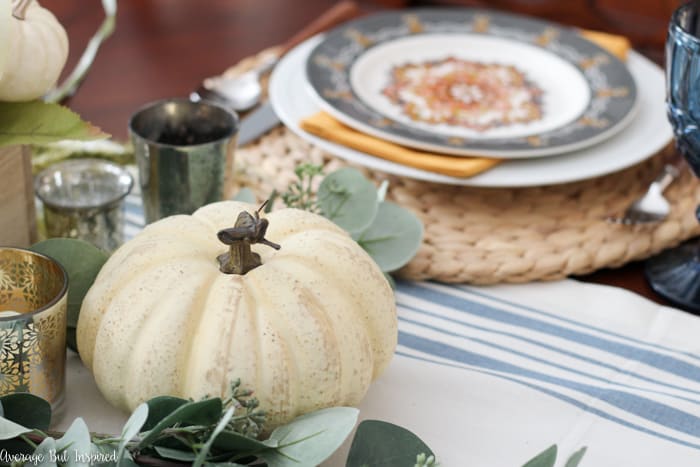 And using pattern in a different way, by creating small groupings of similar objects, is another way to get a sophisticated look.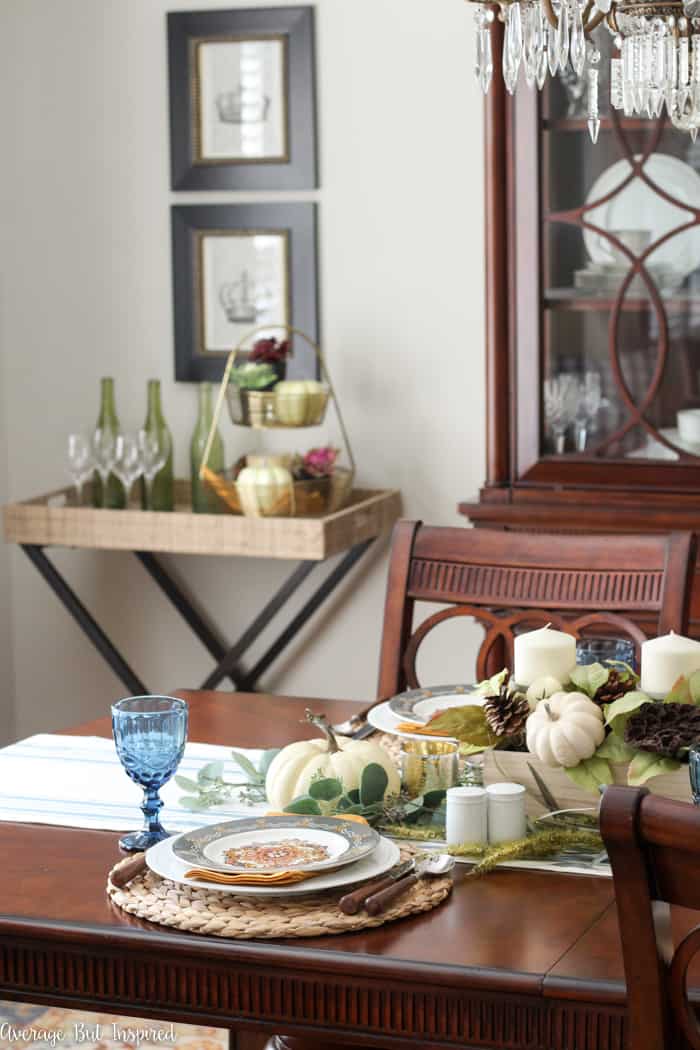 Here I used three mini faux kale pots to perk up the butler tray stand in the corner of the room.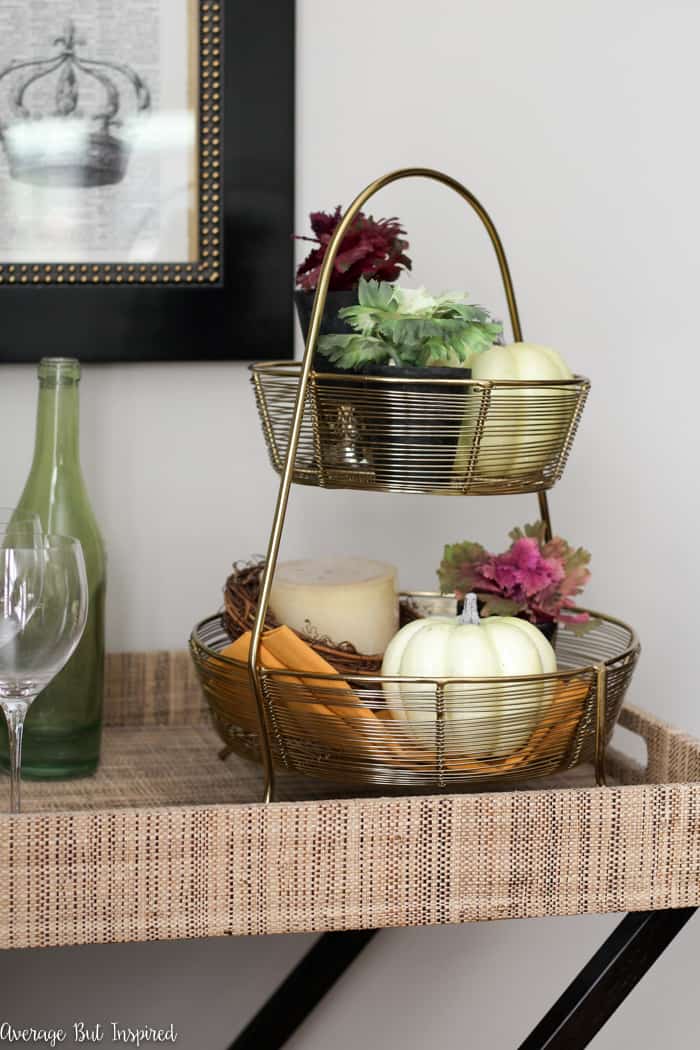 Metallic candles and white pumpkins grouped throughout the table also create understated patterns, which make an impact on the dining table.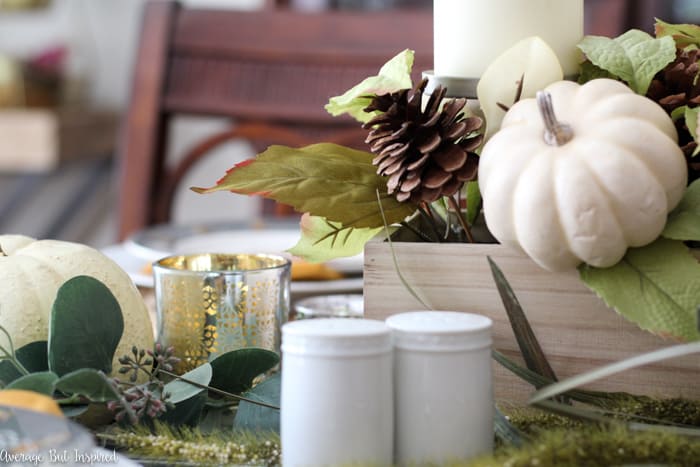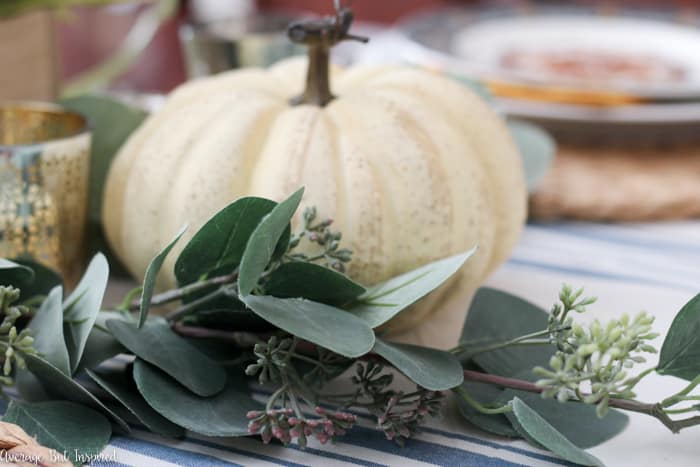 And there you have it; my fall dining room ready to shine!  All of the colors, textures, and patterns brought in through gorgeous products have created a beautiful setting for entertaining friends and family this fall!  I can hardly wait to invite someone over.  (What are you doing this weekend?  ;-))
Love the Look?  Shop This Post!
If you found my tips for fall decorating helpful, the good news is that Cost Plus World Market's Fall Gathering Event has begun! Now through September 10, 2017, you can save 50% on all dining furniture, 20% on all bar carts, 30% on all open stock dinnerware, flatware and wine glasses, and 30% on all open stock table linens. Head into your local store (find it here!), and check out all the amazing deals for yourself or shop online…no coupon code needed!  Just scroll through and click on any of these images to shop this post!


Happy fall decorating and entertaining!
-Bre