Welcome back to my seasonal series designed to help you ENJOY the holiday season and minimize stress!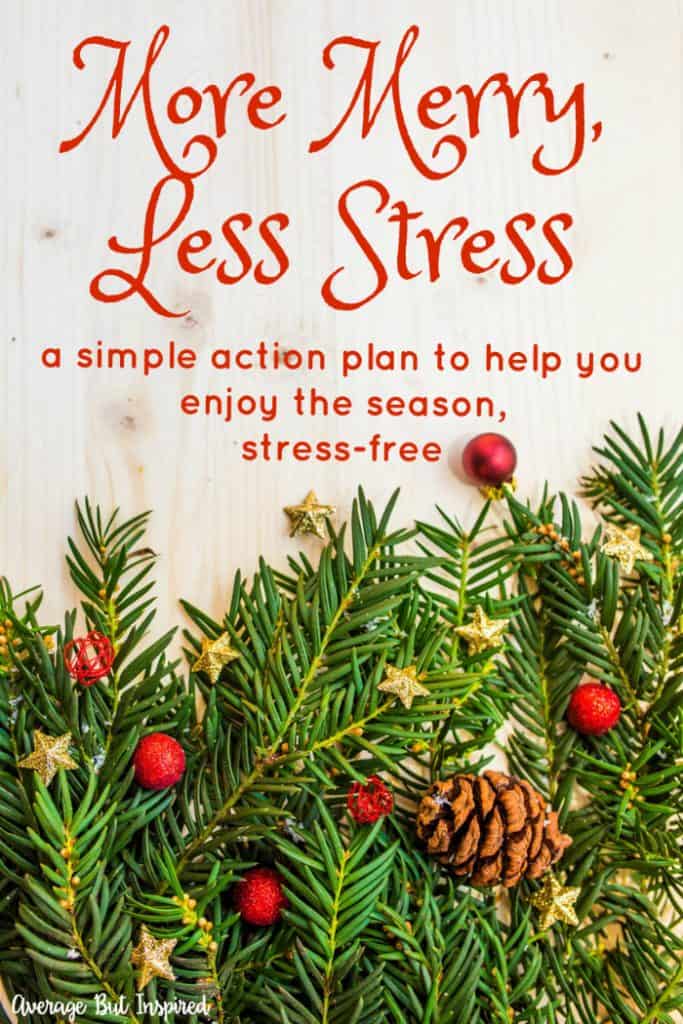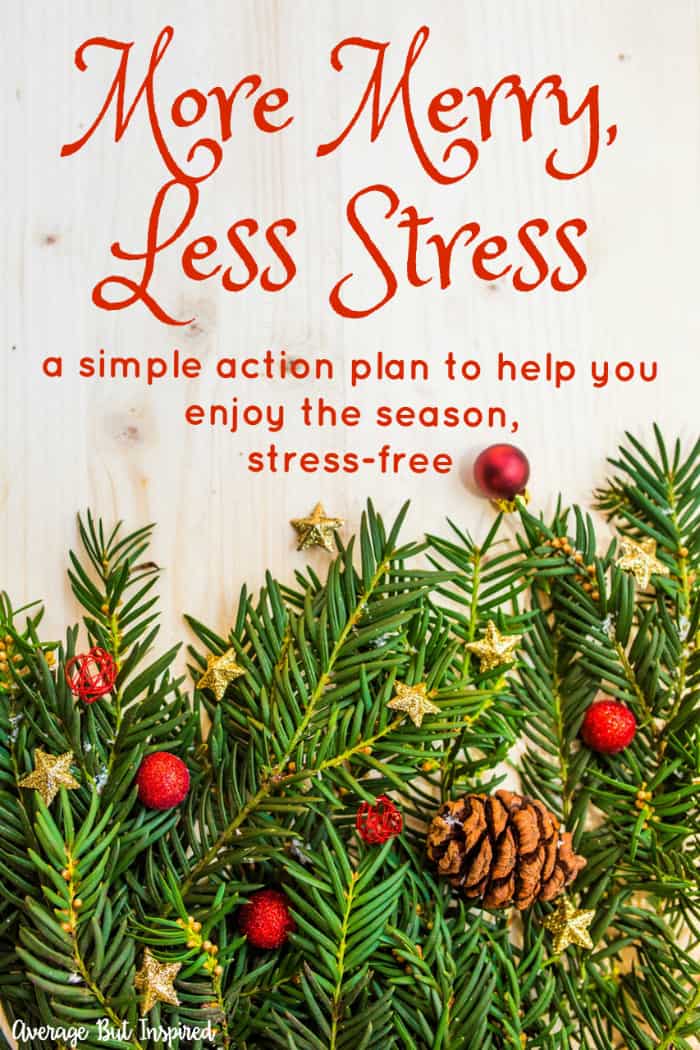 This post contains affiliate links. To read my full disclosure policy, please click here.
Over the past three weeks we've covered:
Clearing things out to make room for gifts that will be coming into the house;
Planning things out, like appointments, reservations, and gift tracking; and
Tips for taking great DIY holiday photos for cards and everyday life!
This week we're focusing on finding joy in the holiday decorating process, and I'm sharing some of my colorful Christmas decor to help illustrate how I did just that, despite all the extra work it created during a time of year that's already jam packed!
I have a confession to make – I really dislike putting up and decorating the Christmas tree. I know it probably sounds crazy, but I always get hot, dizzy from winding lights around the tree, and generally become CRABBY. Aside from seeing some special ornaments, like this DIY Memorial Ornament in honor of my dad who passed away in 2015, I think I could do without having a Christmas tree!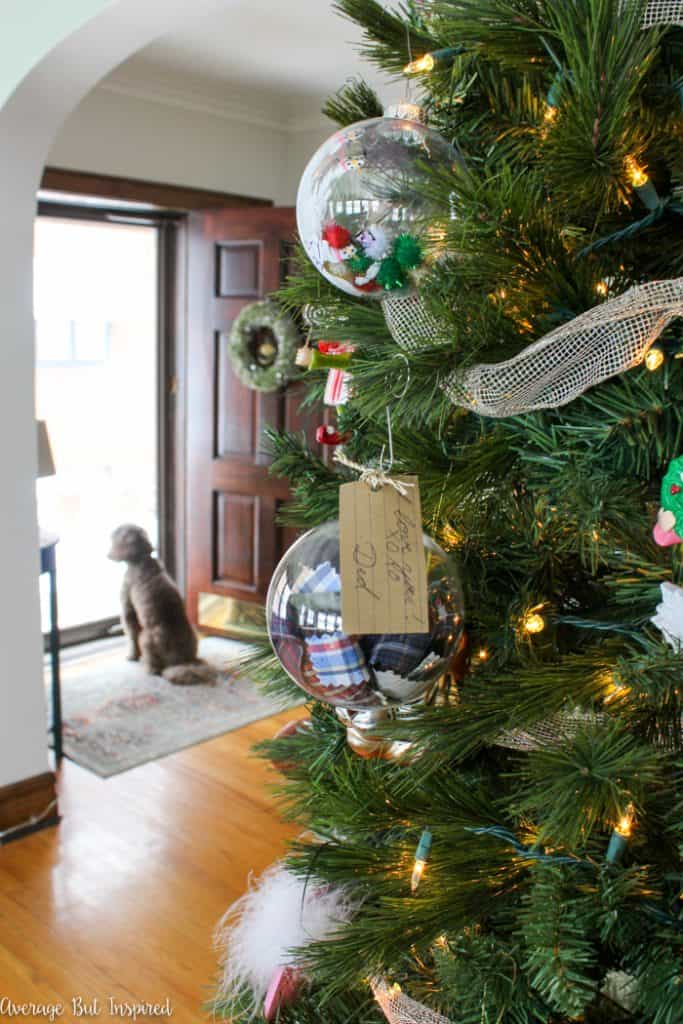 In order to transform decorating the tree from a chore to a wonderful experience, I put myself in my kids' shoes and think about how important it is to them. (My cute new tree skirt helps, too.) I know it's important because they get so excited to decorate the tree every year, and it is something they really look forward to.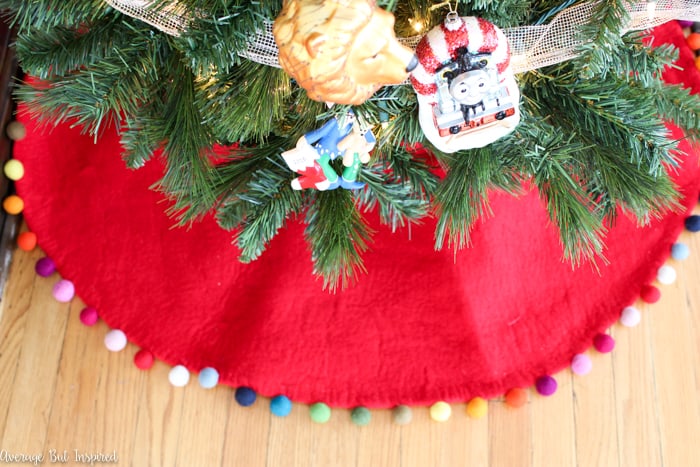 FIRST TIP: Putting myself in others' shoes is the KEY to being joyful despite having to do something I don't really love. Maybe there are things you don't love about the holiday season that sap your joy. See if you can find a way to change your perspective. It might make a world of difference for you and those around you!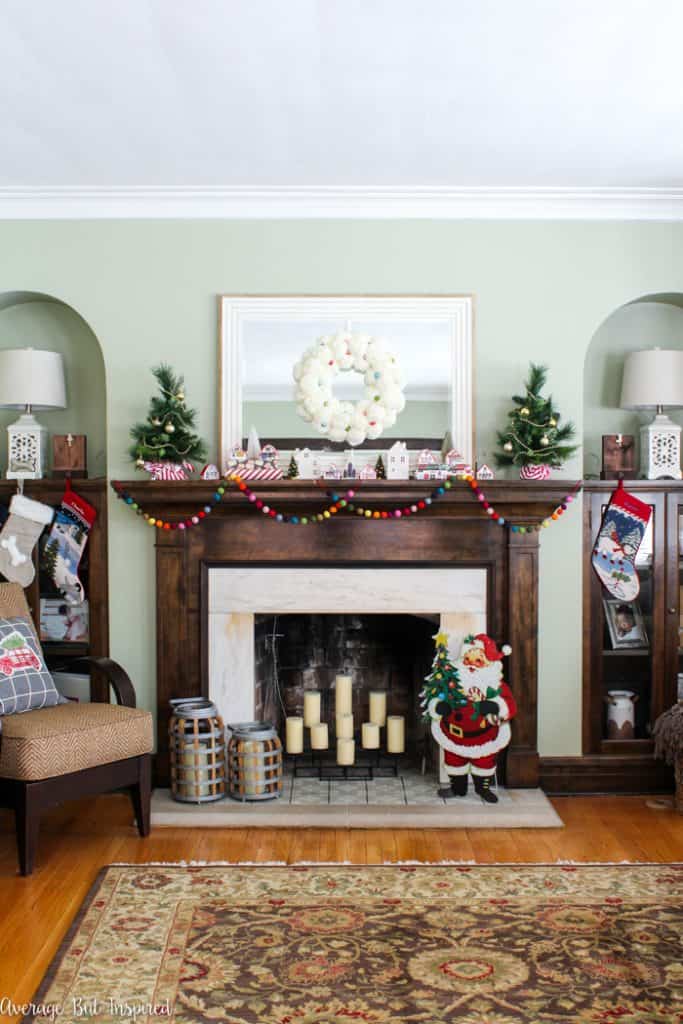 SECOND TIP: Use what you have, but change things up once in a while! You can use the same decorations you already have, but change up their look by putting them in different places or giving them minor facelifts! For example, I've used the same trees on my mantel for YEARS (see them on the hearth last year, and in the same spot as this year back in 2013), but this year, they got a new look! I wrapped the bottoms with colorful fabric and cut off their berries and pinecone accents to give them a less rustic look.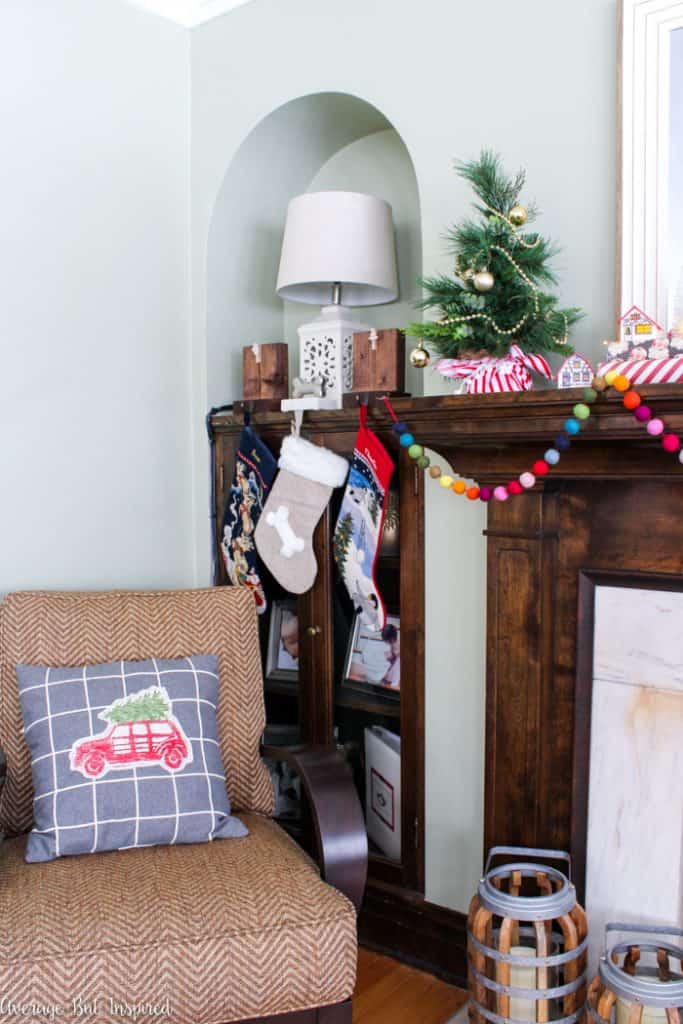 The same is true for the books on the mantel. They're pretty much always up there giving items an extra boost, but for this mantel I wrapped them in adorable scrapbook paper for an extra festive touch.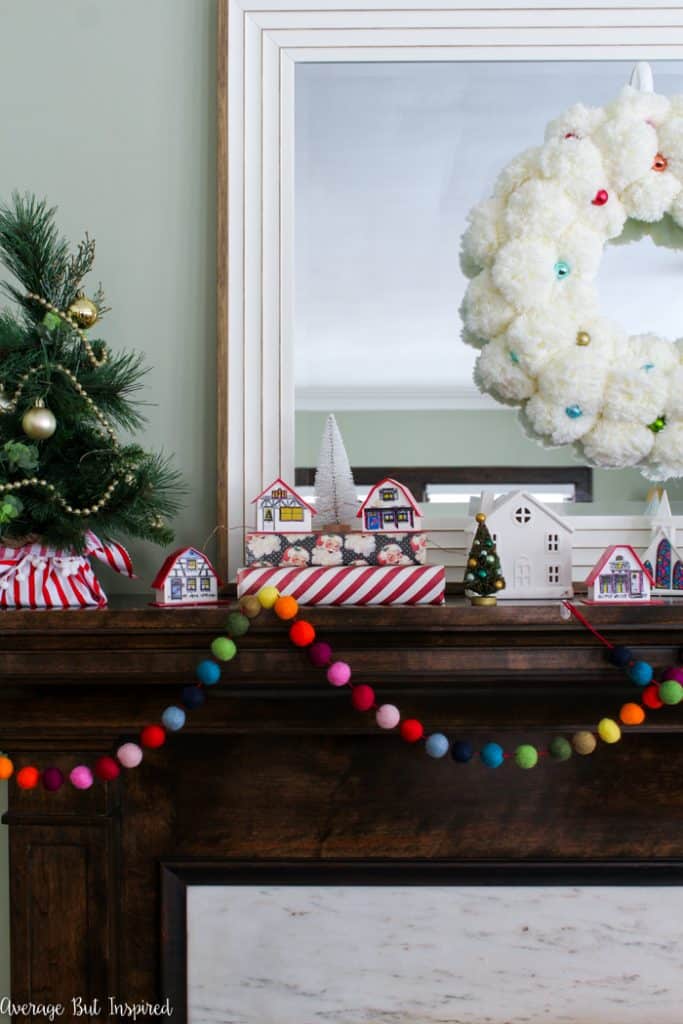 THIRD TIP: Decorate in a way that makes YOU happy! You don't have to decorate the way everyone on Pinterest is decorating. Use decor pieces that make YOU happy! The little 1960's "Electrified Village" was a weird find at Goodwill, but it made me squeal with excitement when I found it!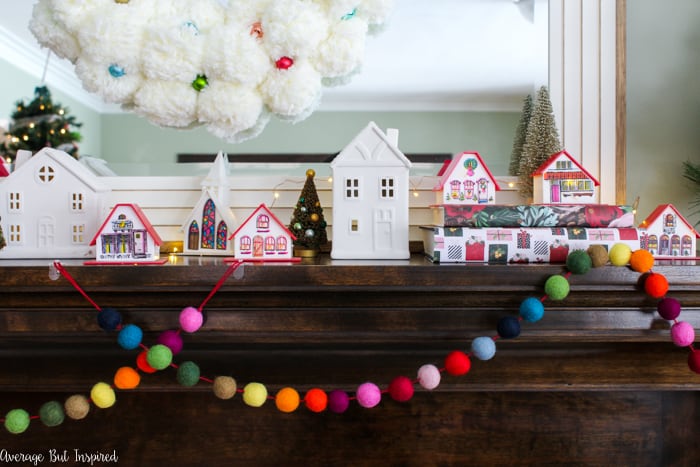 And the colorful pom pom garland and pom pom wreath made me smile and were exactly the handcrafted look I love in my home and wanted to achieve with my Christmas decor.
FOURTH TIP: Take the sentimental route. Finally, one of the best ways to find joy in the Christmas decorating process is to cherish those special pieces that you only get to see for a brief time each year. I already showed you the special memorial ornament for my dad, but my newest sentimental piece is this vintage ceramic Christmas tree that my Grandma passed down to me.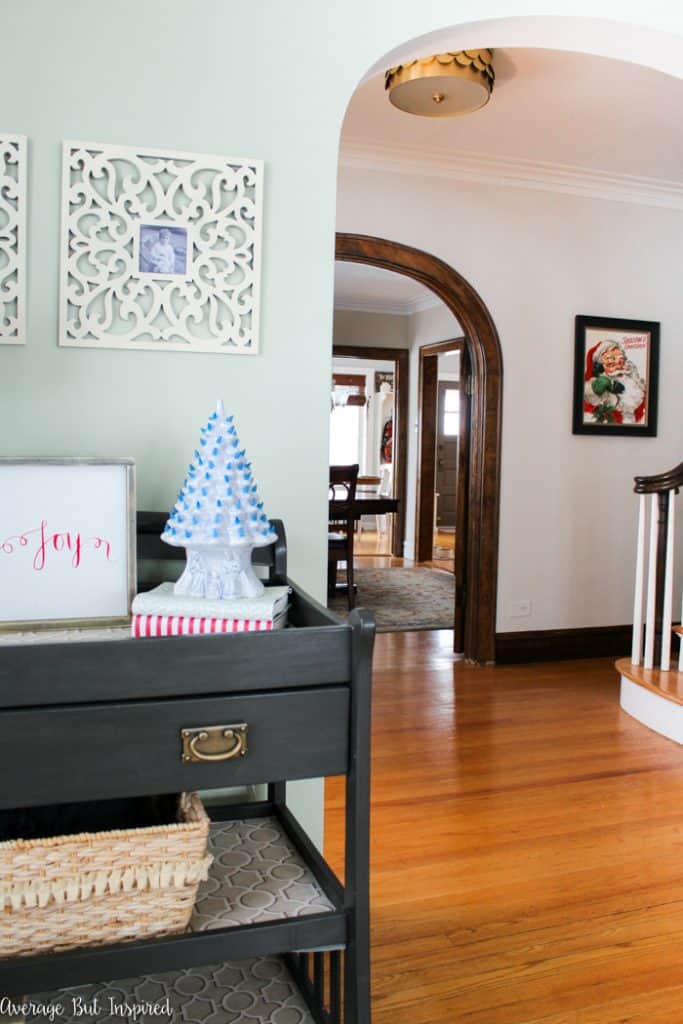 It is so special to me and I am honored that she gave it to me! These pieces, plus other special ones from my kids over the years, are the best part of Christmas decorating and help make the season so special.
If Christmas decorating makes you feel stressed, take a breath and think about ALL the reasons you're doing it. Realizing that there's more to it than dragging boxes and more boxes out of storage (only to put them away again in about a month), will help you feel less stress and get the most out of your Christmas decorating from now on.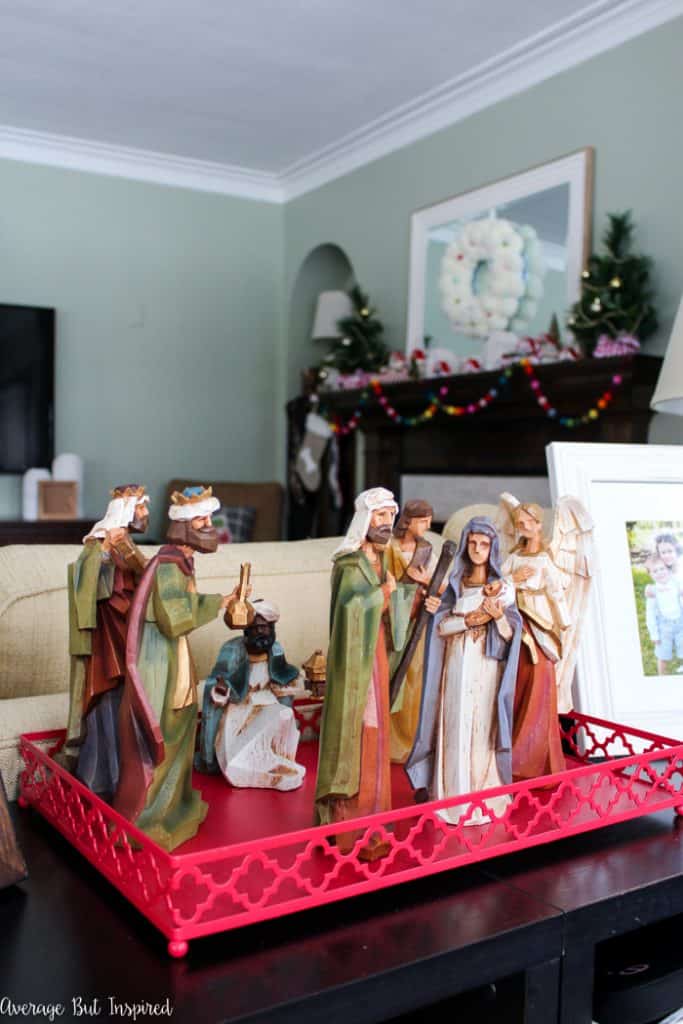 Do you have any tips to add for minimizing the stress that holiday decorating can cause? Let me know in the comments!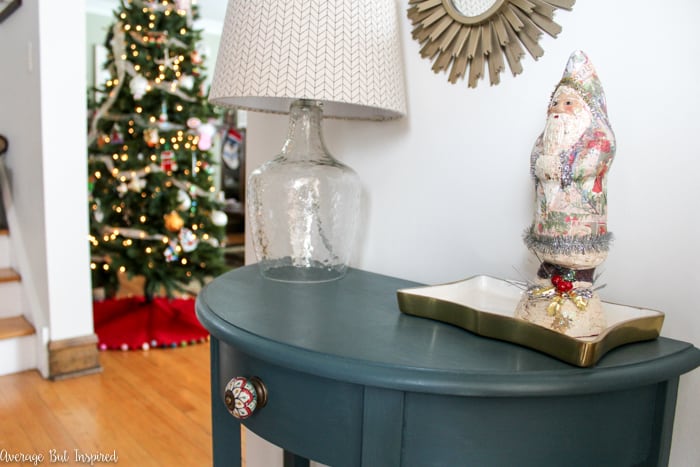 Now, get to work decking those halls!
-Bre