You guys! I thought I was excited about the limewash stone fireplace makeover I completed last month, but I think I'm even more excited about how I updated the flanking mirrored built-ins with paint and peel and stick wallpaper.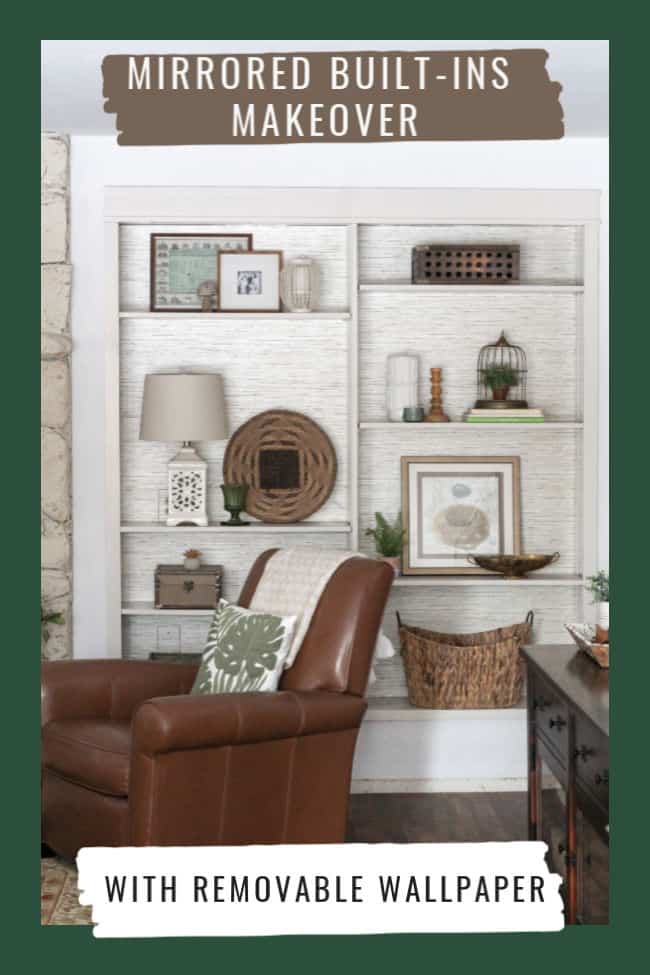 This makeover totally transformed the look and feel of my living room in my new home!
And . . bonus . . it was very budget friendly.
This post contains affiliate links. To read my full disclosure policy, please click here.
In case you haven't been following my progress on Instagram, here is what one of the mirrored built-ins looked like after the fireplace makeover but before I got to work. So reflective.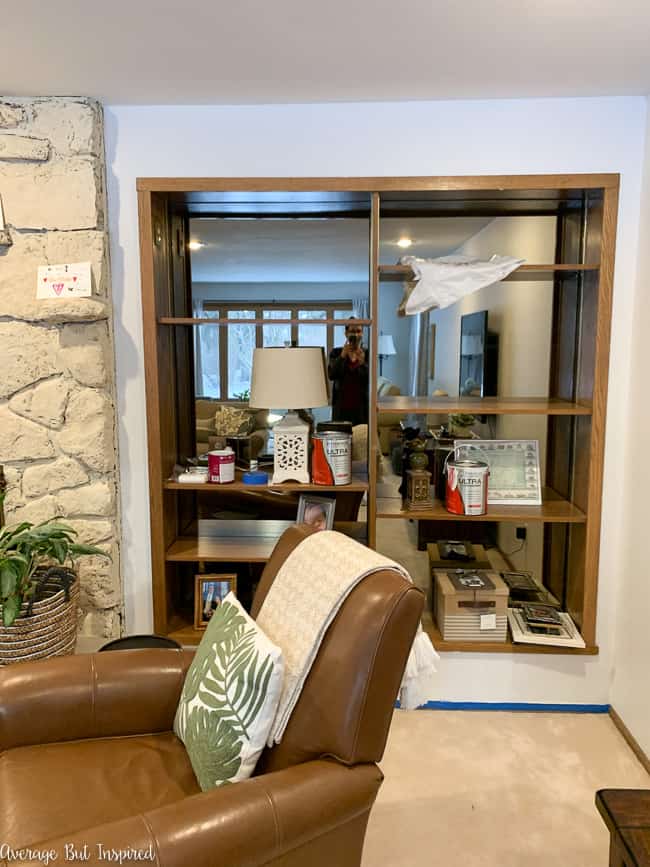 I started by ripping off the top piece of trim on each built-in, simply because I thought it was a little flimsy and I wanted it to be a bit more substantial.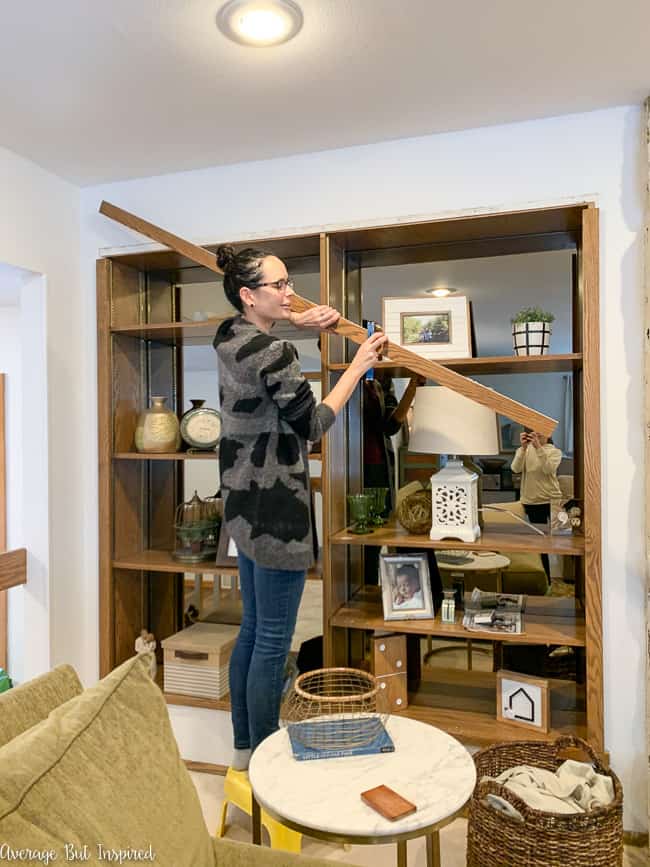 Once that trim was down, I built craftsman-style headers with two 1×2 pieces of lumber and one 1×4 piece of lumber per header. I used this tutorial for building craftsman window trim as a guide, but modified the tutorial to just use my trusty Ryobi brad nailer instead of screws. Much easier, in my humble opinion.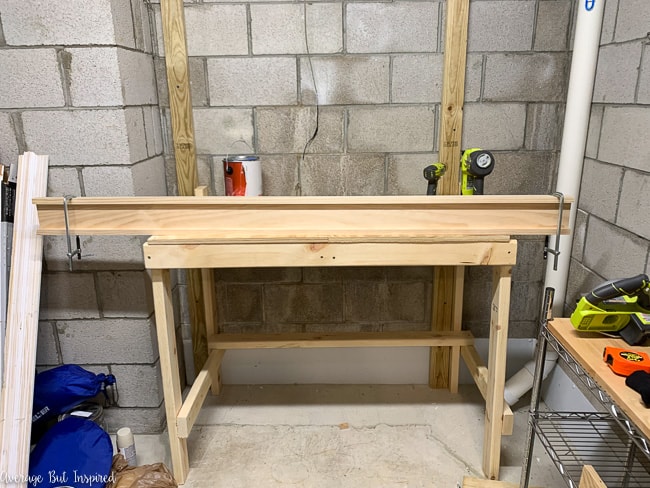 And yes, I did all of the building myself. I also installed them myself, though my husband held them in place while I nailed them up so they wouldn't move out of place. (If you do this please make sure to find studs to nail into!)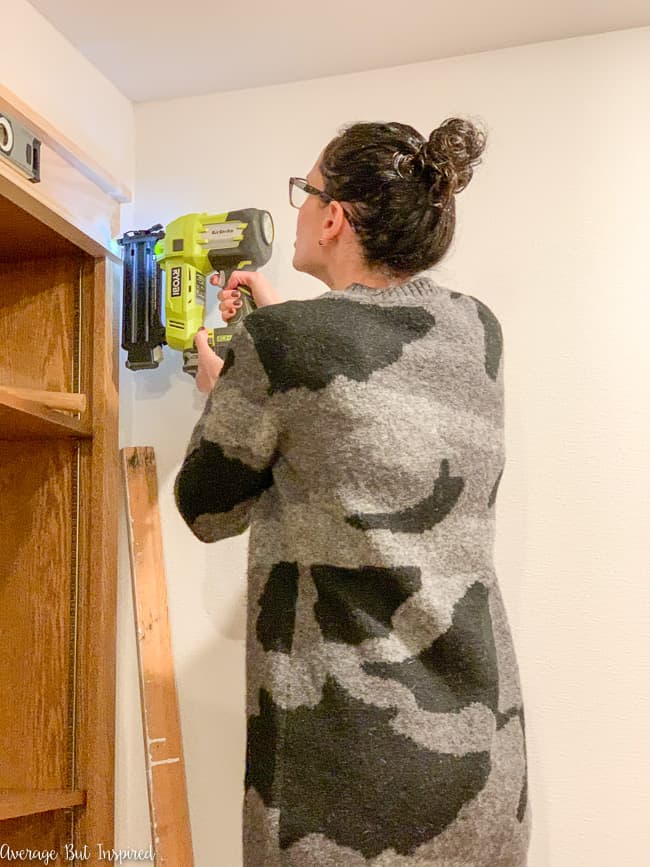 Once I had the new headers on the built-ins, they already looked nicer!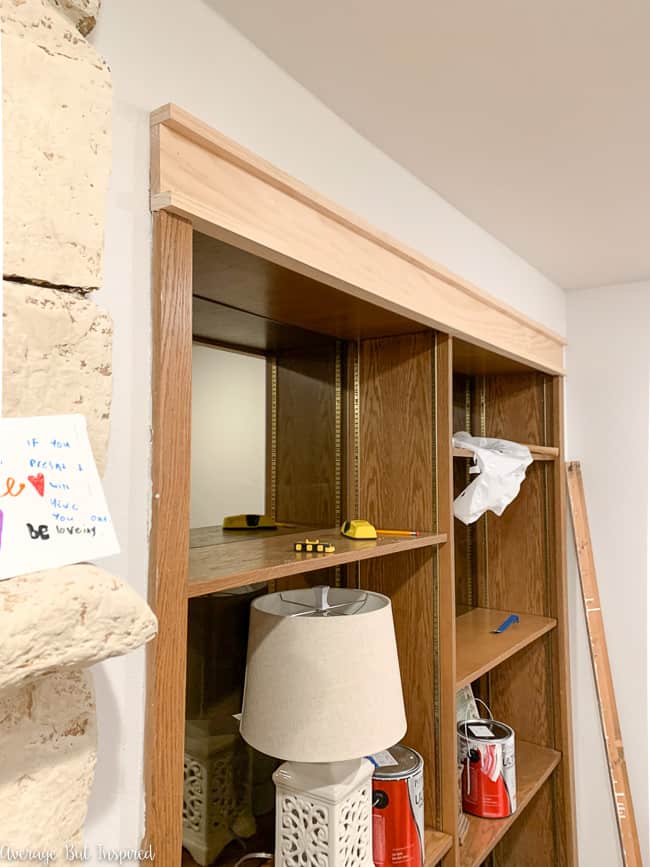 Next, I removed the shelves from the built-ins and admired myself in the mirrors. It was wonderful. (ha!) Then I primed the built-ins and the shelves. I used the same Multi-Surface Primer that I used on my painted marble fireplace hearth, and I'm so glad I did because the shelves had A LOT of stains.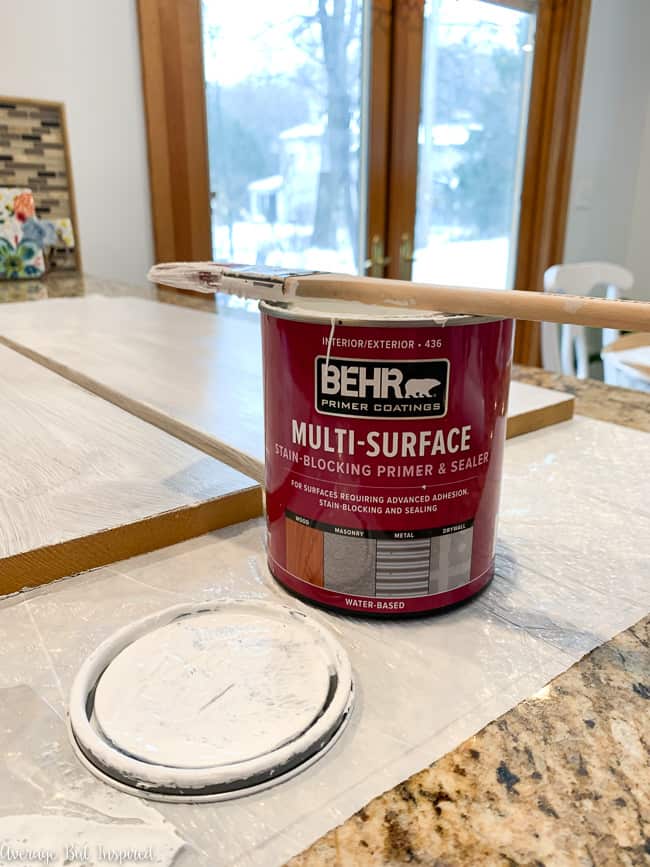 I set up folding tables all over my house and painted away. My family wasn't really thrilled but I told them sometimes you have to suffer for beauty.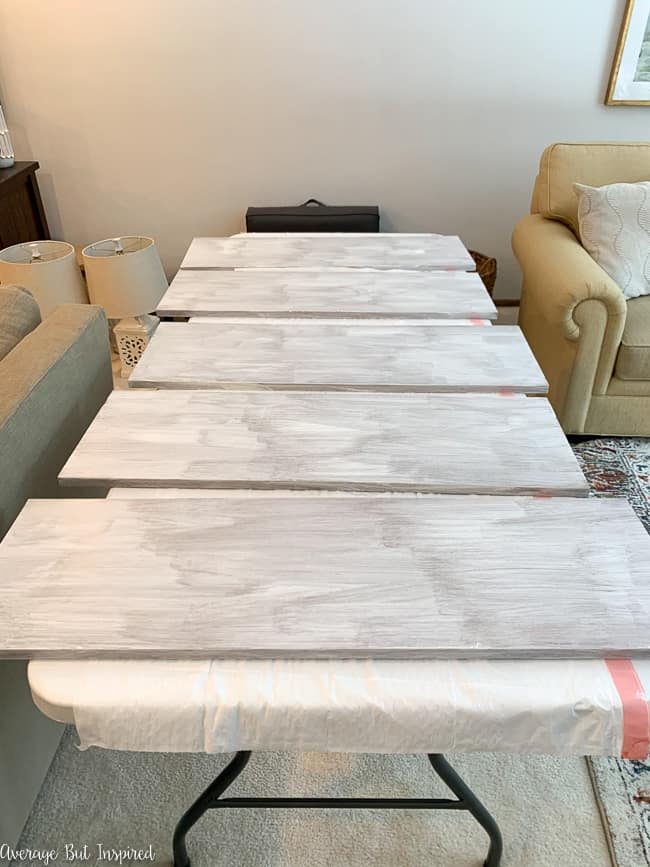 After priming, I painted with Behr's new Cabinet & Trim Enamel paint in Manchester Gray. I plan to paint my kitchen cabinets, so I wanted to give this product a test run in here first.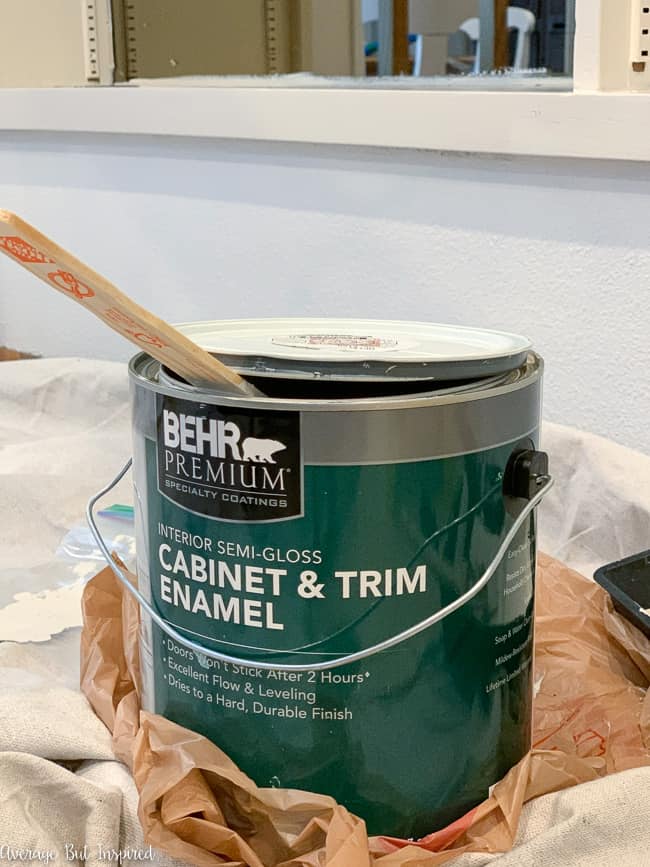 The Cabinet & Trim Enamel was a great paint to work with. It had very little odor, covered well, and self-leveled nicely (meaning fewer brush strokes).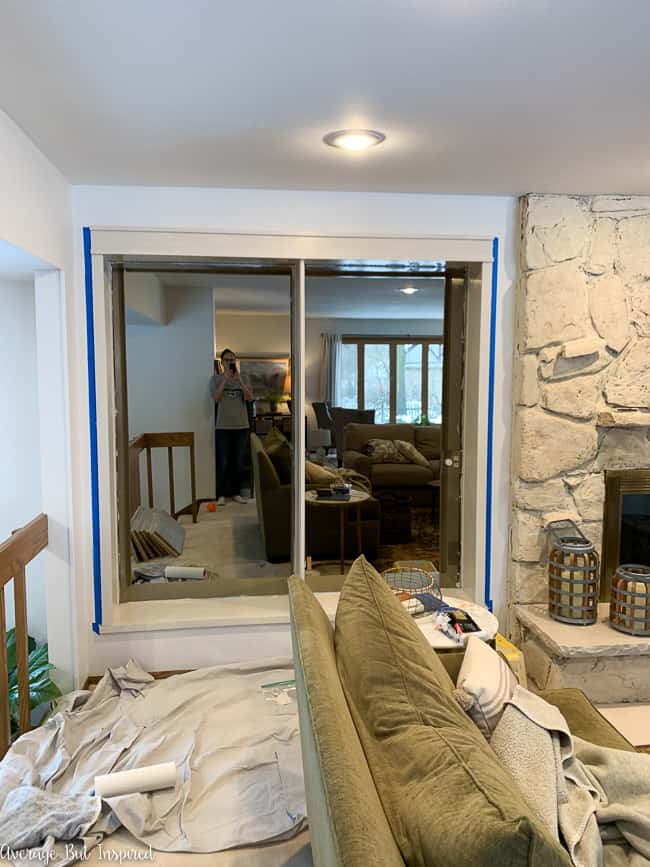 I used a synthetic brush to paint it on, as well as a 1/4″ nap foam roller to roll it on wider swaths of the built-ins as well as the shelves.

It took two coats of paint (plus the primer) to cover the old oak bookcases.
If you don't have mirrored built-ins, this is where your project can end! Unfortunately for me, I had a lot more work to do.
I let the paint cure for a few days, and then I got to work covering the mirrors with peel and stick wallpaper.
My original plan was to cover large foam boards with fabric and rest those foam boards in the backs of the shelves, but for some reason I changed my mind and chose to use this grasscloth peel and stick wallpaper instead.
I am going to write an entire post on covering mirrors with removable wallpaper (because it is a process!), so for now I will fast forward to the good stuff and show you how that self-adhesive wallpaper looks in my newly re-finished built-ins! (P.S. you may notice we removed the carpet and had new floors installed – more on our choice of luxury vinyl plank soon! And yes, we don't have baseboards up yet!)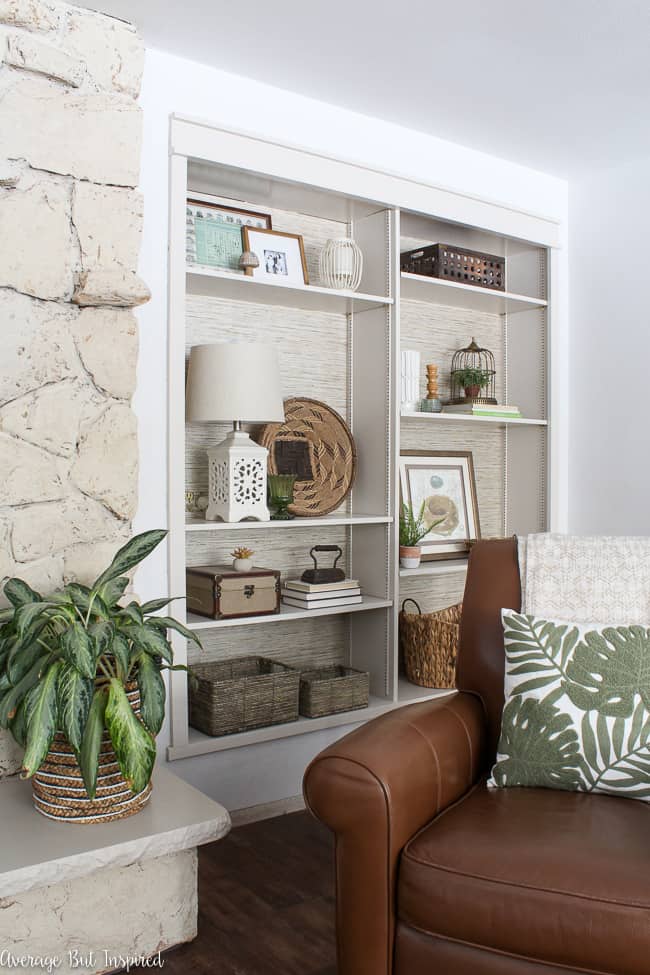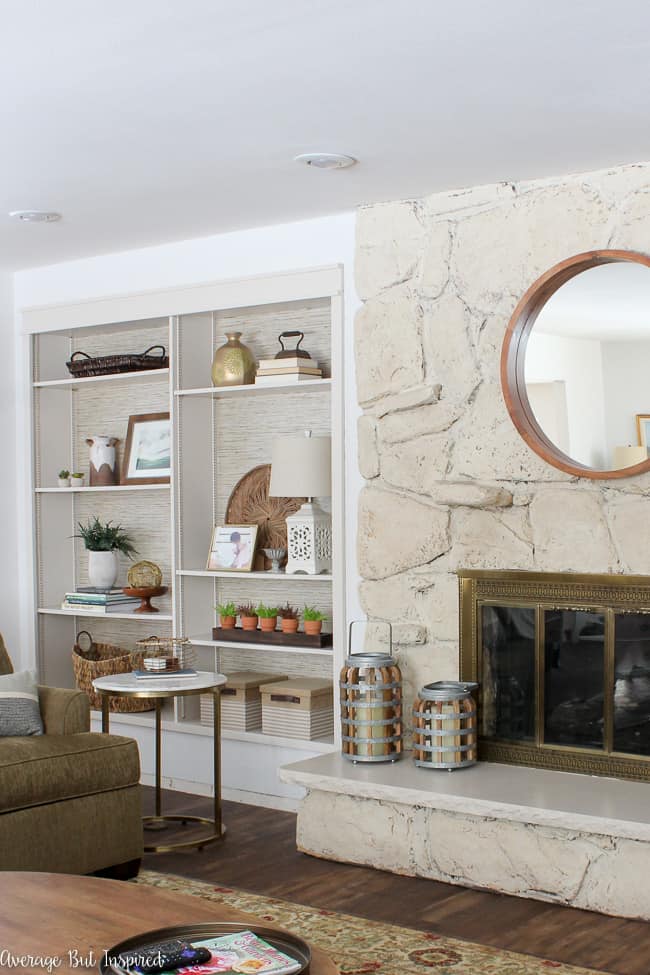 Totally different, huh? So much less shiny!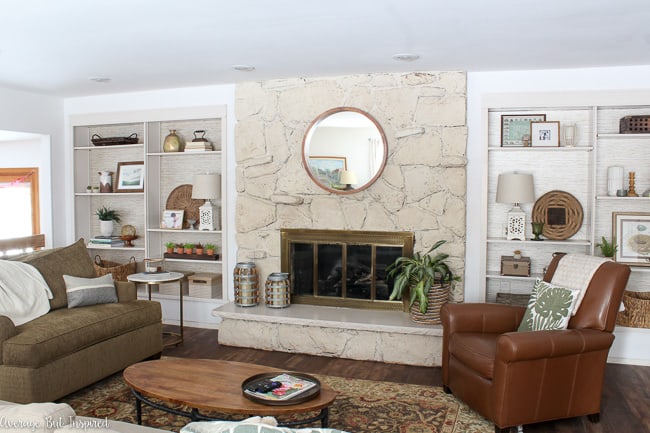 Do you need a BEFORE photo to remind you where I started? (I think you do!)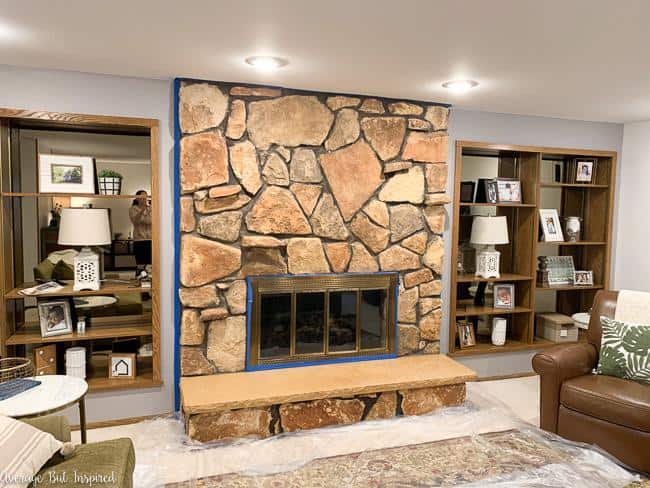 Quite a difference!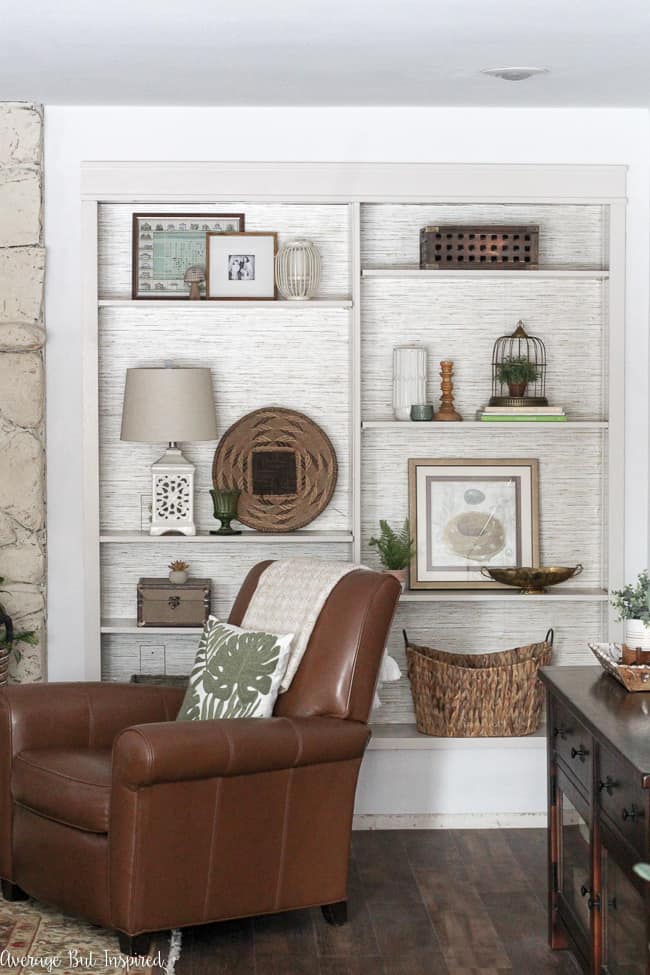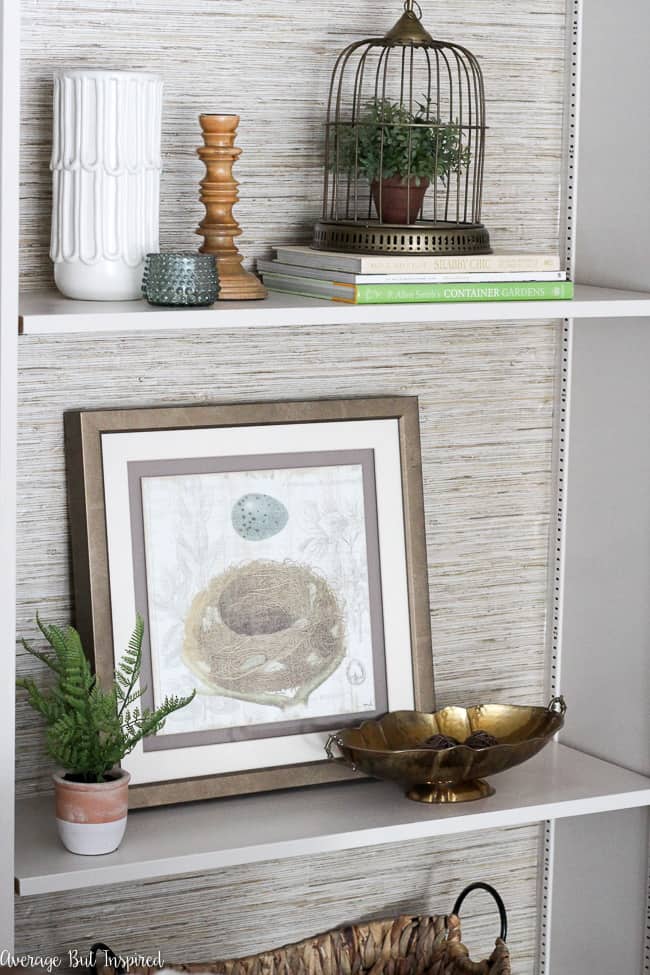 Instead of being an eyesore, these built-ins are now a perfect place for me to display my thrifted and vintage finds, family photos, and other little decor items I love.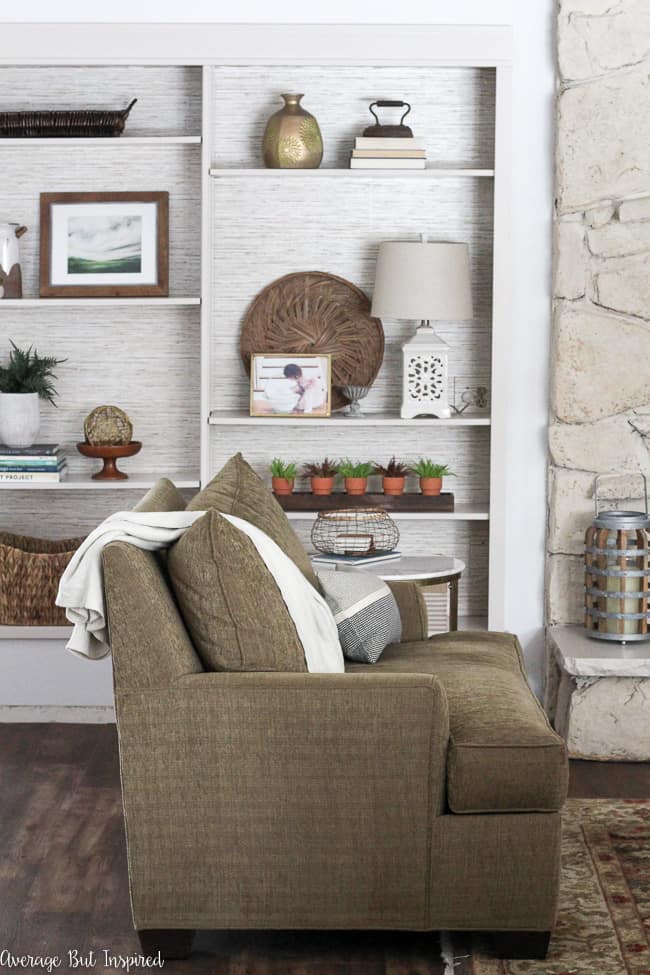 The baskets on the bottom are also a perfect place to store blankets and other random junk I don't want out on display!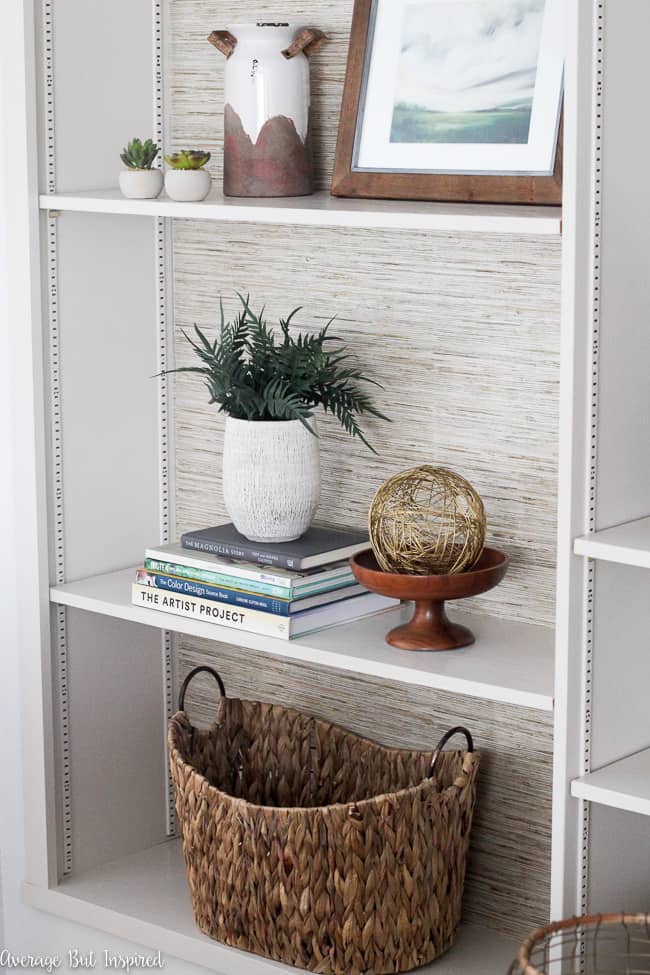 I'm proud to say that those two baskets are the only new things I bought to style these shelves, as I had everything else already. Yay for being fiscally responsible! 🙂
If you have dated built-ins that could use some new personality, give this a try! At the very least, paint will work wonders.
-Bre