Last month we installed Tranquility 5mm Copper Ridge Oak luxury vinyl plank flooring from Lumber Liquidators in our living room and basement. We replaced white carpeting in the living room and some composite flooring in the basement that had been damaged when our furnace leaked.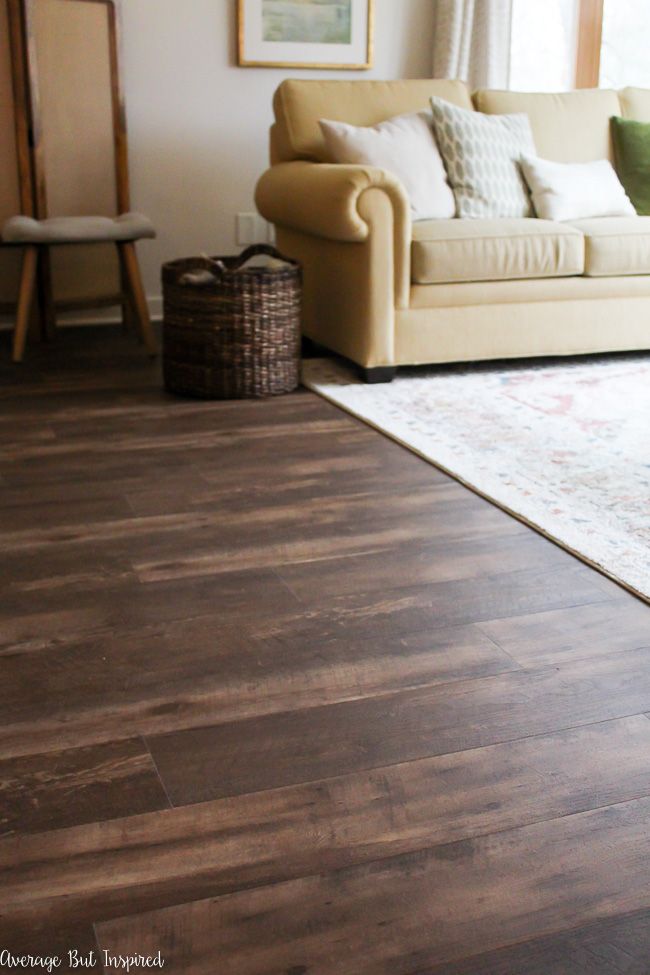 Because vinyl plank is increasingly becoming a popular flooring choice, I thought this review post would help with some of the luxury vinyl plank pros and cons, and help you decide if this flooring is right for your home!
What is Luxury Vinyl Plank?
In a nutshell, luxury vinyl plank is manufactured flooring that is meant to mimic the look of hardwood floors. It is totally manmade – there's nothing "wood" about it. Unlike vinyl flooring of the past, luxury vinyl plank comes in, well, planks as opposed to sheets. Sometimes it has some texture to it, in an effort to give it more of a hardwood look.
The "luxury" part of this product name is a little misleading, in my opinion. I don't really think this flooring is luxurious. I mean, it's not glistening marble or anything like that. That's just my two cents. 🙂
Why We Chose Luxury Vinyl Plank for Our Home
The completely honest answer to this question is that we chose luxury vinyl plank flooring because the previous owners installed Copper Ridge Oak vinyl plank flooring throughout the rest of the first floor (just not the living room), two months before we purchased the house.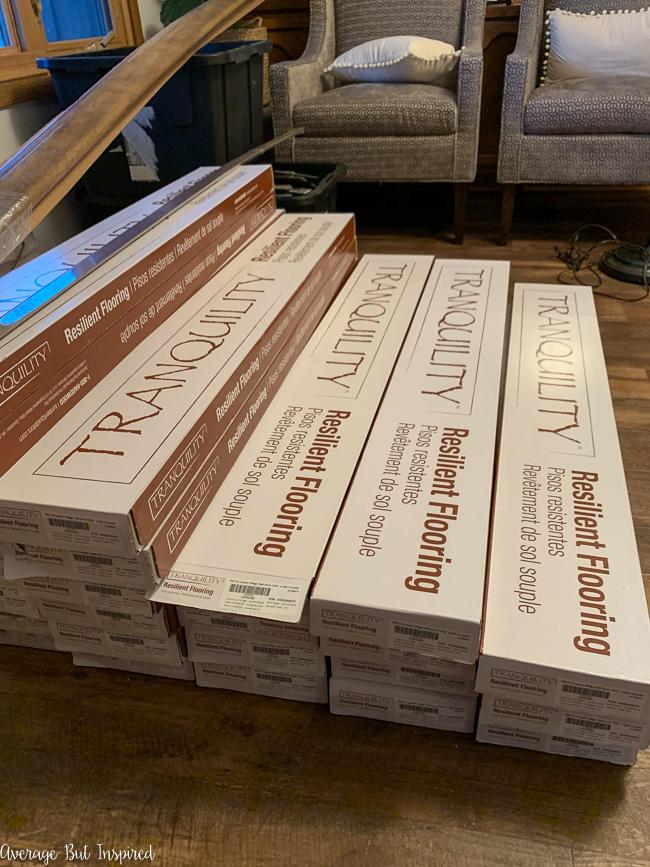 We wanted cohesive flooring on the first floor since it's a fairly open floorplan, but we did NOT want to spend money on new floors for the entire first floor. Because of that, we opted to install the same vinyl plank flooring in the living room. And, since we also needed to replace the basement flooring, we ran it down there, too.
What are luxury vinyl plank pros and cons?
In the time that I've been living with these floors, I've been keeping a list of luxury vinyl plank pros and cons so that I could write the most helpful post possible! As things come to mind, I will update this post, too, so that it continues to be informative.
The Positives of Luxury Vinyl Plank Flooring
There are a lot of positives with luxury vinyl plank flooring! Just because I am not totally head over heels in love with it doesn't mean that I don't recognize its benefits. Here are what I think are the pros of luxury vinyl plank flooring.
The Price is Right (at least for the product)
We got our 5mm Copper Ridge Oak luxury vinyl plank flooring on sale for $1.99 per square foot. That is a really good price for flooring! Even with the added expense of underlayment and other necessary pieces (like trim pieces, threshold pieces, etc.), the price of the flooring was great.
Carpet, tile, and hardwood ALL can run more expensive than that!
Remember to investigate the quality of the vinyl plank before purchasing. Of course there are poor vinyl planks on the market and you don't want to make that mistake! We got ours on a great sale, so if you're able to wait until the floor you want goes on sale, too, you can really save a lot.
If you're hiring an installer to do your floors, prepare yourself that you'll probably pay as much for installation as you do for the floor – or even more! One installer quoted us an astronomical amount, and the installer we ultimately used was much more reasonable. But, installation was still a large part of the money spent on this job.
Luxury Vinyl Plank Installation is Fast
Let's be honest. Laying new flooring is pretty disruptive to your life because you have to move everything out of the space where the flooring is being installed, and you may not be able to use the space again for some time (like if stain or grout is drying).
One amazing attribute of luxury vinyl plank flooring is that installation is fast. For our installer to complete approximately 1200 square feet of space, it took 4.5 days – and that includes removal of the old flooring and baseboards, and installing the flooring underlayment for our click-and-lock flooring.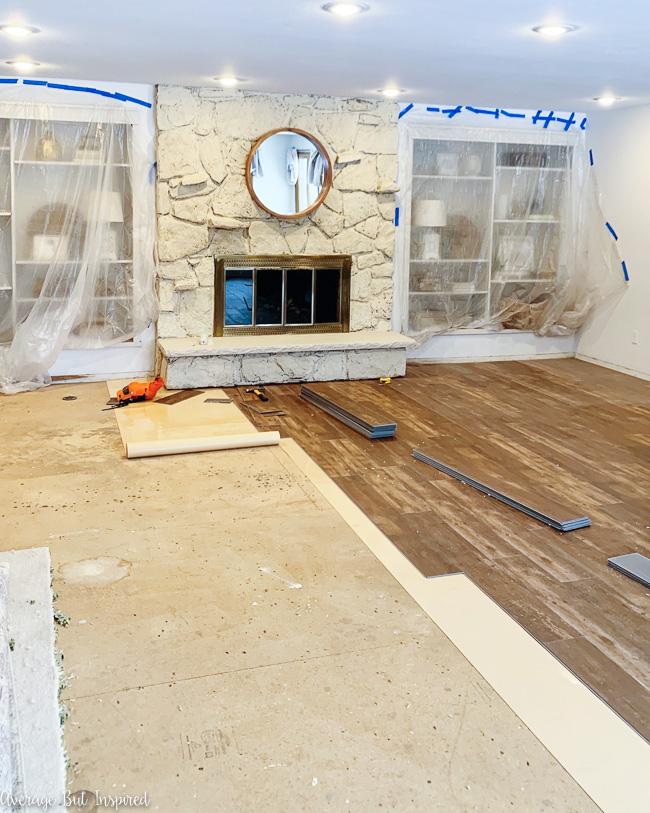 The parts that took the longest were making cuts for all of the doors in the basement and undercutting the large stone fireplace that I limewashed in the living room. (He undercut the stone so that the flooring could slide right underneath and have a seamless transition between stone and floor.)
Of course, installation time can vary depending on factors such as type of vinyl plank (is it click-and-lock or glue down?), whether subfloor needs to be replaced, amount of area being covered, and more! But, in general, installation of luxury vinyl plank should take less time than installation of other flooring types.
Luxury Vinyl Plank Flooring is Durable
With young kids and a dog, durable flooring is important to me! The white carpeting in the living room started showing signs of wear practically the second we took ownership of this home. I am so glad it's gone!
Also, the Tranquility brand Copper Ridge Oak flooring that we chose is 100% waterproof, which is amazing for our basement especially. Hello – we already had a water issue down there! It's nice to have peace of mind that if we have another problem down there our flooring won't be ruined.
Not all luxury vinyl plank is waterproof; some is water resistant. That means that for a certain amount of time (usually a set amount of hours), the flooring will be okay with water on it, but after that time it could be ruined. It seems to me that if you're going to install luxury vinyl plank, you might as well get a waterproof type!
Another thing we love about our new flooring is that it is extremely difficult to scratch – much unlike hardwoods! (I know all about scratches in hardwood floors! We had a ton and I even wrote a post on the easiest way to fix scratches in hardwood floors.) We've slid furniture across it, my kids do all their crazy kid stuff on it, and my dog runs around like a madman, and it doesn't show a single scratch.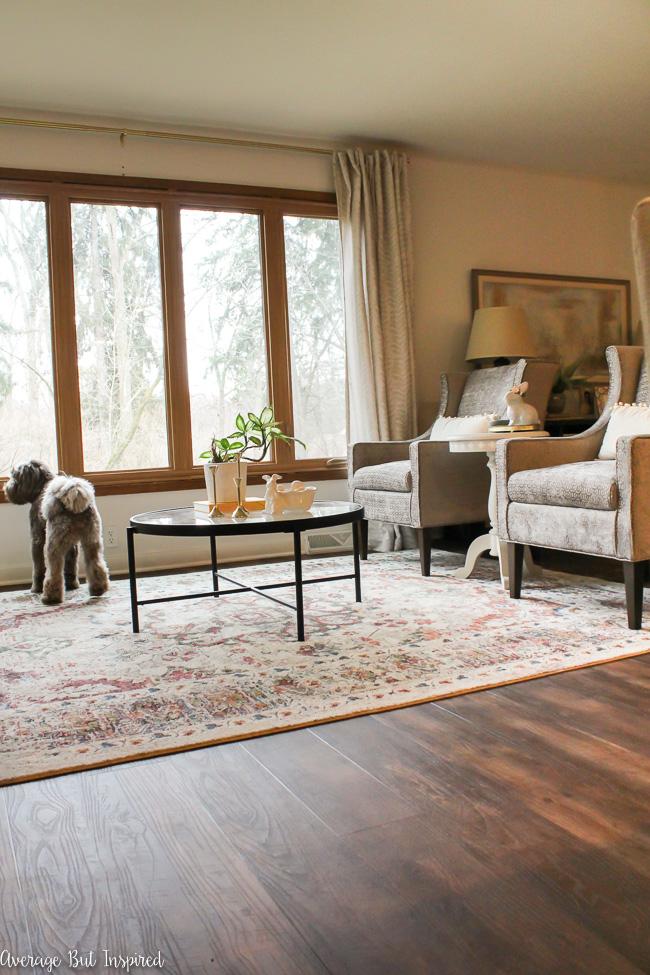 Luxury vinyl plank's durability is, in my opinion, the best thing going for it. If you want flooring that you can install and not think about again for at least 25 years, luxury vinyl plank is a great choice for you.
The Flooring is Very Warm
One luxury vinyl plank pro that I never expected is that the flooring is very warm to the touch. It is so comfortable to walk on and does not ever seem to get cold. Our hardwoods in our old house were cold all winter, and don't even get me started on how cold the tile floor was! That is not the case with our new vinyl flooring.
Vinyl Plank Flooring is Easy to Clean
This stuff could not be easier to clean! I use my dry Swiffer on it regularly to gather up all those dust bunnies, and then I mop with Murphy's Oil Soap once in a while.
Swiffer WetJet also works, as does liquid cleaner made just for vinyl floors.
I haven't noticed any film on my flooring like I would get on my hardwoods sometimes after cleaning, so I'm liking how easy these are to maintain!
The Negatives of Luxury Vinyl Plank Flooring
While there are a lot of positives associated with luxury vinyl plank flooring, there are also some definite negatives. These are the drawbacks that I've noticed so far.
Luxury Vinyl Plank Can't be Refinished
Unlike hardwood floors, when luxury vinyl plank is worn out, it can't be refinished. You just have to rip it out and start over again.
While this is definitely a drawback of the flooring, the same thing is true for carpeting and tile, so it's not a unique drawback by any stretch. It's just something to keep in mind when weighing your options.
Renovating Can Cause Problems
Unlike hardwoods that can always be replaced and filled in when needed, the style of luxury vinyl plank you choose can be available one day and then gone the next.
This is EXACTLY what happened in our house! The previous owners installed Tranquility Copper Ridge Oak flooring in October 2019. In January 2020 we went to purchase that same flooring to run it into the living room, and we found out that the style the previous owners installed had been discontinued, and replaced with a new style that was not compatible with the old style (in terms of click and lock mechanism).
Luckily the areas are separated by a couple of stairs, so we didn't need the floors to physically connect. However, when we had the newer Copper Ridge Oak flooring installed, we noticed that it is slightly darker than last year's version and the planks are slightly wider.
These slight differences drive me nuts!
Plus, we would like to renovate the kitchen and mudroom at some point, but we realize that doing so will have a huge impact on the flooring. We won't be able to replace the flooring with the same flooring that's already there (since it's not available), and because the flooring seamlessly flows from room to room, we will have to install threshold pieces in some strange spots.
The Repeat in Patterns Looks Cheap
This may be my overly-analytical tendencies talking here, but I really don't like how I can pick out repeat patterns in the luxury vinyl plank floors. In our basement there's one spot where two identical planks are very close to each other, and the matching "knots" in the wood stick out like a sore thumb to me!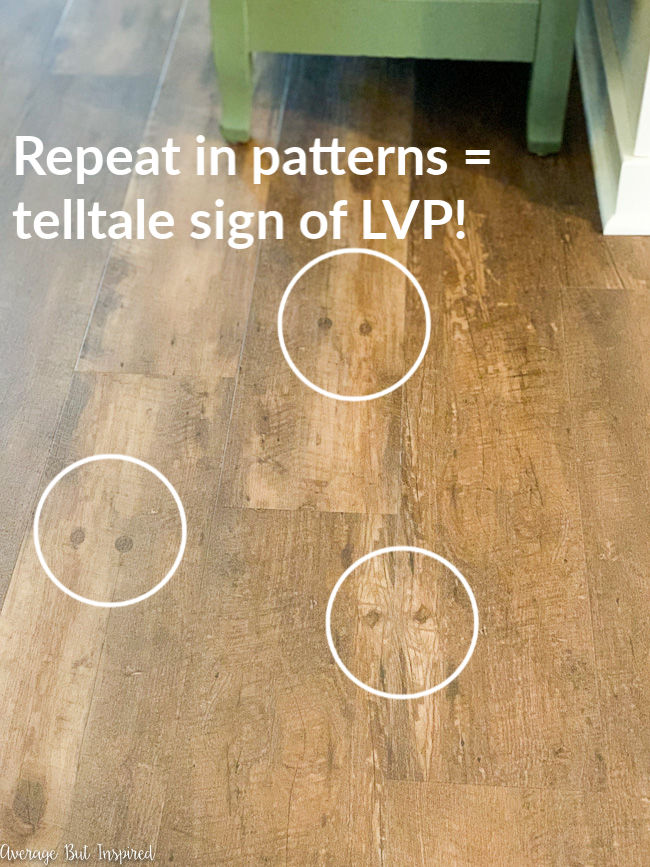 If you're installing the flooring yourself, you will probably pay attention to that type of detail, but an installer who is working quickly to get the job done likely will not.
It's not a dealbreaker, but it is a giveaway that your flooring is vinyl. That's all I'm trying to get across here.
Luxury Vinyl Plank Stairs Can be Tricky!
WHO KNEW? But seriously – if you have stairs that need luxury vinyl plank, choose carefully!
Some vinyl planks have coordinating vinyl plank stair treads and/or risers that match the vinyl plank flooring being put down. This gives you a cohesive look that is (from what they tell me) durable.
Some vinyl plank varieties do not have any stair products, however, so you either have to lay vinyl plank flooring on the treads and use stair nose pieces to cover the edges (HELLO TRIP HAZARD and unpleasant look), or you have to try and match stain to the vinyl flooring to finish wooden treads and risers.
The flooring we used has vinyl treads and risers, and we intended to use them on our stairs. When the carpeting was removed, however, we realized that the treads were in good shape and we decided to stain them to "match" the floors.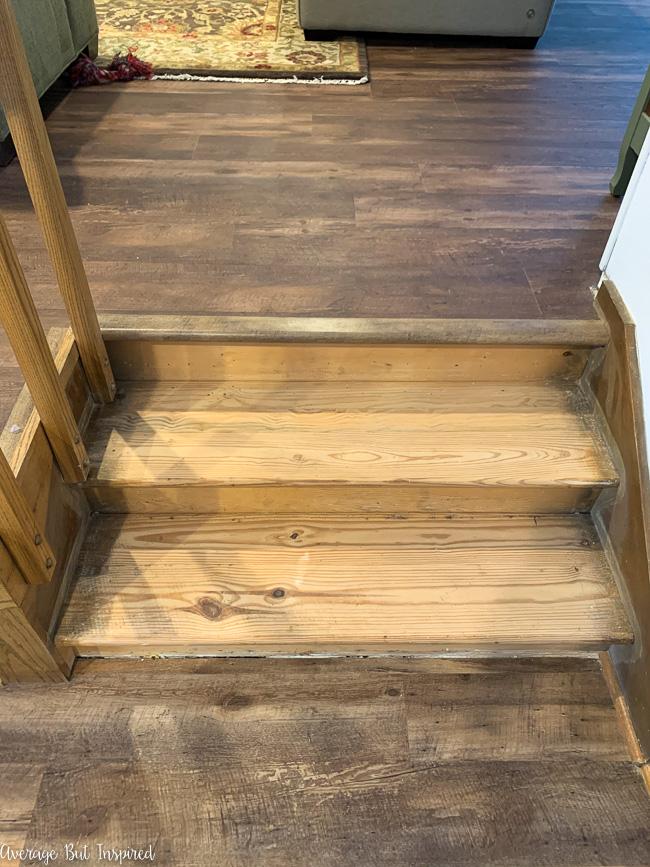 Getting a match was practically impossible and our stairs ended up slightly darker than the floors. They're not so dark that I'm willing to redo this project, however. It does bother me that they're not a precise match though!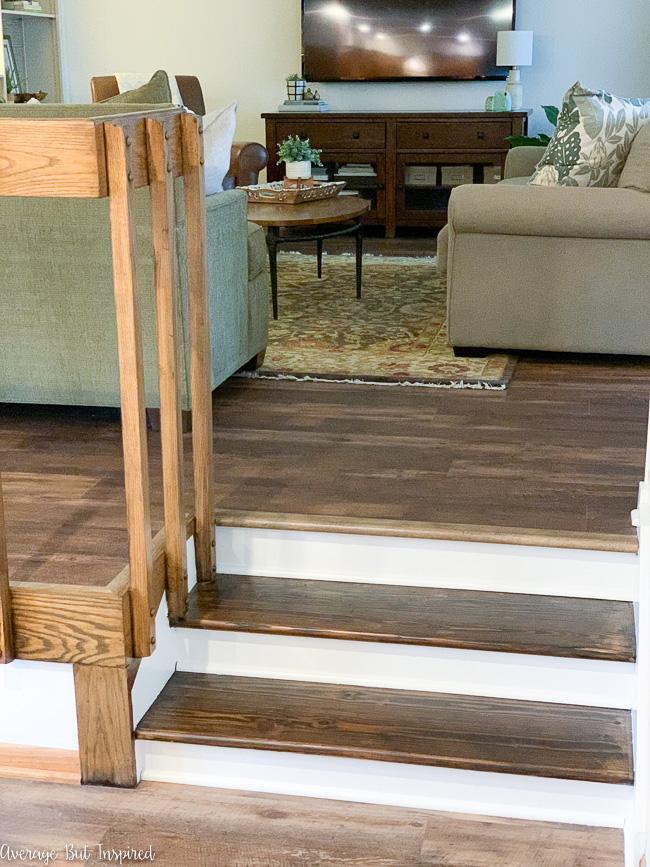 All-in-all, luxury vinyl plank flooring seems like a good choice for people who want an alternative to carpet or tile, and who appreciate durability and low cost. The drawbacks are definite drawbacks and could be dealbreakers for some people, so make sure to carefully consider whether vinyl plank floors are right for you!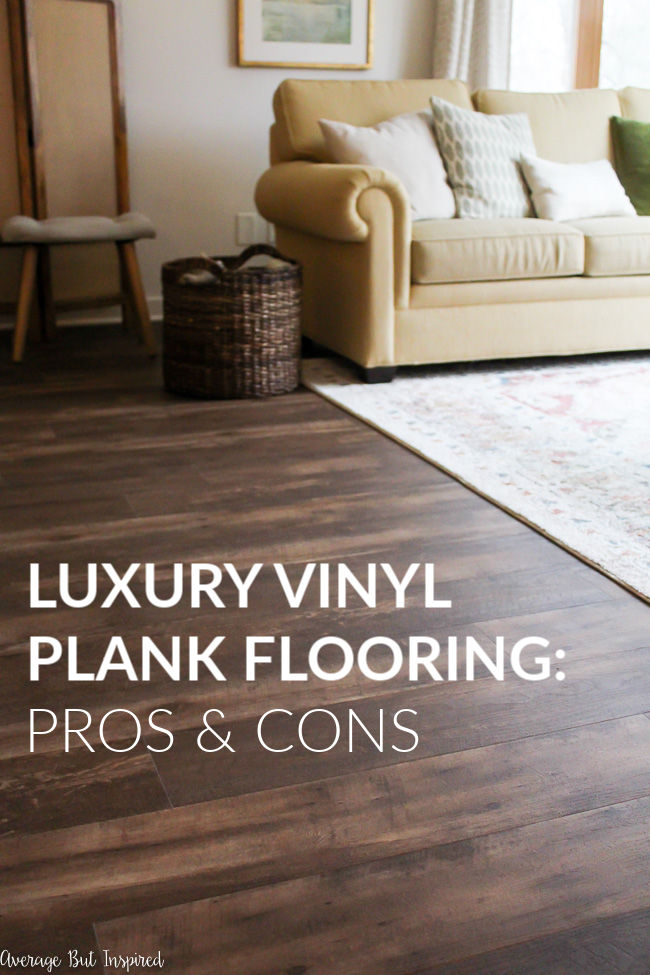 If you have any thoughts on luxury vinyl plank pros and cons, I'd love to hear from you! Please add a comment below and let me know what you think, or ask any questions and I will do my best to answer them!
-Bre