Over the past few months I've been working on updating the kitchen in my new home. I've already shared the Painted Tile Backsplash and Kitchen Soffit Makeover, and I'm so excited to share the Painted Oak Kitchen Cabinets Makeover now, too!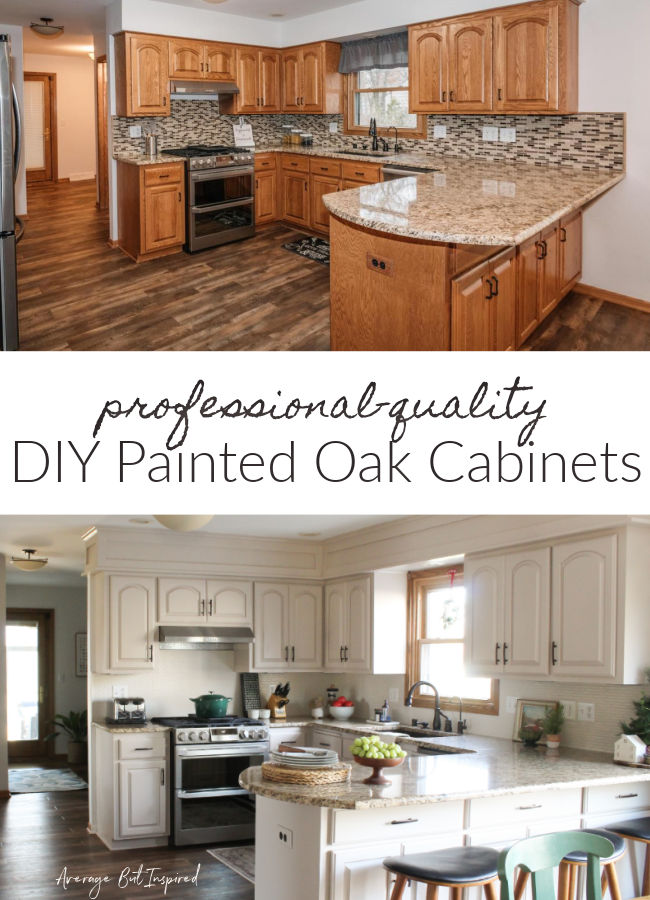 Before I show you how painting the oak cabinets made a huge difference in the look and feel of my kitchen, let me tell you that there is still more to be done in here. 
We will be updating the lighting in this room (including removing the large ceiling light that's visible in these photos), and plan to install new countertops (and possibly backsplash) next spring.  So, we're almost finished, but not totally done yet! Just want you guys to keep coming back for more – ha!!
Painted Oak Kitchen Cabinets – a DIY Makeover
Okay, so take a trip down memory lane with me real quick . . . here's the "before" of the kitchen. This is the real estate listing photo from December 2019.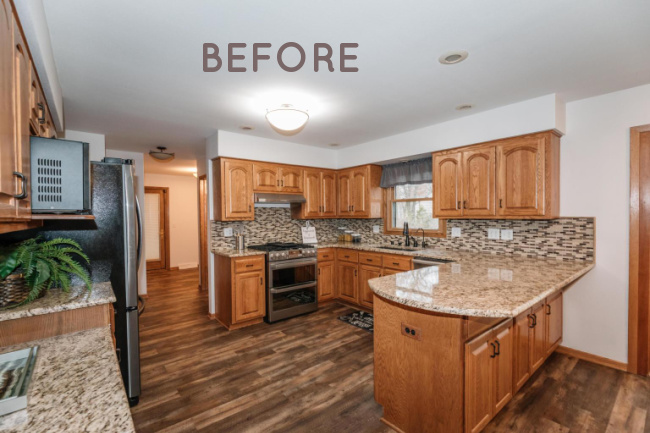 And here's the new look so far! (Yes, there are Christmas decorations in these photos. It's almost Christmas. :-)).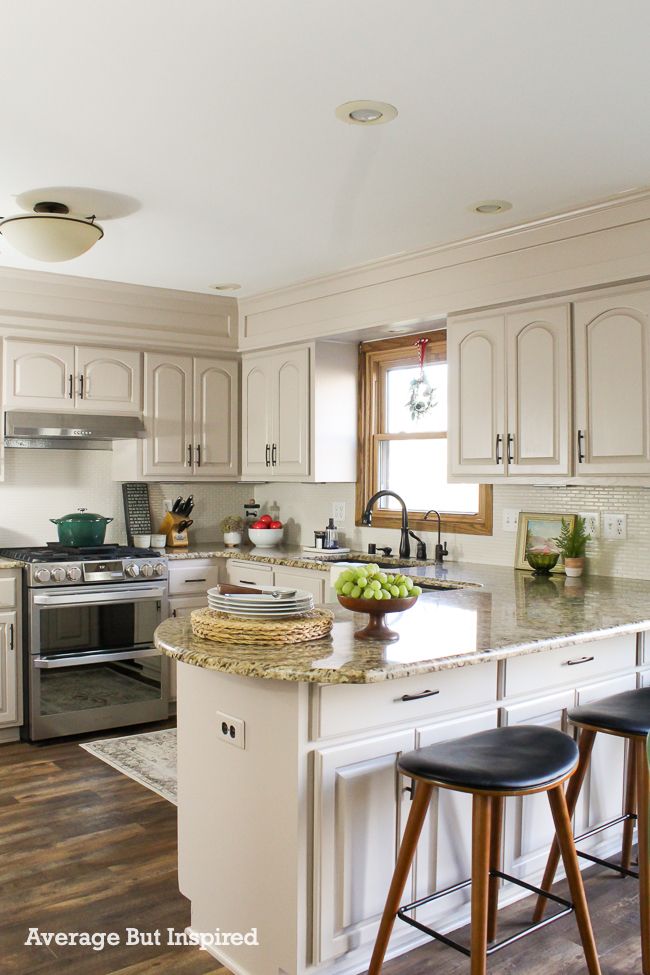 The cabinet painting process was long and involved. I started on October 17, 2020 and finished on November 25, 2020 – yes, the day before Thanksgiving!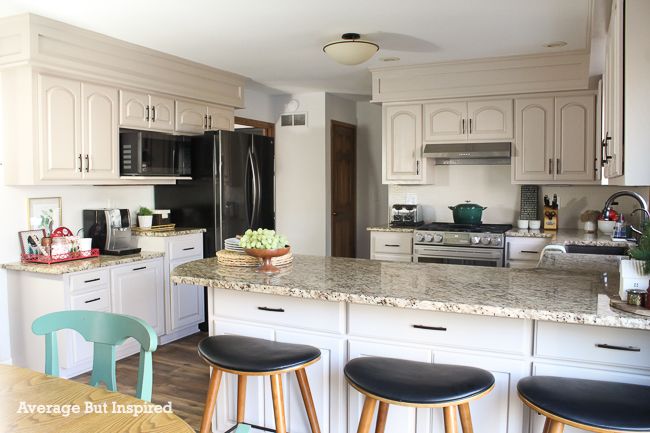 Here's why it took me so long: I used an oak cabinet painting process that professional cabinet painters use.

I did so much research in painters' forums and consulted professional painters to find out how to paint oak cabinets to last, and to find out which products professional painters use to paint oak cabinets. No, they don't use chalk paint, and yes, you have to sand. I used the products and methods in my Oak China Cabinet Makeover and in this oak kitchen cabinet makeover, too.

If you're interested in painting wood kitchen cabinets or laminate kitchen cabinets and want to learn about this cabinet painting process, check out my ebook, DIY Cabinet Painting Pro! It is a totally in-depth guide on painting kitchen cabinets, and gives step-by-step instructions, as well as supply lists, planning documents, checklists, and more.

Because I used a professional quality of workmanship and painted my kitchen cabinets section by section (as opposed to all at once), it took me a while. 
I did not have the space to paint all 30-something doors and drawers at once, and I didn't want my kitchen to be a total mess during the process, so breaking it up worked best for me.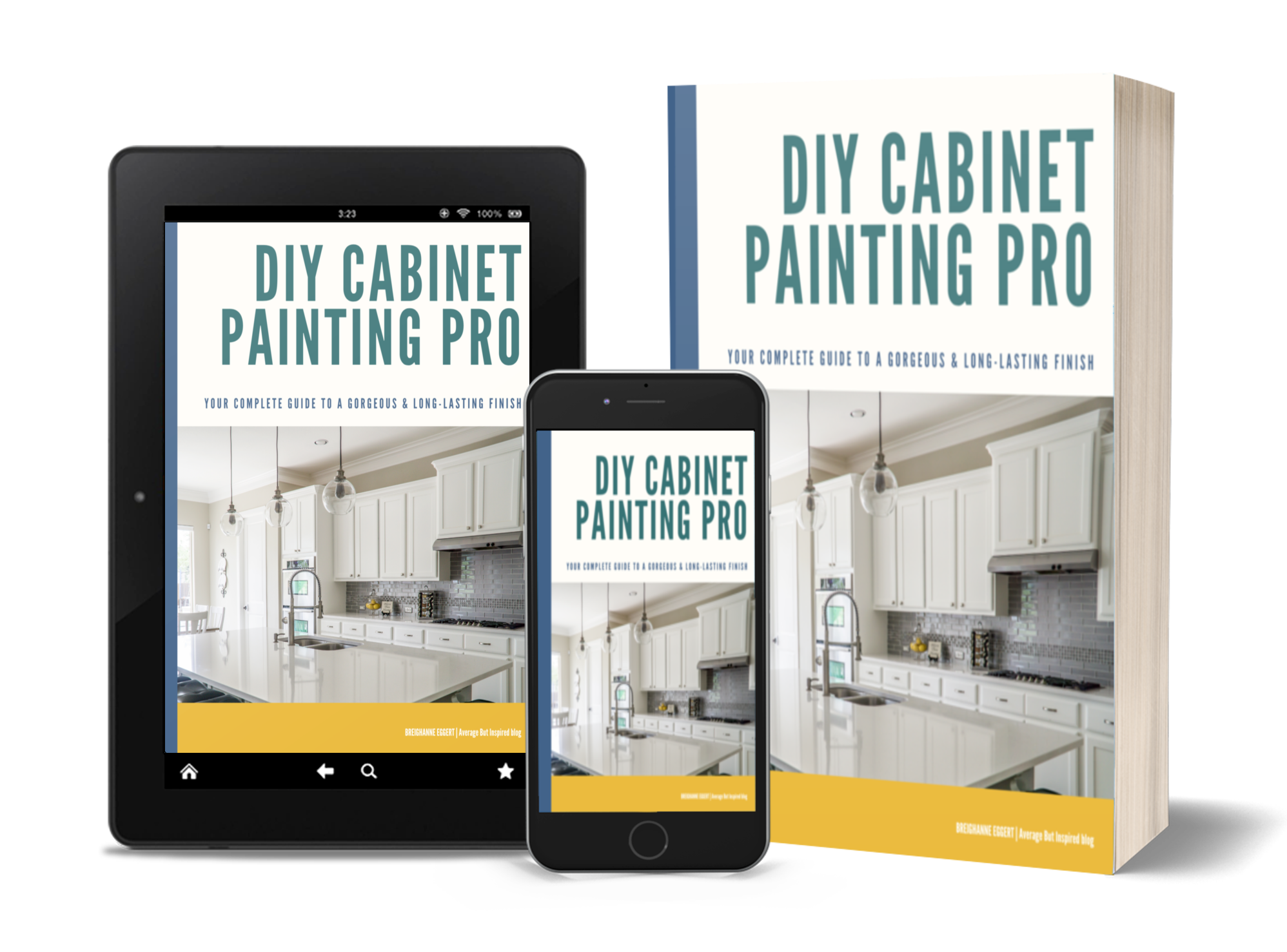 Save Thousands by Painting Your Cabinets Yourself!
Download DIY Cabinet Painting Pro and get:
Step-by-step instructions
Complete supply list & product recommendations
Workflow checklist
Confidence to do the job right
Taupe Cabinets – Benjamin Moore Hampsire Taupe
For my kitchen makeover, I decided to do taupe cabinets with the cream painted backsplash.  I wanted a color that works with the current brown and cream granite countertops, as well as a color that will work with the new quartz countertops we plan to install next year. 
(May 2021 UPDATE: our new backsplash and countertops are in!  See the completed DIY Kitchen Makeover in that post!). So, Benjamin Moore Hampshire Taupe was the winning color! 

I never thought I would have taupe kitchen cabinets, but here we are. I like that they're neutral but not white. I think white would have been too stark with the current countertops, and much too bright for my home once we install the new countertops (which will primarily be white).

Does Oak Grain Show Through Paint?
Now, one question I've been getting a lot on my TikTok videos about this painting process is whether the oak grain shows on painted cabinets. The answer is yes, to an extent the grain is visible. That is because I did not use any type of grain filler product. I decided it was not worth it to me to go through that added step, so I painted without filling the grain.

Here is what the painted oak grain looks like in certain spots. The edges of drawers and details around the flat panels of doors are the most visible spots, in my opinion. If this type of grain bothers you and you want to paint your oak cabinets, you will need to use a grain filler product. (Yes, I talk about that in my cabinet painting ebook, DIY Cabinet Painting Pro, too!)

You can see that the paint fills in the grain, but it does not "level up" with the rest of the wood, so the marks remain.
Is It Worth It To Paint Kitchen Cabinets Yourself?
I will not lie to you – painting my kitchen cabinets was a huge project that felt like it would never end at times. Even though I did not love the process, I believe it was 100% worth it to paint my kitchen cabinets myself.
I saved thousands of dollars with a DIY cabinet painting job, and can use that money for other improvements in this space! (CHECK OUT ALL OF THE IMPROVEMENTS in this final reveal of my DIY Kitchen Makeover!) Plus, I feel really proud of myself that I accomplished this huge painting job all by myself.

Let me know what you think of my kitchen transformation so far. I hope you like it! Make sure to check out my new countertops, new backsplash, and more in this DIY Kitchen Makeover post!
-Bre
CHECK OUT MY OTHER KITCHEN-RELATED POSTS