Over the years I've grown fond of painting just about every single thing in sight.  That's due, in large part, to how easy chalk paint makes it to tackle just about any project.  When spray chalk paint appeared on the scene several years ago, I became an immediate fangirl.
For some projects . . . not all of them.
Because I know you have lots of questions about it, I decided to share my chalky finish spray paint review!  I hope it helps you decide whether or not it's right for your painting projects.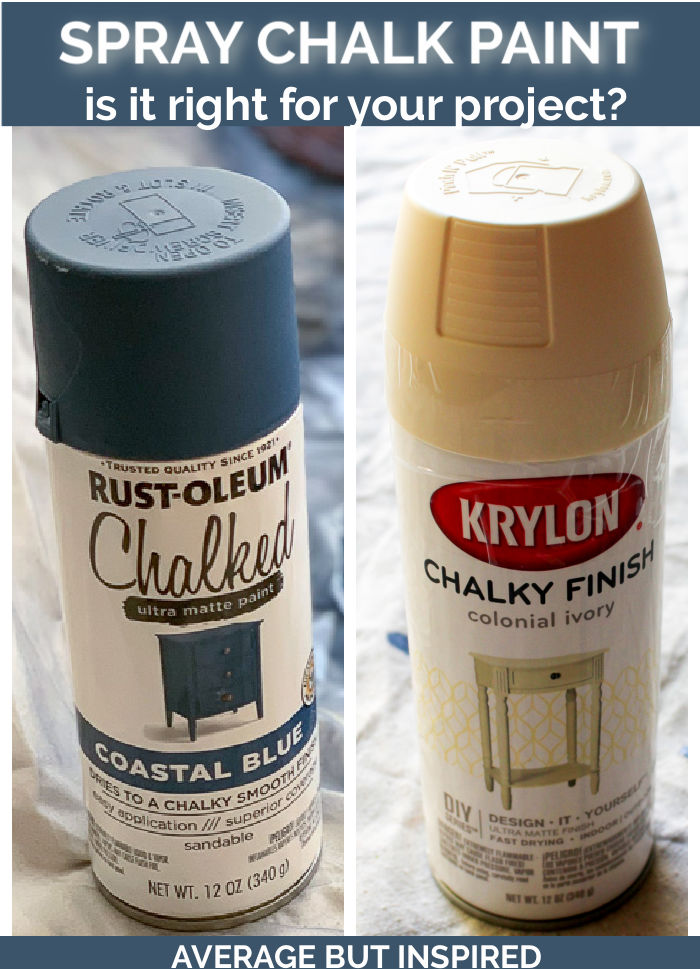 This post contains affiliate links.  To read my full disclosure policy, please click here.
Test Subjects for this Review
In this review, I'm sharing my experiences with both Krylon Chalky Finish Spray Paint and Rustoleum Chalked Spray Paint.  There are other brands of spray chalk paint on the market now, like Behr Chalk Decorative Paint and Kilz Chalk Spray Paint, but I haven't tried those yet.
Krylon Chalky Finish Spray Paint
To test out the Krylon Chalky Finish Spray Paint, I used some clearance candle holders/pedestals.  Here they are before I sprayed them.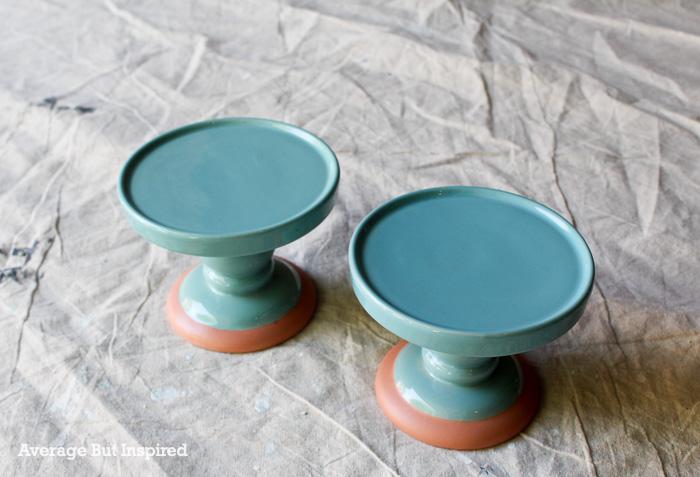 And here they are after I spray painted them.  Look at how solid and smooth that finish is.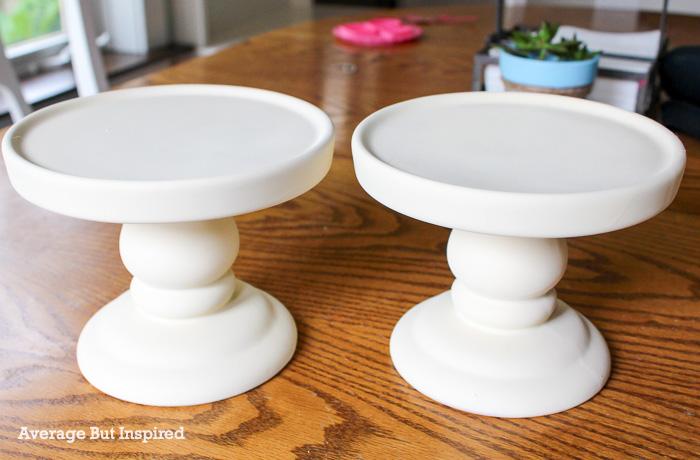 Rustoleum Chalked Spray Paint
More recently, I used Rustoleum Chalked Spray Paint on some thrift store baskets that I used as above-the-bed art in my bedroom.  These had a lot of detailing that would have been difficult to cover with paint and a paint brush.

Now that you've seen what I used spray chalk paint on, let me give you my totally unbiased review of the products.  (Why is it unbiased, you ask?  Well, I simply mean that this post has not been sponsored in any way, shape or form by Krylon, Rustoleum, or any other entity.  It's just me sharing my totally honest thoughts.)
Spray Chalk Paint Review: the Nitty Gritty on Krylon Chalky Finish Spray Paint and Rustoleum Chalked Spray Paint
Again, there are other spray chalk paint brands on the market, but Krylon and Rustoleum are the oldest and most widely available.  Here is my experience and review of these brands.
Krylon Chalky Finish Spray Paint vs. Rustoleum Chalked Spray Paint
First things first, I don't have a preference between these two brands.  I like them both equally!  With that in mind, read the rest of this review knowing that the review points I mention apply to both brands.
Chalk Spray Paint Coverage
Like regular chalky finish paint, spray chalk paint has excellent coverage.  I used two coats of the product on each of the items I refinished, which is what I would have done for a solid finish with regular chalk paint.
The finish is opaque and very matte – also just like regular chalk paint.
Chalky Finish Spray Paint Odor
There is definitely an odor to chalky finish spray paint, unlike most regular chalk paints.  You would be wise to use the product outside or in a well-ventilated area, and of course, while wearing a mask.
Suitable Project Types
To me, spray chalk paint is the PERFECT paint for smaller pieces that you want a super smooth and solid finish on, or pieces with intricate details that might be difficult to paint with a brush.
I would not refinish a large dresser with chalky finish spray paint because you would have to buy so many cans of it.  That would get really expensive!  But smaller furniture projects like chairs or stools are definitely doable!
If you have a larger project in mind, you would love the HomeRight Super Finish Max Sprayer, which lets you spray paint any "regular" chalk paint you want.  I have this paint sprayer and used it to spray paint radiators and kitchen cabinets, among other things!
Paint Color Choices
Unfortunately, there aren't many colors of chalky finish spray paint available.  You can view Krylon's Chalky Finish Spray Paint color chart and Rustoleum Chalked Spray Paint color chart on their websites.
If you're hoping for a special or custom color for a project, you'll probably want to go the regular paint and brush route.
Spray Chalk Paint Adhesion
From what I can tell, spray chalk paint adhesion is awesome, just like regular chalky finish paint.  I did not sand before using it, and the paint is sticking wonderfully over many years of use.
As with regular chalk paint, it is important to make sure the surface you're painting is clean before applying the paint.  If you do that, it will not wash off.
Application
I actually thought applying chalky finish spray paint was easier than regular spray paint.  It did not run as easily as regular spray paint, and I got a much more even finish with it than I do with regular spray paint.
Availability 
I have purchased Rustoleum Chalked spray paint at Target and ACE Hardware, and Krylon Chalky Finish Spray Paint at Michaels and Hobby Lobby.  Both brands are also available online at Amazon.
Sealing Spray Chalk Paint Projects
Both Krylon and Rustoleum also have spray wax products for sealing and protecting your projects.  If interested in learning more about that, you can read my review of spray wax for chalk paint.
All in all, I think chalky finish spray paint is a great product for small projects and items with intricate detailing.
Have you tried spray chalk paint?  If so, leave me a note and tell me about your experience with it!
-Bre