This week is going to be one of the hottest Chicago has seen all summer.  Despite the heat, I felt the need to do some carbo loading for the upcoming Real Housewives marathon I'll be watching from the comfort of my living room.
.  So, I made this pasta pomodoro.  It was perfect – doesn't call for too many ingredients, is not too heavy and is full of flavor.  Just right when you need Italian and it's 92 degrees outside.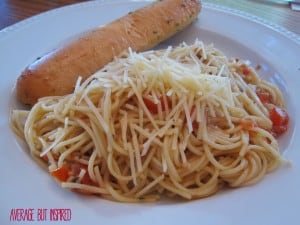 Here are the ingredients you need to make four gigantic servings:
16 oz package of angel hair pasta
1/4 cup olive oil
1/2 onion (chopped)
4 cloves of garlic (minced)
3 cups of roma tomatoes (diced)
2 tbsp balsamic vinegar
10.75 oz can of chicken broth
crushed red pepper to taste
ground black pepper to taste
2 tbsp fresh basil
1/4 cup grated parmesan cheese
Now, here's what you do:
Cook your angel hair pasta until al dente; drain.
Saute your onions and garlic in the olive oil until browned.
Reduce your heat and add your tomatoes, vinegar and chicken broth.  Simmer for about 10 minutes.
Stir in your basil, red pepper, black pepper and parmesan cheese.
Add your cooked pasta and stir thoroughly to coat your pasta and distribute the tomatoes and onions.  Cook over low heat for another 5 minutes.
Serve immediately.  Garnish with grated or shredded parmesan cheese.
I hope you'll give this recipe a try.  If you do, let me know what you think!